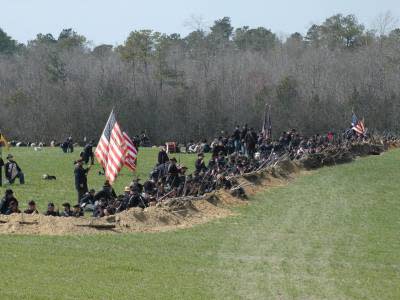 For more than 18 months, staff, volunteers, and board members of the Friends of Bentonville Battlefield State Historic Site have been planning for the largest event ever expected for the community.  Nearly 5,000 reenactors are expected from around the country to participate in the March 21-22, 2015 Civil War 150th anniversary commemoration.  They will re-create the last major battle and the largest land battle fought on North Carolina soil as the end of the war drew near.  The public is invited to watch the action!  Expectations are more than 60,000 will travel to the site over the weekend! 
In addition to the daily battles, the weekend will feature free lectures, 19th century medical displays, period music, and dozens of "sutlers", selling Civil War related items.  Advanced tickets for this once-in-a-lifetime opportunity are now on sale online, at the site via the gift shop, or by calling (910) 594-0789.  Checks can be mailed to:  Bentonville 150th Event Tickets, P.O. Box 211, Newton Grove, NC  28366.
Important information to know about the event:
Tickets for the reenactment are limited and advance purchase is strongly encouraged.  Fewer tickets are available in 2015 as event organizers are trying to maximize the visitor's viewing opportunities.  Battles take place on large open fields, and not all aspects of the battle are viewable by all visitors.
Advanced tickets are $12.00 for adults and $6.00 for children 9 to 12. After March 15 and at the gate, tickets are $15 adults and $10 children 9 to 12.
The battle scenarios Saturday and Sunday are the only events that require tickets.  All other activities at the 150th Anniversary Event (lectures, house tours, music, demonstrations) are FREE to the public
Saturday's Battle, "The Fight for Morris Farm" will take place at 3pm.  Visitors are encouraged to be at the battle location by 2pm, as sections for ground seating, chairs and standing room only will fill up fast.  Please note that battles will not begin until those seated on the ground are in place.
Sunday's Battle, "Last Grand Charge of the Army of Tennessee and Morgan's Stand" will begin at 1:30pm.  Visitors are encouraged to be at the battle location by 12N as seating will fill up fast.
The 2015 event is sponsored by the Friends of Bentonville Battlefield, NC Historic Sites and Properties, the NC Department of Cultural Resources and the Johnston County Visitors Bureau.  Bentonville's reenactment is part of North Carolina's Civil War Sesquicentennial Commemoration.  All proceeds from the event support Bentonville Battlefield State Historic Site with a percentage to be used for improvements of the site's visitors center. 
Address:  5466 Harper House Road, Four Oaks, NC  27524
Phone:    910-595-0789
website:  https://historicsites.nc.gov/all-sites/bentonville-battlefield