An exhibit entitled, "American vs. American: Our Most Cruel War," will open in the Holding-Richardson Exhibit Hall of the Johnston County Heritage Center on Saturday, March 7, at 2 pm.
As we prepared for the Bentonville 150th Event we found there are some amazing stories from this period in our history that had not been told, so area committees have been planning additional events coming up this March and April. The formal opening of the Heritage Center exhibit will include an appearance by Rev. Henry McNeal Turner (portrayed by Rev. Abdue Knox of Bethel AME Church near Selma), a famous U.S. Colored Troops chaplain who came through Smithfield in 1865. He will discuss two fascinating Smithfield accounts published in a Philadelphia newspaper during the war. 
What exhibits will be on display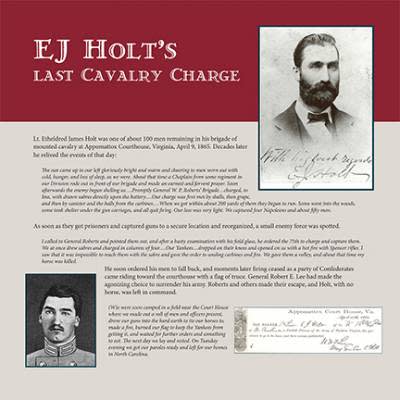 The displays will feature artifacts such as a Confederate infantry officer's sword and hand-painted canteen, a rifle made at the Fayetteville Arsenal in 1864, a bugle played by a local soldier at Appomattox, wallet from a soldier with a girl's tintype photograph still inside, Confederate currency, a saddle from a Union cavalryman's horse, uniform buttons and other items unearthed by local citizens, a bayonet found in a tree near Bentonville, and church records bearing poignant messages from Union soldiers. There are also photographs from the war period, including a rare collection of tintype photos of U.S. Colored Troops.

The exhibit's title panel shows Private William Lee of Johnston County wearing a U.S. Army uniform. Lee was one of the first men to volunteer in the Confederate Army in 1861, but for unknown reasons he later walked to federally occupied New Bern and volunteered to fight against his old comrades.
 
Johnston County was decidedly pro-Union throughout the war. Local voters sent Unionist delegates to the secession convention in Raleigh even after President Abraham Lincoln called for North Carolina to furnish troops for the U.S. Army.  The boys and men who fought in the war made up one tenth of the county's population of about 15,000. Around 500 died from wounds or disease.
While deserters were hiding out in local forests and swamps to avoid capture by state militia in the spring of 1865, over 80,000 soldiers from North and South converged at Bentonville, leaving a path of destruction in their wake . Union soldiers burned several finer plantation houses in eastern Johnston County, although their superiors had not given such orders. The most well known incident was the Thomas Atkinson mansion on Brogden Road near the Wayne County line.

Johnston County Heritage Center is located at 241 E. Market Street, Smithfield, NC and for more information call 919-934-2836.
150th Bentonville Battlefield Reenactment
Later in the month of March, on the 21st and 22nd, the Friends of Bentonville Battlefield will host the largest Civil War battle reenactment in North Carolina as one of the final 150th events in the state. 
Tickets purchased before March 15 are $12 for adults and $6 for children ages 9-12. Buying in advance also allows the purchase of a combination ticket for both days, March 21-22. That ticket is $20 for adults and $10 for children.

After March 15, remaining tickets will be sold at the gate for $15 for adults and $10 for children. Combination tickets will not be available. Children ages 8 and younger attend free.

The battle scenarios on Saturday and Sunday are the only events that require tickets. All other anniversary events – lectures, house tours, demonstrations and more – are free to the public.