For more than four years now, I have been serving on the board of The Clayton Piano Festival, working with Jonathan Levin on marketing and public relations. And Jonathan was the topic of one of our first "Johnston County has Talent" BLOG series.  For someone that possesses no singing ability or talent with musical instruments, being around Jonathan has been awe-inspiring. One might ask how Jonathan and his musical friends have so much talent -- what are they born with and how many hours of practice goes into each performance? His knowledge of music goes far beyond the key strokes, to the study of the world's greatest composers, to delivering this series of concerts for his hometown with a big dose of humor. He's a very talented photographer as well - with many of his shots from Clayton on our website.
I don't have to know all that Jonathan knows, or even 1/10th to enjoy the immense talent he has and appreciate his gift of music he brings to Johnston County each year. Join us this year for concerts slated from October 18th to the 26th, throughout the Clayton area and beyond.
Schedule of Concerts:
AMERICANS IN PARIS! - October 18, 2018 - dinner at 6:30 pm (concert starts at 7:30)
The Preston Woodall House, 201 E Hill St, Benson, NC 27504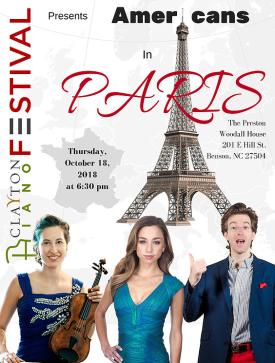 The season begins at the Preston Woodall House in Benson, NC with "Americans in Paris."  The program takes you on a musical voyage to Paris and beyond, exploring the vast musical influences of this magical city on musical artists from the romantic generation to the present and how their work affected American musical culture. This event was created by CPF Artistic Director, Jonathan Levin and features recent recipient of the Audience Favorite Award at the New York International Vocal Competition, Brooklyn Snow, soprano, as well as versatile violinist and fiddler, Christin Danchi.  The event also features an elegant Paris-themed dinner, brought to you by the skilled Preston Woodall House staff. 
Tickets: $45 General (full course meal and concert), $35 Seniors (65 and above with full course meal and concert), $25 (children 12 and under with full course meal and concert), Concert only tickets: $15 General, $10 College and High School students, $5 Children 12 and under.
CHOPIN AND THE VOICE OF FREEDOM - October 21, 2018 @ 3:00 pm
Hopper Piano Company, 1800-A Tillery Place, Raleigh, NC 27604
Back by popular demand, pianist, educator and author, Matthew Harrison, presents "Chopin and the Voice of Freedom," celebrating the 100th year of Polish independence after WWI.  Chopin is perhaps the greatest melodist of the Romantic age and his music is still in the mainstream.
This program is a narrative through the works of Chopin where his Polish voice rises to the surface of his music, which was essential to his country's fight to maintain an identity while being dominated politically by Russia, Prussia, and Austria.  This is sure to be a magical evening as Matthew takes you through some of our most beloved music with his characteristic wit, intelligence, and musicianship.
Tickets: $20 General, $15 Seniors (65 and above), $10 College and High School students, $5 Children 12 and under.
CARNIVAL!  Party Music from Around the World - October 25, 2018 @ 7:00 pm
The Piazza at Portofino, 67 Paraggi Court Clayton, NC  27527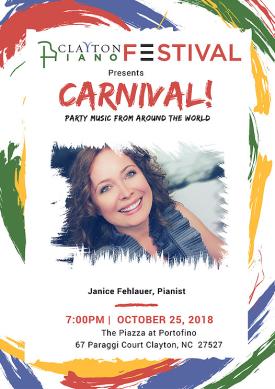 The season continues at Portofino in Clayton, with "Carnival", a fun, family-oriented program developed by pianist Janice Fehlauer, featuring "party music" from around the world.  Whether the holiday is called Shrovetide, Fasching, Mardi Gras, or Carnival, Janice takes you on a world tour of fun music from Couperin's satirical pageantry to Villa-Lobos's mischievous characters; across France, Austria, Germany, Russia, and Brazil.  This is a musical celebration you won't want to miss! 
Tickets: $20 General, $15 Seniors (65 and above), $10 College and High School Students, Children and students 12 and under are free!
TWO'S A CROWD - OCTOBER 26, 2018 @ 7:30 pm
The Farm at 42, 1075 Lynch Road Selma, NC 27576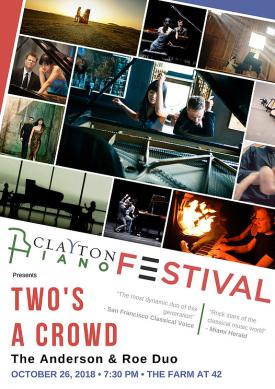 The final concert at The Farm at 42 will feature the dynamic Anderson and Roe Duo.  Known for their adrenalized performances, original compositions, and notorious music videos, Greg Anderson and Elizabeth Joy Roe are revolutionizing the piano duo experience for the 21st century. Described as "the most dynamic duo of this generation" (San Francisco Classical Voice) "…the very model of complete 21st-century musicians. They fuse classical and pop music into a blend of high artistry and skillful entertainment."  They will present unique and eclectic mix of classical standards and cross-over pop numbers, alternating performances on one or two pianos, proving that two can literally be a crowd!
Tickets: $20 General, $15 Seniors (65 and above), $10 All grade school and college students
For information on concert performers click www.claytonpianofestival.org/artists.