Copied with permissions By Keith Barnes and the Kenly News.

Joyce Jenkins of The Serving Spoon in Pine Level appeared as assistant to her daughter, Charlise Johnson, a Smithfield native who now lives in Atlanta, on Food Network's "Cake Wars" last week making it to the final round of the high-profile competition.

"Cake Wars" episode, which aired on Monday evening, Sept. 5, featured the Johnston County team and followed four bakers competing in two timed elimination-style rounds. Each baker was vying for a chance at a $10,000 prize but only one master cake artist got the chance to walk away with the top prize. The team of Jenkins and Johnson County beat out two other baking teams before being eliminated in the final round of competition.

Jenkins is owner of The Serving Spoon located at 212 N. Peedin Ave. in Pine Level and has been a caterer in Johnston County for 13 years. Johnson graduated from Smithfield-Selma High School and now lives in the Atlanta area where she launched her custom cake-baking business in 2013.

"She's been cooking with me since she was three years old and she's 36 now," said Jenkins. To get on the show Charlise Johnson sent in a video and her entry was selected by the judges leading to an invitation to come to California and compete.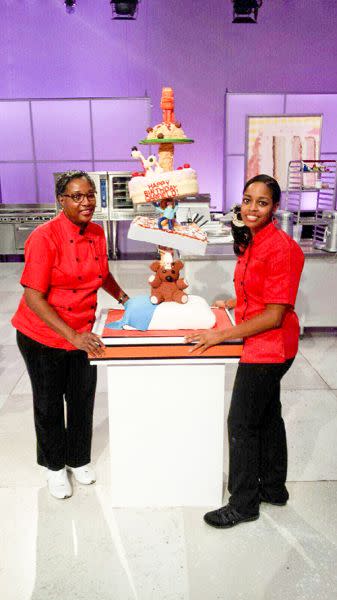 "For the show the contestants each were allowed to get an assistant," said Jenkins. "She asked me if I'd help her because she felt the most confident with me."

"One contestant was from Pennsylvania, one was from New Jersey and the other was from California," said Jenkins. "They were pretty formidable opponents."

"They give you a list of ingredients that you have to choose from," said Jenkins. "We made a lemon basil cake with tomato jam and used ricotta cream cheese icing and a sweet potato cake and whipped cream icing."

Jenkins said every bit had to be prepared from scratch and they were given no hints or clues prior to the competition of what they would be doing. "It was an enjoyable experience," said Jenkins. "We had fun and enjoyed meeting the other bakers who we became very good friends with before we left. I'm so happy Charlise took me along for the ride."

"The biggest thing I got out of it was that I got to help my daughter grow her brand," said Jenkins. "Anytime I can help my children succeed in life I'll be there 100 percent."

Earlier this year at the Johnston County Arts and Food Festival Gala held at Johnston Community College The Serving Spoon took home two top prizes winning in the most original dish and best appetizer categories.