A South Johnston High School graduate hailing from Benson faces off with seven competitors in a fifth-season episode of
"Steve Austin's Broken Skull Challenge"
on CMT that premieres tonight, Tuesday November 21st, at 10PM EST.
    If Caleb Lucas is the man left standing after a series of head-to-head battles, he will earn a chance to win $10,000 by taking on Austin's personal obstacle course, the Skullbuster, which is said to be updated and even more difficult.
    The 26-year-old, 6-foot-tall, 210-pound Navy veteran whose specialty is Olympic weight lifting is to appear in an hourlong episode filmed Aug. 2-4 called "Heavy Impact."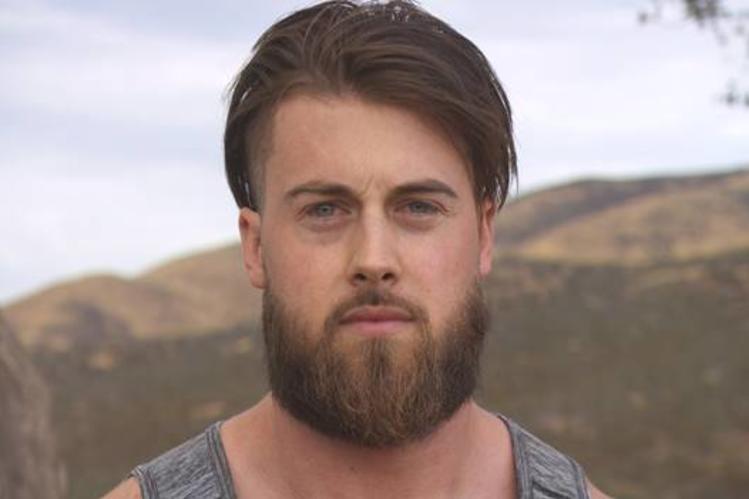 He and the other "big boys" compete in overcoming such obstacles as Summit, Death Grip and The Peak at a stand-in for Hall of Fame professional wrestler Austin's Broken Skull Ranch, notes an episode description on the show's Internet site.

    The son of Roger and Dr. Jan Lucas of Benson said he transferred to Benson Middle School after attending Friendship Christian School in Raleigh.

    "I graduated from South Johnston High School in 2009 with a full athletic scholarship to the United States Naval Academy," he said.

    "Most of my Lucas family live in the area or nearby," said the grandson of Ilee Lucas and the late Eddie Lucas.

    Attending the academy, he studied military leadership, served as an active-duty member of the U.S. Navy and played varsity football for its Midshipmen from July 1, 2009, to Sept. 14, 2010, Lucas said.

    "After completing the first academic year, I decided not to pursue a military career," he said. He transferred to Wofford College in Spartanburg, S.C., and finished out his collegiate football career playing the 2011-13 seasons for its Terriers and graduating with a bachelor's degree in business economics in January 2014, Lucas said.

    "With my extensive background in athletics, I decided to pursue a fitness and wellness career postgraduation," he said. "I completed two National Personal Trainer certifications — NASM, ACE — and CrossFit Coaching — CF-L1 — and worked for a national fitness club chain 2014-2016.

    "Currently, I am sole proprietor of Balanced Performance Path offering services of: personal training — CPT; online coaching; nutrition coaching; contest prep; speed and agility training; sports performance coaching; corrective exercise — CES; rehabilitation and recovery training."

    He was selected for the show after completing the online application for the talent call for Season 5, Lucas said.

    Asked what most appealed to him about the show both before becoming a contestant and after competing, he said, "I found the Skullbuster obstacle course appealing from a competitive standpoint. After competing, the camaraderie between contestants was rewarding. We all had similar interests and competitiveness.

    Information CMT publicist Sarah Larson e-mailed says the Director's Guild of America Award-winning show is "the most physically-demanding competition series on television".

    "The series, which last season attracted more than 4 million weekly viewers, features world-renowned athletic contenders including Spartan, CrossFit, power lifters, professional athletes, MMA fighters and everyday heroes who face off against each other — and the desert heat — in a series of intense challenges with only one advancing to the grueling Skullbuster challenge personally designed by the one and only Stone-Cold Steve Austin.

    "After going through basic training at the Naval Academy, Caleb took his spot on the football team.   His impressive and imposing size gave opponents the perception he was slow, something Caleb also expects at the ranch.

    "What people quickly and regrettably discover is Caleb's explosive quickness. Capable of running a 40-yard dash in 4.3 seconds, Caleb fully expects to outrun, out-hustle and outclass the competition. 'I'm built like a tree. No one can move me.'"

    If he wins the $10,000, Lucas will start his own gym, Ms. Larson's e-mail said. Lucas said a nondisclosure agreement prevents him from saying what the episode challenges are before broadcast.

    "But, in terms of the overall experience," he said, "the most challenging aspect of the 'BSR' episode filming was the heat wave and East to West Coast jet lag, which compounded the overall competition physical challenges and derailed peak performance.

    "The most rewarding aspect was working with contestants who were equally committed, competitive and skilled. The event handlers, hosts and crew were all very professional and treated all the contestants with respect. I am grateful that I had the experience."