A Johnston County Christmas tradition will return for 2021.

After being closed in 2020 because of the COVID-19 pandemic, Meadow Lights will open for this year's Christmas season Nov. 19. The light display will be open until Dec. 31.

"We missed it," said Meadow Lights owner and founder Roy Johnson Sr. "We've been doing lights over 40 years."

Johnson's daughter, Ronina Tart, is business manager for the attraction. "We've had a ton of calls from people asking if we would be open this year. There were a lot of upset people last year when we didn't open," Tart said.

"It's a part of our family. We wouldn't know what to do with ourselves if we had been closed again," said Nicole Barefoot, Tart's daughter and assistant manager.

Barefoot said she hopes reopening this year will help take people's minds off the pandemic. "People need to get out of the house and do something that will put a smile on their faces," she said.

"Many people say it's part of their Christmas tradition. We have one family that comes every Thanksgiving night," Johnson said. "We know it brings a lot of joy to people."

Barefoot said she saw a social media message from a person who plans to come to Meadow Lights twice this year to make up for not being to visit last year.

Meadow Lights started more than 40 years ago when Johnson started decorating his yard and has grown into the largest and oldest holiday light display in eastern North Carolina. In addition to the more than 30 acres of lights, there is the Old Country Store, which specializes in all kinds of candy as well as specialty drinks; a carousel, a concession stand and Santa Claus visits every year to visit and take photos.

The carousel is fully enclosed and will operate rain or shine. Concessions are available starting Thanksgiving night.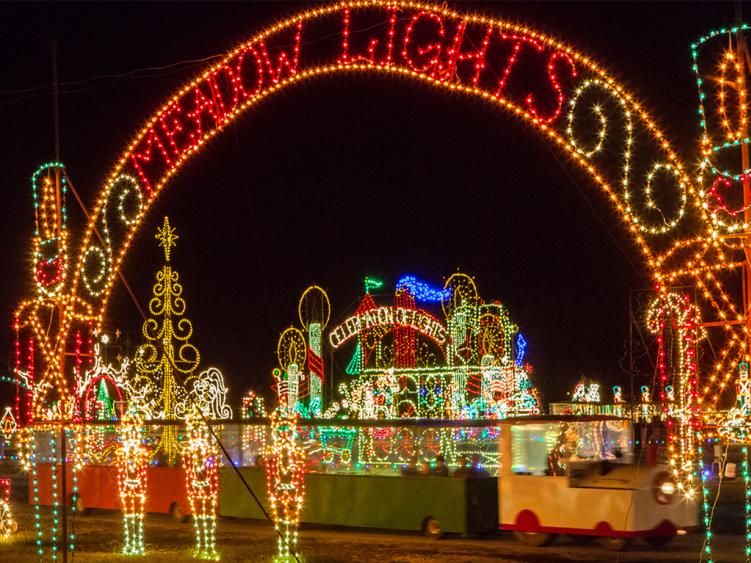 "It just kept expanding. People kept coming, more and more of them. I never thought it would turn into what it is today. We started adding things, and it just got bigger and bigger," Johnson said. "We get a lot of older people. They love it."

The main feature of Meadow Lights is the train that carries visitors through the light display. The idea for the train started when Johnson took his family on a visit to Tweetsie Railroad in the North Carolina mountains. "He saw the train there and said he could build one," Tart said.

The first train was built around a lawn mower and ran loops around the parking lot, about a two-minute ride. "That's where it all began. The line kept getting longer and longer. Now we have four trains," Tart said.

While riding the train is the best way to enjoy the lights, they are visible from Godwin Lake Road and from the parking lot. The trains carry visitors through the display for close-up viewing. Each of the trains can carry 50 people at a time. They have windows on three sides for added protection on cold nights.

The trains run through about 10 acres of the display on a six-loop course.

There is no charge if visitors choose to view the lights from the parking lot or from behind the white fence that surrounds the display. "We've never charged anything if someone just wants to see the lights," Johnson said.

There are more than 300 varieties of candy in the Old Country Store, including sugar-free kinds for those who need them. Meadow Lights specializes in old fashioned candy and Christmas candy. "We keep the candy store open until we run out. Normally, we can keep it open at least through Christmas Eve," Tart said.

Businesses of all kinds are having trouble getting merchandise, and Meadow Lights is no exception. "We are getting candy in, but slowly," Tart said in late October. "Normally by now, we have all our candy in. All the baskets in the store would normally be full by now."

Some suppliers have told Tart they can't get the supplies they need to make the candy.

Johnson said candy is normally ordered in June and July in order to have it on time.

The store also carries old-fashioned drinks in glass bottles, including Sun Drop, Cheerwine, Nehi grape, orange and peach; old-fashioned ginger ale and "little Cokes."

Also available are preserves, hot apple cider, old-fashioned signs and more.

The decision to close last year was a hard one, Tart said. "We had to think of our employees. We wanted to do what's right. It was too big a risk for the public and our employees," she said.

For 2021, Tart said, precautions will be taken to keep people as safe as possible. Shields will be installed at the cash registers and face masks and social distancing will be recommended.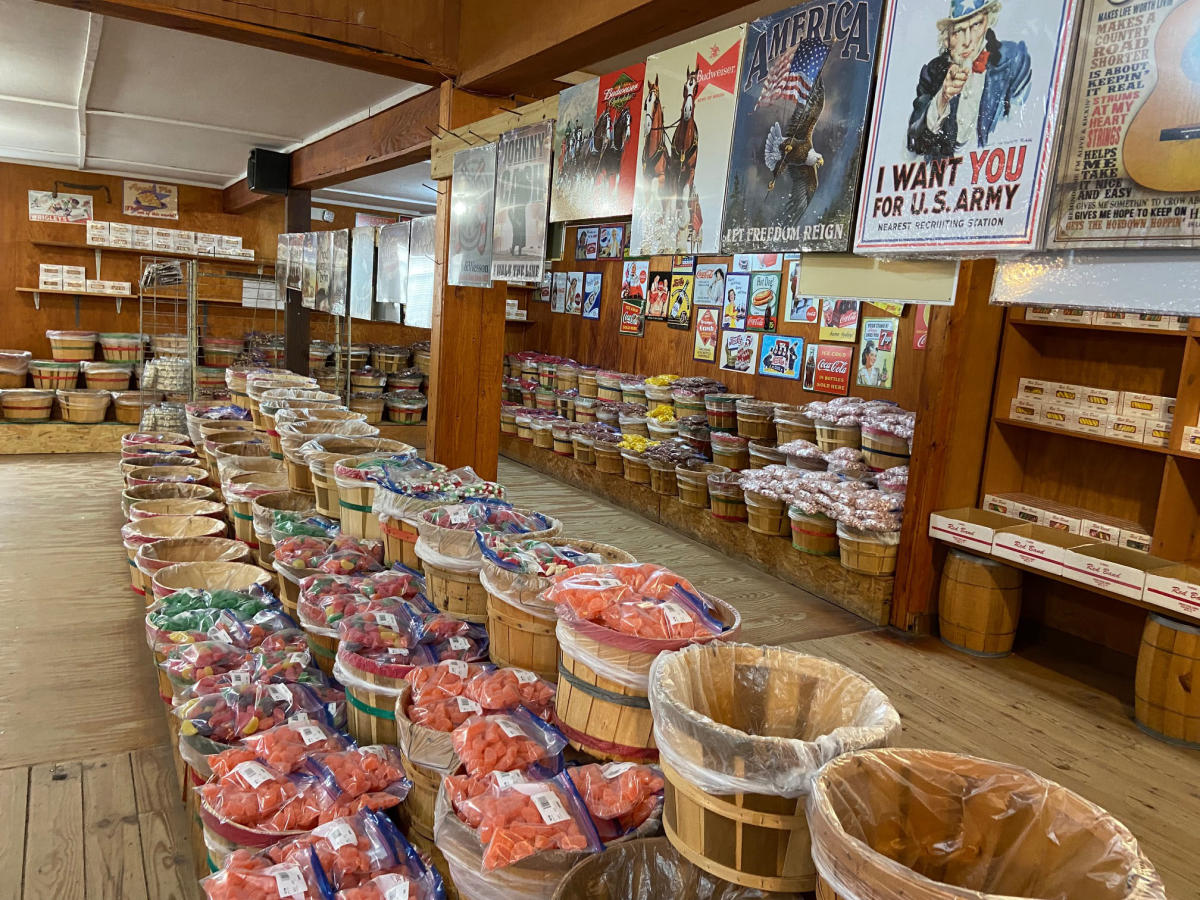 According to www.meadowlights.com, there are more than 8,000 light bulbs in the display. Tart said the exact number is unknown. There are 20 meter boxes for the display, each with 200 amp service. The largest display is 37 feet tall.

According to Tart, the lights start going up in mid-September and are taken down in mid-January. "With the storms and weather, we can't leave them up all year," she said.

"It seems like by the time we take them down, it's time to start back up again," Barefoot said.

There are about 25 seasonal employees at Meadow Lights, and about half of those are family members. "It truly is a family affair," Tart said.

Unsurprisingly, there can be lines during the peak of the holiday season. "Most people expect the lines. They understand we can't do anything about the long lines and some people say that's one of the cool things about visiting," Tart said. "They come in groups and make a party out of it."

Barefoot said there have been times when cars are backed up from Meadow Lights to the exit ramp off Interstate 40 about two miles away.

When Johnston Now visited in late October, the process of testing the lights had begun. "Testing is one of my favorite times. It means we're about to start," Barefoot said.

Family holidays are also impacted by the operation. Thanksgiving and Christmas celebrations have to be held early in the day because of preparation for the night's visitors. Johnson's birthday is Dec. 13, and once things shut down for the day he has his birthday cake around 11 p.m.

Meadow Lights is open Nov. 19 through Dec. 31 from 5-10 p.m. Sunday through Thursday and 5-11 p.m. Friday and Saturday. Train rides are $3 per person, carousel rides are $2, visits with Santa are free and photos with Santa are $7. The address is 4546 Godwin Lake Road, Benson.

From Johnston Now Magazine; byline Mike Bollinger