The COVID-19 pandemic has changed many things in our lives and many of us feel now is a time of caution and turmoil; we applaud these brave business owners for looking ahead to the future. With plans that were in place way before COVID happened last year, dreams for expansions, new businesses, loans, construction plans were all in motion. 
So join us and celebrate our tourism partners for their success and we invite you to try out these new businesses.  Let's keep moving forward and invest with these businesses - buying local is more important than ever!
Open Now

Hampton Inn Smithfield
Just Opening! With 112 rooms, the new Hampton Inn in Smithfield will be the largest hotel in Johnston County.  Located along I-95, Exit 95 on Smithfield Crossing, behind the Golden Corral, the location for this new property will be the first property built on the southwest corner of the interchange and will have high visibility from I-95. The hotel is slated to open in October.
Address: 160 Towne Centre Place, Smithfield, NC
Phone: 919-965-6151
LaDiDa Wine Bar
LaDiDa is a fun, unique Wine Bar & Bottle Shop in the heart of Downtown Clayton. Stop by, sip on a glass or take a bottle to go. With a great atmosphere and amazing service, you will always find yourself at home at LaDiDa.
Address: 459 E. Main St., Clayton, NC 27520
Phone: 919-585-2185
Epic Axe
New to Downtown Clayton, this amazing place offers an extensive selection of wines and beers to enjoy while you learn how to expertly throw hatchets from EPIC staff.
Address: 213 W. Main St., Clayton, NC
Phone: 984-220-0776
The Queen's Court
Once you step inside, you will feel like a queen! The Queen's Court offers nice home furnishings such as lamps, mirrors, dinnerware, and more! The shopping doesn't stop there, you can also buy silk flowers, garden decorations, chocolates, and a whole lot more! 
Address: 331 E. Main St., Clayton, NC
Phone: 919-243-0906
Unforgettable Food Affairs
In 1995, April Myers started Unforgettable Food Affairs with hopes and dreams of growing her business and providing the best catering services to her clients. Throughout the years, her business has grown bigger and she is now looking towards new business ventures within the walls of Unforgettable. She is excited to see new growth with the online shop and curbside pick-up, keeping true to what she knows best... cooking good southern food with great hospitality.
Address: 5533 NC Hwy 42 W. Ste. B26, Garner, NC
Phone: 919-662-7678
Crazy Daisy Frozen Yogurt Shop
A family-owned and operated frozen yogurt shop in the McGee's Xrds area.
Address: 12524 NC-210 Ste 105, Benson, NC 
Phone: (919) 300-1712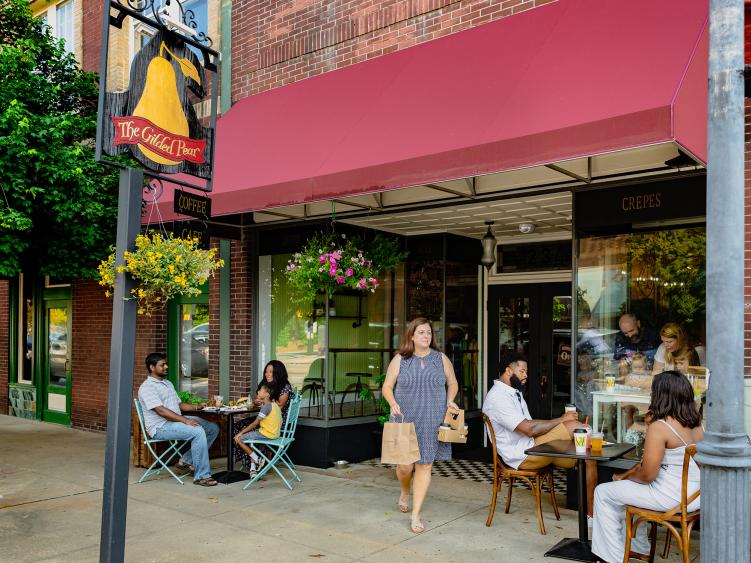 The Gilded Pear Brew House
The Gilded Pear Brew House is newly opened in Downtown Smithfield, offering delicious coffee drinks, teas, and even nano-brewed beers. In addition, they serve delicious pastries, crêpes, and breakfast sandwiches, with plans to offer a full lunch menu as well very soon.
Address: 234 E Market St Smithfield, NC
Phone: 919- 938-9020
Coffee on Raiford
This new coffee shop located in Downtown Selma is the project of one of our JoCo Hospitality Association members, Jeff and his sister, Zena Hamilton-Rose.  Jeff has been the lighting guru and marketing manager for the Live@The Rudy Theatre, and having a coffee shop for shoppers and theatergoers in Selma was a need he wanted to fulfill. Stop in for coffee, stroll the shops of Downtown Selma, and take in the show (this Christmas!).
Address: 123 N Raiford St Selma, NC
Website: coffeeonraiford.com
Miss B's Bakery
From a home baker to owning a storefront in the McGee's Xrds community, on I-40, Exit 319, Benisha Hunter is making her dreams come true. Ms. B's Bake Shop provides cupcakes, custom cakes for all occasions, sweet treats and pastries. The tastes and smells are amazing and you will not be disappointed!
Address: 11760 NC Hwy 210, Ste 210 Benson, NC
Phone: 919-938-9006
Website: msbsbakeshopllc.com
The Serving Spoon Event Venue
Many of us are definitely in love with Joyce's food — can we talk about those country ham biscuits in homemade rolls? But Joyce wanted to expand her storefront into an event space, and this new venue is now open for groups up to 75 people.  When we can gather again for social events — this is a unique space for your next social event like rehearsal dinners, bridal and baby showers or that special birthday!  Imagine you are there right now — and those incredible ham biscuits are right in front of you.
Address: 212 N Peedin Ave Pine Level, NC
Phone: 919-965-9009
Website: servingspooncatering.com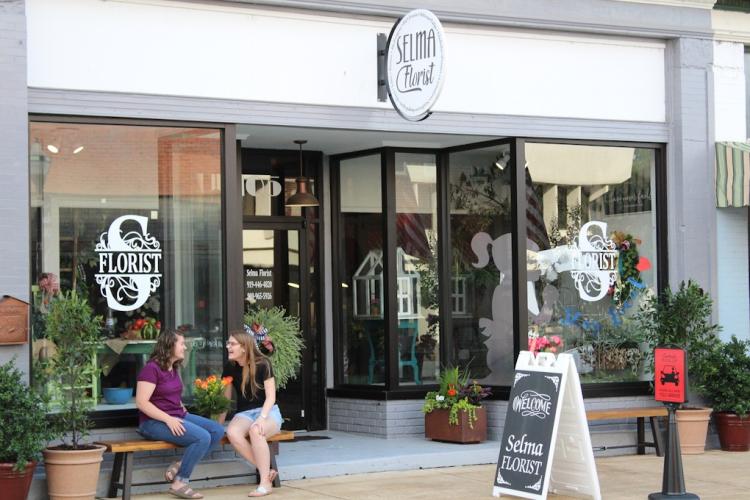 Selma Florist
With a beautiful new store-front in Downtown Selma, Selma Florist, is offering arrangements for any occasion. Family owned and operated, it's worth stopping by just to see the window displays.
Address: 105 N Raiford Selma, NC  
Phone: 919-446-4820
Website: selmancflorist.com
Old Fashioned Ice Cream
Traditional and unique flavors, even a few made with local craft beer, served up in a cone or a cup is what you'll find at Old Fashioned Ice Cream in Selma. The name says it all. Grab your favorite and stroll Downtown Selma while you savor your refreshing treat!
Address: 124 N Raiford St Selma, NC
Phone: 919-351-0505
Alicious Boutique & Apparel
A luxury brand with a focus on working women, this boutique provides products that can serve any occasion. They accommodate customers with feel-good clothing and a classy look. Each client is guaranteed to feel like a superstar after wearing their accessories and exclusive pieces.
Address: 259 Venture Dr., Ste.C, Smithfield, NC
Phone: 919-928-5212
Pixie Dust Lunch Box & Bakery Shoppe
Located in Downtown Selma, Pixie Dust Lunch Box & Bakery Shoppe offers a wide variety of homemade bakery goods and deli sandwiches. 
Address: 107 N. Webb St., Selma, NC 
Phone: 919-351-0255
The Southern Bostonian
A "wicked awesome" furniture, antique, and decor co-op located in Downtown Selma. 
Address: 202 N. Raiford St., Selma, NC
Phone: 919-300-1257
D's Seafood Market
Located in Downtown Selma, D's Seafood Market offers a fresh and delicious varity of fish!
Address: 114 W. Waddell St., Selma, NC
Phone: 919-202-5833
Home Interior & More
Home Interior & More is an upscale thrift/consignment store located in Selma. They specialize in home interior decor, clothes, shoes, etc.
Address: 125 N. Raiford St., Selma, NC
Phone: 910-527-7013
Harmony Playground
The Harmony Playground at East Clayton Community Park is designed to be a one-of-a-kind Inclusion Play destination inviting and enabling children of ALL abilities to play together in a safe, educational and supportive environment where families, caregivers and citizens in support of inclusion come together.
Address: 1774 Glen Laurel Road, Clayton, NC
Phone: 919-553-1550
Heart2Hands
Heart2Hands is a local artist co-op & gallery featuring hand-crafted upscale pottery, woven goods, jewelry, one of kind creations, and fine art original paintings.
Address: 472 E. Second St., Clayton, NC
Phone: 919-359-9006
The Cardinal
A "beer and hot dogs" type of bar with Raleigh roots is open in the old Flip Side building with lots of outdoor space for hanging out. They also plan to open a "smoked taco" restaurant in the same space to operate separately but along-side The Cardinal.
Address: 408 E. Second St., Clayton, NC
 

Coming Soon
There are other exciting projects currently under construction and "Coming Soon" in Johnston County. Follow the bureau's social media or the evolving business' channels below for updates on grand openings!
Old North State Food Hall
With an opening planned for this Spring, the nation's first roadside food hall will be located in a portion of the old JR's building just off I-95, Exit 97. Multiple local and regional food vendors are planned with varying cuisine offerings. The food hall will also have a full bar called the NC Craft House with a drink menu dedicated to NC-made beer, wine, and spirits.
Tru Hotel
A Tru by Hilton property will be coming to Smithfield in 2022!