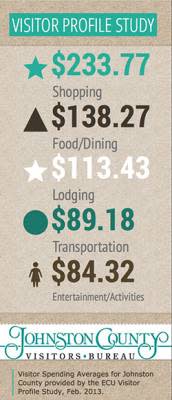 The Johnston County Visitors Bureau was part of a pilot program in partnership with East Carolina University Center for Sustainable Tourism to conduct visitor research in rural counties.  Over a year long process, emails for an online survey were collected from accommodations, attractions, retail stores, and special events to gain a cross-section of visitors during the four seasons of travel.

"As part of the pilot program, we were excited to pave the way for tourism organizations across North Carolina to learn best practices for conducting research in rural communities," stated Donna Bailey-Taylor, Executive Director.  "Although the sample size was around 215 respondents, we feel the data complements what we already know from previous studies and we learned several new trends on sustainable practices of our visitors.  We wish to share this information so that local businesses can it use in their everyday operations and for marketing decisions."

The Cumulative Technical Report was finalized in February 2013 and copies were provided to all participates of the study.  The report validated many of the bureau's previous studies or data collected internally such as North Carolina is the top feeder state for travel to Johnston County (65.4% of study responses) and Virginia is the top overnight state for travelers to the area (6.41% of study responses).

Knowing who is traveling to the county and why are important aspects of how to market to our visitors and the general outcome from the research indicated:  35% of visitors to Smithfield/Johnston County were on vacation, a getaway or for leisure purposes, 15% were here visiting friends/family, 15% were attending a business trip, and 11% were attending a festival or special event, with additional 24% here on personal business or indicated other reasons.

Tourism in Johnston County generated $191 million in visitor spending in 2011 and average expenditures are important for tracking the economic impact of tourism. Visitors spend on average $233.77 on shopping, food ($138.27), lodging ($113.43), and transportation ($89.18) and activities/entertainment ($84.32).

For those interested in reading the full report, a copy will be available on the Johnston County Visitors Bureau website, www.johnstoncountync.org or if there are additional questions contact Donna Bailey-Taylor, Executive Director at 919-989-8687.