On January 3rd, Scotty Henley, Executive Director of The Clayton Center and board member since 2013, was elected Chairperson of the Johnston County Tourism Authority.  The chairperson of the authority leads all official meetings of the board, appoints committee chairs, and liaisons with the President of the Visitors Bureau on the operation of the organization.  Other newly elected officers were Rick Childrey, who will serve as Vice Chairperson, and Lynn Daniels, who was re-elected to serve as Secretary.
"I look forward to working with such a dedicated staff of tourism professionals, with board members who are deeply passionate about sharing the great opportunities in visiting/staying in Johnston County, and contributing to the positive JoCo impressions our guests share in their home locales," stated Henley.
More news from the Tourism Authority
In other board news, the Johnston County Commissioners recently appointed four members, two returning and two new members.  Rick Childrey, retired Greater Smithfield/Selma Area Chamber President, and Rick Heilmann, Owner of Country Superstars 102.3 WKJO-FM Radio station, were both appointed for second terms on the board.  New members to the Authority are Paul Boucher, Owner of Small World Travel & Tours of Benson, and Cheryl Lane, Owner of Double Barley Brewery of Smithfield.  Board member Ernie Brame will chair the Special Project Committee and Rick Heilmann will chair the Marketing Committee.
The Johnston County Tourism Authority is the governing board for the Johnston County Visitors Bureau providing oversight for the room tax funds paid by visitors to the county collected from area hotels, bed & breakfast inns, campgrounds, and AirBNB.  The board is charged with promoting the county's tourism assets through advertising, direct sales, and publicity efforts. In addition, the tourism authority provides grant funds for special events/festivals and capital funding for tourism development projects.  There are two ad-hoc advisory committees to assist in tourism programming - the JoCo Sports Council and the JoCo Hospitality Association - and the Visitors Bureau manages the 2% room tax for the Towns of Benson, Kenly, Selma, and Smithfield.
2017 Annual Report Facts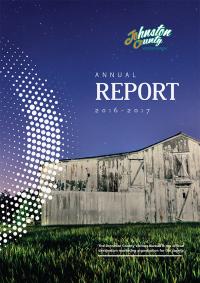 The latest visitor spending numbers released by the VisitNC Group for 2016 were $232.49 million, an increase of 4.9% from 2015 totals.  Other signs the tourism industry is healthy in Johnston County include: the new Hampton Inn & Suites opening this April in Benson; investment in new meeting venues including The Barn at Broadslab in Benson and The Farm at 42 near Clayton; and additional openings of service industry businesses like restaurants, retail, and transportation services happening throughout the county.
More information on the programs, budget, and activities of the Johnston County Visitors Bureau may be found on the website, https://www.johnstoncountync.org/about/, or by calling 919-989-8687.