Everyone has their own opinions surrounding Black Friday. Some would classify it an obsession. Some, a tradition. While others find its slow erosion of Thanksgiving Day and family-time appalling. Whether you're spending Friday the 26th of November in front of the TV, on the couch, or in line at a store, you certainly have the next day, Saturday the 27th, to go shopping or shop some more. And the Saturday after Thanksgiving has for the past few years been known as Small Business Saturday.

Started in 2010, and championed by American Express, Small Business Saturday is one day out of the year where shoppers are encouraged to focus their attention and buying-power on small, locally-owned businesses. These are the shopkeepers on the corner, the chefs serving-up homegrown dishes in the kitchen, the artists and growers and merchants on main streets across the country. They have hand-made, hand-picked, and personally-selected items in their stores that would make the perfect Christmas gift for someone on your list. They can help you pick the most cheerful decorations, the perfectly-paired wine, or provide a warm meal to keep you going while you shop the day away.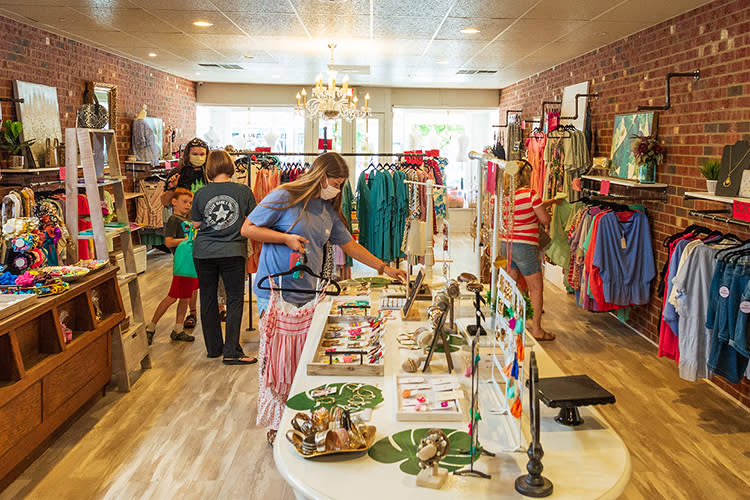 Shopping Our Unique Downtowns

The best part is that whether you're a local or a visitor to Johnston County this holiday season, small business shops and restaurants are all around. They're waiting to welcome you on Saturday the 27th. So, as you plan over the next few weeks on the best way to tackle your Christmas list, holiday shopping, and even your annual tradition of Black Friday all-night and all-day madness... think about giving Small Business Saturday a chance. The Johnston County Visitors Bureau website has unique landing pages for shopping locations within each town in JoCo to help you decide where to go. We recommend the links below for a list of locally-owned stores and boutiques. Small Business Saturday would be an excellent time to check out all these downtown areas for yourself.

Shop in Smithfield

Shop in Benson

Shop in Clayton

Shop in Four Oaks

Downtown Selma is having
an entire Shop Small Saturday Event!

It is on days like Small Business Saturday that we can reflect on how important these businesses are to our local economy. And tourism, by definition, exists to support and sustain the success and growth of these businesses by bringing in visitors from outside the county to enjoy everything that JoCo has to offer. So this Saturday, thank a small business owner and get all your friends and family Christmas presents that have been "sourced-locally".

For a comprehensive list of shopping options in JoCo, click here.



#OptOutsideJoCo

If you're finished shopping, or shopping isn't your thing, then head outside to explore nature in JoCo. The cooler weather makes for a more pleasant recreation experience this time of year. The Friends of Johnston County Parks group is hosting their second annual #OptOutsideJoCo event Thanksgiving weekend.  The #OptOutsideJoCo event is a part of REI's #OptOutside movement which started in 2015. This event is to encourage people to spend time with family and friends outside during Thanksgiving weekend in Johnston County and to share their experiences and photos on Facebook and social media using the hashtag #OptOutsideJoCo.  The group is encouraging everyone to use Johnston County Parks and Open Space's brand new website (www.jocoparks.org) to find their local greenway, park, or trail to spend time outside.

"Johnston County is dedicated to providing public spaces for healthy experiences and recreation activities. One way we are encouraging these actions is through our new website, which is full of parks and recreation sites where enthusiasts can enjoy the great outdoors. This website keeps users up to date on all park & recreation events throughout the county through our calendar feature. Check out the website and see for yourself!"  said Austin Cross, board member of Friends of Johnston County Parks and Park Planner for Johnston County Parks and Open Space.

The event begins Thanksgiving Day and runs through Cyber Monday.  The group is encouraging participants to walk, run, or ride their local greenway, play on their local playground, or visit their local park in Johnston County.  The group also reminds those participating in the event to recreate responsibly, including following guidelines from the CDC.  The Friends of Johnston County Parks was launched in October 2020 and just established its first Board of Directors; it is a volunteer coalition advocating in support of parks, open space, the arts, and recreational opportunities on behalf of all Johnston County citizens and visitors.  

"Parks, open space, and greenways have proven essential during the COVID-19 pandemic for exercise, relaxation, and stress relief.  We want everyone in Johnston County to know why parks are essential and to understand the value of parks and recreation as it relates to quality of life," said Dave Herpy, board member of Friends of Johnston County Parks.
 
Holiday Events in JoCo

Also, be sure to checkout a few of our many holiday events below! There is a lot happening in JoCo in November and December - lights, musicals, classes, vendor fairs, and more! 

Holiday Happenings