I sat down recently with April Phillips of Sonlight Farms. Sonlight is a new farm experience for families in Johnston County. April and her husband Josh own and manage a farm in the northern part of JoCo in Kenly, NC. Sonlight is a departure for them into agritourism because they saw a need in their area of the county for fun Fall activities that families could do together.
Sonlight was open last season, but Josh and April wanted time to get one Fall under their belt and to add any unforeseen needs to their operation before sitting down with the bureau to discuss their 2017 season. Below you can see the conversation I had with April about Sonlight. It includes all the information you need to have a great time at Sonlight with your family this Fall.
Tell me a little about the start of Sonlight. Why did you start it and how did the first year go?
Josh and I started Sonlight Farms in hopes to give our community a place to come and spend quality time with their families.  The Fall time is wonderful and people can come to the farm and enjoy the outdoors while having fun.  Our first year went as hoped (minus Hurricane Matthew).  We ended up being open four weekends and had about 1,000 people come through.
What was your drive behind creating Sonlight and your vision for it?
We have a passion for agriculture – and Sonlight Farms has given us a way to expand off that and give visitors an opportunity to experience agriculture in a fun way.  We also have a desire for God to be the center of everything we do – so our vision is to also be able to reach people for Christ.  Our families are important and there are so many things that come between us – we hope Sonlight Farms is a place you can visit to bring your family together – to enjoy the outdoors and fun activities.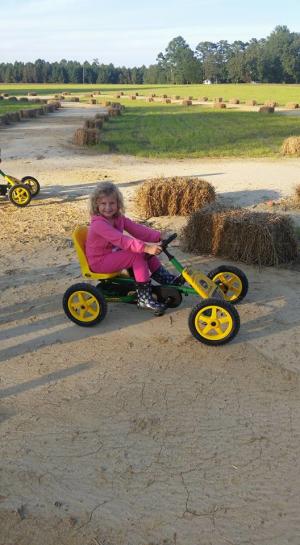 Tell me a little about adding agritourism to a working farm operation. What are some things that need to be considered when allowing for visitors to a farm that people wouldn't necessarily think to consider?
Adding anything to a farm operation is challenging – especially this time of year!  But God has opened many doors and continues to do so.  We have a lot of resources we otherwise would not have, to get the work done. When visiting Sonlight Farms I always tell people to wear good shoes, bring sunscreen, and come to have fun!
What is new this year?
New this year is our 80 foot slide, corn crib, sand pit, education connection, and pond.
What can a family expect from a visit to Sonlight?
When a family arrives, they'll have to decide which way they want to go around the pond.  To the left is the slide, corn crib, and pedal cart track.  To the right is the bounce house, games, hay ride, playground, and corn mazes.  All the activities are easily accessible.  There are lots of picture opportunities – so make sure to have the camera ready!  Everyone takes home a pumpkin – so they need to stop by the pumpkin patch before leaving (we recommend they do this at the end so they don't have to tote a pumpkin around the farm). They can also learn cool facts about the crops that are grown locally in the Education Connection. There are picnic tables around the farm to sit, eat, and take a break. 
Is there food for sale at Sonlight?
We have a concession stand that offers cheeseburgers, hot dogs, nachos, popcorn, snacks, candy, and drinks.
What is the cost to visit?
Admission is $10 per person and visitors 2 years of age and under are free.
Do you have any events planned this Fall and what are your normal operating hours?
Normal operating hours for the public are Saturdays 10am – 5pm.  We will be open from September 16th through November 4th.  School groups and day cares can come during the week for field trips, but will need to contact us to make a reservation. 
We have three special events planned.  Saturday, September 23rd we will be having Ladies' Day.  All ladies will enjoy half off admission, door prizes, and we have 20 vendors who will be sharing and selling their goods.  Saturday, October 21st we will have Farm Daze.  Farm equipment will be on display from John Deere, Massey Ferguson, Case, and Kubota.  The Tobacco Farm Life Museum will have a booth set up for kids to visit.  We will also have some giveaways for the kids.  Saturday, October 28th we will have the Black Out Challenge.  Visitors can come conquer the maze in the dark.  This event will run from 7pm – 9pm and admission is only $5 (no activities will be going on that evening other than the maze).

Can you accommodate groups? Church groups, school groups, etc. and how does that work?
School groups can come during the week by appointment.  Church groups are welcome on Saturdays during regular business hours.  No need to call in advance.
Feel free to add in anything you want to say that you think I missed.
We are also offering birthday party packages on Saturdays this year.  Parents will need to schedule that ahead of time.
You can find out more about Sonlight, including contact information, at their website www.sonlightfarmsnc.com.
For more on Fall fun in Johnston County, check our calendar here.