There is no doubt that Willy Wonka & the Chocolate Factory is a fantastical movie, especially for a child with a candy obsession. Who wouldn't want a garden make of sweets with a river of chocolate running through it? But, one of the more ludicrous scenes I remember is the lick-able wall paper. The thing is, I have a nurse for a mom, and even at a tender grade-school age I was clued-in to how germs worked. The lick-able wall paper scene was very unappealing to me. But, it gave us some gems in the form of quotes. Mainly, "the snozzberries taste like snozzberries" and "we are the music makers, we are the dreamers of dreams". And now that you all want to go watch Willy Wonka again to see those golden ticket winners experience the joys and horrors (let's be honest, parts of that movie are freaky) of the chocolate factory, I bring you to my point.

Berry season always reminds me of this snozzberry quote. Why? Well, if you've ever actually eaten a berry straight out of the field in-season then you know it's the best tasting berry you've ever had. The strawberries taste like strawberries. The blueberries taste like blueberries. It's a whole new level of berry experience - waiting patiently for a chance to have the best a fruit can offer you, from a field on a local farm. Knowing you can purchase it at the grocery store year-round is comforting. But it also somehow makes the berry picking season more important, more unique, and more precious.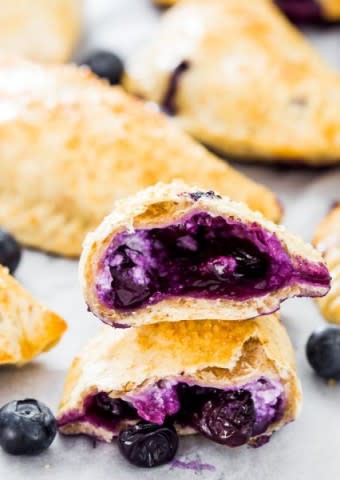 Blueberry season is around the corner here in Johnston County. Both Smith's Nursery and Creekside Farm are here to offer you opportunities to pick and purchase berries in their "natural setting". As always, we've provided their information below so that you can contact them and plan peak picking time (say that ten times fast). In addition, we've provided more blueberry recipes for you to try this year with your soon to be bucket bursting with hand-picked blueberries. Please share with your friends and family. Be sure to post pictures on our Facebook of the finished product so we can experience blueberry envy.

Creekside Farm, LLC
300 Pine Tree Rd. Selma, NC 27576
T 919-965-9969

Smith's Nursery
443 Sanders Rd. Benson, NC 27504
T 919-934-1700
Blueberry Cupcakes with Lemon Cream Cheese Frosting - these are perfect for a summer cookout. The recipe calls for yellow cake mix, which we can all admit to using when we're in a hurry. But, we challenge you to make the cupcake batter from scratch. You can do it! This is the South, where we quote Steel Magnolias and bless the heart of everyone... who uses store-bought batter. :)

Blueberry Lemonade - Nothing says summer like experimenting with different lemonade flavors. This is our favorite so far. The blueberry simple syrup is the perfect balance to the tart lemon juice.

Blueberry Goat Cheese Empanada - It's safe to say that empanadas are a lot like turnovers. You can really stuff anything in these babies and they'll be perfect, puffy, doughy clouds filled with delicious flavors. Goat cheese offers a rich, creamy addition to the sweet blueberry flavor in this amazing combo. Use the recipe to experiment with other stuffing options.

Good luck, and may the biggest bluest blueberries fall into your bucket!