In keeping with the theme of last week's blog, we continue to check-in with our partners across Johnston County. This week we're focusing on the Clayton Center, which is a performing arts venue in the western part of the county with a 600-seat auditorium and an annual Palladium Series that draws national acts to JoCo.
We spoke with the Clayton Center's Executive Director, Scotty Henley, for an update on how technology is being used to make sure the show does indeed go on. Though it now seems like years, just 21 weeks back, the Clayton Center started their first of what would be many Wednesday night live-stream concerts.
"What spurred it on was me watching other artists trying to present their music on social media via their phone camera with a weak mic," said Scotty, "and I thought we needed to be able to do the same thing but from our actual stage and with way better audio quality somehow."
It morphed from there into a team of people trying to figure out a way that an artist could play live on stage at the Clayton Center with quality video and audio transmitting to viewers at home. In a lucky break, it turned out that Clayton's Public Information office had access to a Sling studio, plus 4 HD cameras belonging to the town. With the Sling studio, Scotty can plug in a line from the Clayton Center's audio boards, pair it with the multiple cameras (for various angles), and then package it all together to transmit as a live stream on the Clayton Center's Facebook. The set-up allows for the same quality audio that you would get if you were watching from within the auditorium.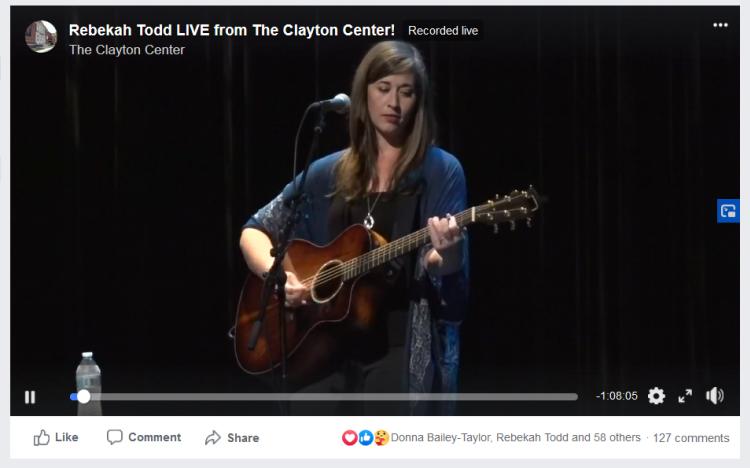 Scotty thought they'd use the set-up to bridge the gap in the 4-5 weeks he estimated they'd be closed and then occasionally offer more virtual concerts as the state, and the Clayton Center by extension, reopened. But, that was 21 weeks ago, and NC as of now remains in Phase II of the reopening plan. So, the Clayton Center keeps the concerts coming – from their spacious and beautiful auditorium to your phone screen.
Scotty has been spotlighting both Johnston County and North Carolina based artists during these weekly live converts. In fact, due to the reception to the event form local, regional, and even a national audience, the Clayton Center live streams attracted the attention of the North Carolina Arts Council. They approached Scotty about using their roster of NC-based artists to continue to source talent for the concerts and in return they would provide grant money to pay the artists to perform.
The good news in all this is that the Town of Clayton has designated the Clayton Center as essential; this means the staff can continue to operate the center sans audience and that the money budgeted for a live concert season that doesn't exist right now can be put towards booking acts for the live shows. That, in combination with the grant money from the state, allows Scotty to at least pay the artists something for their time and talents. The live streams also often include a link to a virtual tip jar via that night's performing artist's Venmo, PayPal, or another cash app.
The Clayton Center promotes each concert as a Facebook live event that interested viewers can click as intending to "Attend"; when the show "goes live" the night-of, each person who clicked will receive a notification that the live stream is beginning. The artists' info and social accounts are integrated through tagging. Goldsboro natives The Malpass Brothers were the first live stream held on a Saturday, the 4th of July, and the first artists the Clayton Center booked using the state grant money.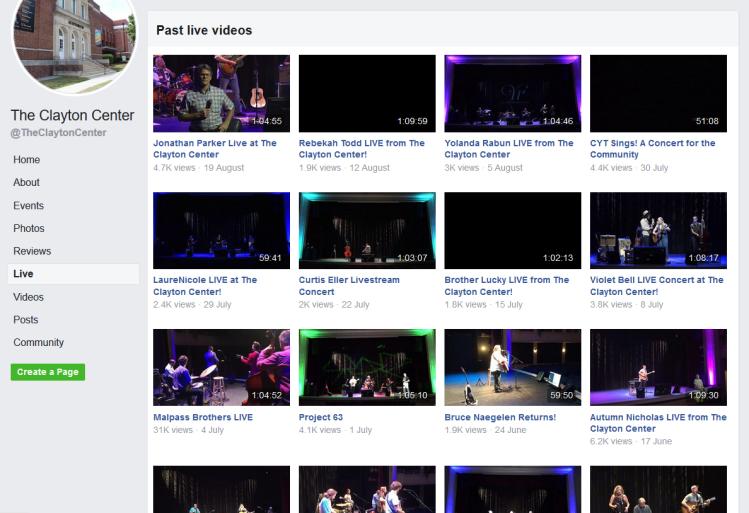 Another wonderful artist from the art council roster that Scotty recalled was Donna Washington, a storyteller from Durham, "she performed a piece called 'Chairs in the Trees' which was a lovely emotional story regarding racial inequality. But instead of performing the piece in anger, she did it with humor and love and compassion, expressing the nuances of the storyline."
The streaming technology has worked so well, that Scotty is using it to help not just the Clayton Center, but other artistic endeavors. The Carolina Youth Theatre hosted a benefit concert on their Facebook using the Clayton Center's stage and tech to raise money for local small businesses. Next week on the 27th of August the band Liquid Pleasure will perform on the Clayton Center stage, presented and streamed by the Benson Chamber of Commerce via their YouTube (the band had been booked to play during a seasonal outdoor concert series).
In addition, the Clayton Center is working with Mike Wiley – a playwright and actor who focuses on historical presentations with themes primarily centered around black history. He is a one-man-show, playing each character in these performances, which he wrote himself. Usually, he travels to schools and preforms before doing a Q&A. with students. This year, that's not possible; so, school districts are looking for alternative and virtual methods of learning. Mike has worked with Scotty's team to record him performing 8 of his shows on the Clayton Center stage. Then all 8 shows will be streamed for schools that will pay for access to the content.
In addition, Mike will be performing his one-man play based on Tim Tyson's memoir Blood Done Sign My Name live at the Clayton Center. The event will be presented by the Asheville Stage Company (their channels will be live streaming it and they are selling tickets to the event) but hosted by the Clayton Center (their stage, their equipment). The Clayton Center will get recognition and will be paid for the use of its technology.
At the end of the day, it's about making sure that art, entertainment, and education can continue for audiences in JoCo and across NC even while venues remain closed.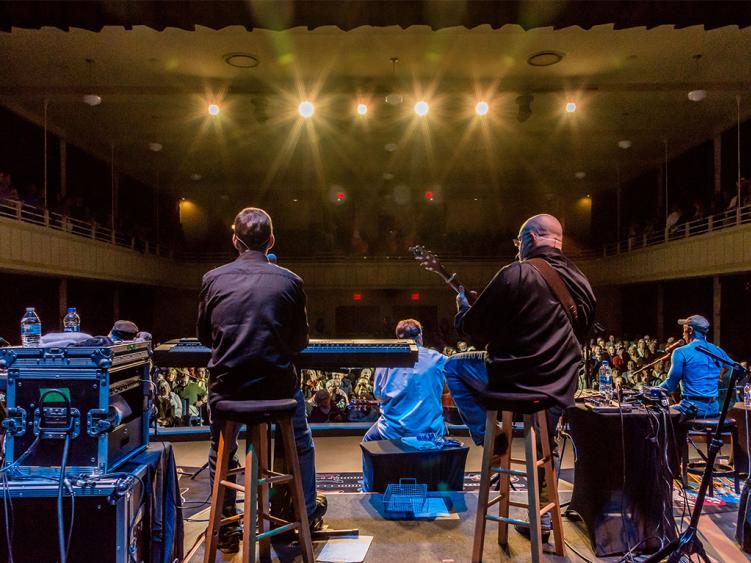 When asked about the entertainment industry in general, Scotty said, "I'm hearing people say that by March of 2021 if we're not back to full venue attendance that many large artist agencies will have to close their doors for good. Artists are reliant on gigs. But, using the Clayton Center as an example… I have 600 seats. So, if you go 6 ft apart… maybe I can host 120 people for a live in-auditorium concert. Now, if I'm booking a mid-level or even higher caliber artist, then 120 tickets worth of profit is not enough for me to pay them the amount of money that would be worth them taking-on the cost of touring."
While we wait for the fate of live music to play out, we can reminisce back to happier times. So, we asked what Scotty's most memorable concert experience was. He said his most memorable past experience was having Susan Warner play the Clayton Center 3 years ago.
"It took 10 years for Susan and I to sync-up in a way that allowed me to book her into a space. She was promoting a concept album at the time themed around the life of the American farmer. The morning before her concert she went to the Clayton Farm and Community Market and that night she had a quiz halfway through the concert where audience members could identify certain produce items from her shopping bag and then that produce item was their prize from her for getting it right."
To stay up to date on all the virtual happenings at the Clayton Center be sure to like and follow their Facebook page where all events are promoted and posted.