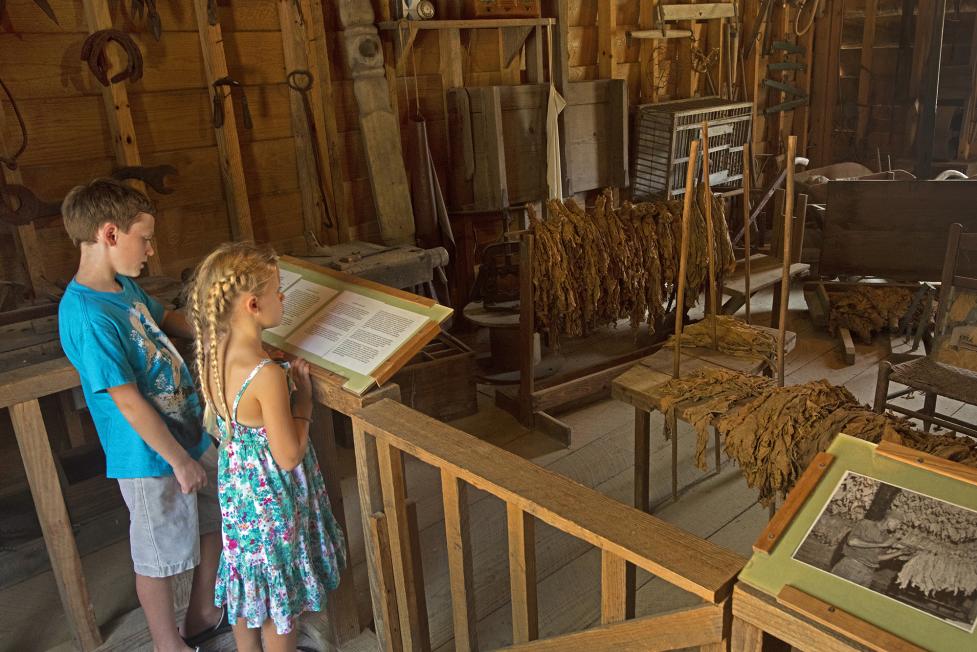 Option 1 - Visit the Ava Gardner Museum and Lunch at SoDoSoPa
Exit 95 off I-95
Address: 325 E. Market St. Smithfield, NC 27577
Phone: (919) 934-5830
One of the greatest movie stars of all time is from Johnston County, NC. Tour her museum in Downtown Smithfield to see costumes, personal effects, scripts, letters, and other items that tell the story of Ava's life, loves, and career. The Ava Museum is well curated with rotating exhibits and special events offered throughout the year.
Exit 95 off I-95
Address: 146 S. Third St., Smithfield, NC 27577
Phone: (919) 205-1076
Whether from Tennessee, Texas, Georgia, Louisiana, or the Carolinas, southern BBQ is the sweetest and most sultry taste around. SoDoSoPa's southern comfort food is sure to satisfy any appetite. Their recipes have been gathered over six generations and across three families with strong roots in the south and its tradition of BBQ and soul food. Experience their down-home cooking for yourself. You'll never forget your first time! You'll be back for more.
 
Option 2 - Visit Broadslab Distillery and Lunch at Redneck BBQ Lab
 
Exit 79 off I-95
Address: 4682 NC Hwy 50 S. Benson, NC 27504
Phone: (919) 207-1366
Jeremy Norris opened Broadslab Distillery, right off I-95, with the help of his grandfather -- teaching him the recipes passed down now for five generations. Jeremy does all the farming, distilling, and production on his dirt to bottle product so that he can control every process and ingredient. He also gives the tours, so you'll get to hear him talk about the 100 plus years of history that Broadslab is built on.
Exit 319 off I-40
Address: 12101-B NC Hwy 210 Benson, NC 27504
Phone: (919) 533-7675
Offering pulled pork, brisket, turkey, ribs and chicken. And true BBQ sides such as slow-cooked baked beans, green beans and collards like your mama used to make, jalapeno mac and cheese, and slaw. The Redneck BBQ Lab is owned and operated by members of the Redneck Scientific competition BBQ team. In 2016, they finished as the number four in the nation in Kansas City BBQ Society rankings.
 
Option 3 - Visit Tobacco Farm Life Museum and Lunch at Stormin' Norman's
Exit 107 off I-95
Address: 709 N. Church St., Kenly, NC 27542
Phone: (919) 284-3431
The Tobacco Farm Life Museum has been preserving the history and cultural heritage of Eastern North Carolina farm life for more than 30 years. Come visit and step back in time to a turn-of-the-century homestead, including a restored house and detached kitchen, smokehouse, log tobacco barn, and even an outhouse. The 6,000 square foot museum features both permanent and rotating exhibits on farm life, southern medicine, domestic skills, rural social life, and artifacts.
Exit 107 off I-95
Address: 404 S. Church St., Kenly, NC 27542
Phone: (919) 284-0061
Stormin' Norma's is a family-owned and operated restaurant serving-up eastern style BBQ and sides in a quirky atmosphere. Both indoor and outdoor seating is available and there is also a drive-thru for those that need their 'que on the go!
*Hint: From Exit 107, go one exit south on I-95 for a photo op at the Kenly 95 Petro travel center; the front of the building boasts a 1/3 replica of the Cape Hatteras Light House.