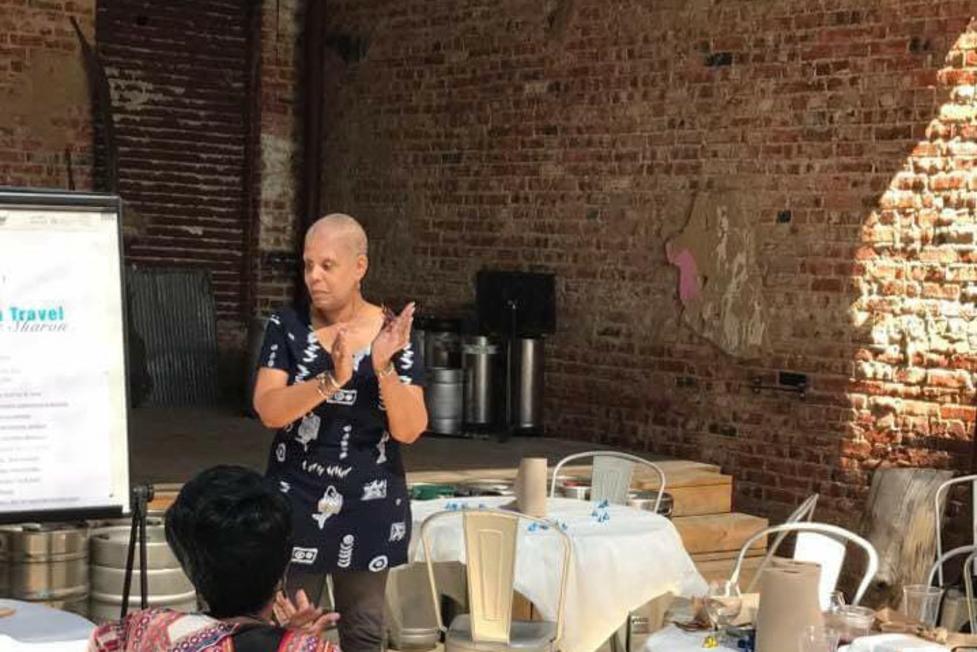 For Sharon Wilson, owner of Freedom Travel by Sharon in Clayton, traveling has been a part of her life since she was a girl. A third generation Jamaican, a lot of summer trips were spent going there to visit relatives. A native of Queens, New York, she went on a lot of road trips as well like Expo 67 in Montreal . "I was always the navigator with the maps," she told me recently.
She earned a Bachelor of Arts in Sociology from St. John's University and moved to Texas with her first husband who worked for American Airlines. Sharon began her career working in construction loans at a local bank.  "I was good on a 10-key," she explained. From there she branched out becoming a Certified Relocation Specialist, guiding transferees with making good home purchasing and selling decisions. 
Twenty-five years, three sons and six grandchildren later, she retired from the corporate world but the pull to travel was still strong. "It's just in my DNA," she declared. She had the opportunity to go back to school and in 2015 earned a Master of Business Administration from Texas Woman's University. During her studies she took a travel course and went to Greece with a group of 26 to study how Grecians handled their businesses.
Sharon noticed the travel agent wasn't on the trip so when she got back to Texas she contacted said travel agent and set up a meeting. She wanted to know more about the travel business and how to get the "most bang for your buck", which she learned was by booking groups. The agent was about to retire so she gave Sharon a couple of leads and in 2015 Freedom Travel by Sharon was born.
Those first few leads helped her develop a strong client base in the Dallas area planning trips for groups, couples, families and individuals. "I do it all," she said. When asked how her sociology degree comes into play when helping clients book a trip, Sharon said, "You have to work with all types of people and personalities." She asks lots of specific questions such as how many people will be on the trip, how long do they want to stay and what activities they enjoy just to name a few. "I give them options."
Although Sharon was thriving with her new business in Texas, she wanted to move closer to her family who live in Virginia and New Jersey. Having visited The Triangle years before, she loved all that North Carolina had to offer. She also wanted to live in a 55+ community where "we would look after each other." Working with a real estate agent, she flew in from Texas and had planned to see some communities near the airport. After all, traveling was her passion.
When she arrived late in the afternoon to visit some of the communities on her list, she was surprised and dismayed that they wouldn't allow her to do a tour. The real estate agent said she knew of a community about 20 minutes outside of Raleigh. That place was The Walk in Clayton. "They were so welcoming," she smiled through the phone. 
In 2019, Sharon used her skills and relocated herself.  With a thriving business, she was enjoying her new life, visiting her family, becoming grounded in her new neighborhood and doing the thing she loved most, traveling. In fact, in January of 2020, she and a couple of friends were in Las Vegas, when word began to spread about the novel Coronavirus.  She had some clients set up to travel and they kept asking her questions. "I knew as little as everyone else," she said.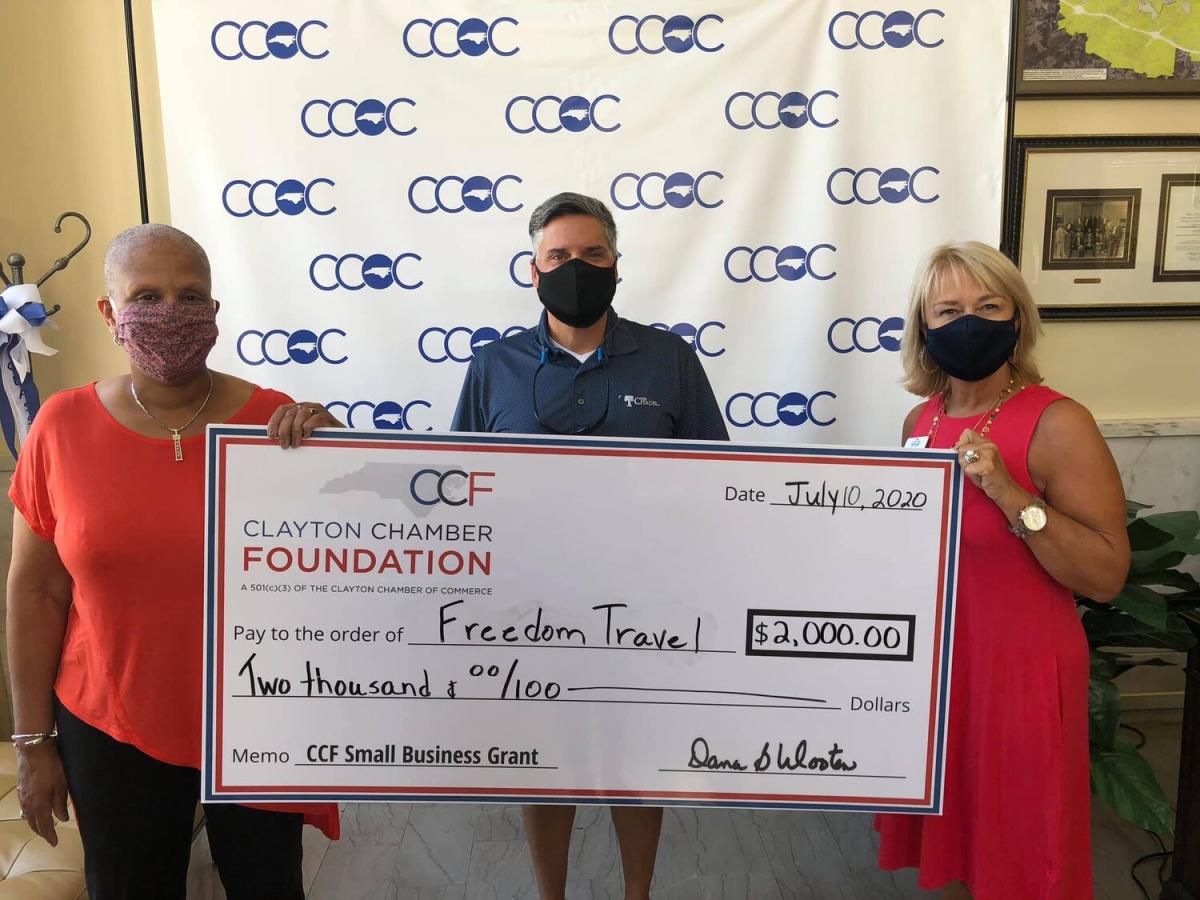 They agreed that the best idea was to put travel plans on hold until more was known. What happened after that is history. Travel bans went in place and Sharon's business went from 100 to 0 overnight. Luckily, she received a $2,000 grant from the Clayton Chamber Foundation. She used the money to help cover business taxes and to become a notary. 
However, that didn't cover all of the time she had on her hands. No longer able to travel or see her family, she was forced to jump on the Zoom train like the rest of the world. The activities in The Walk that Sharon was used to being part of suffered too. The whole point of living in a 55+ community was just that...community. So she and her neighbors began meeting virtually as well. 
Sharon also stayed busy by joining TANG, a local networking group, and the Women's Club of Clayton. "It was a way of communicating with the outside world," she remarked.
When Sharon was on that trip to Greece, she had to keep a journal for the class and write about historical places, food and the like. During the shutdown, she took those journal entries and turned them into stories. Geared towards first-time visitors to Greece, she hopes to get them published in travel magazines or as blog posts. 
With COVID slowly disappearing in the rear view mirror, Sharon said the travel industry is coming back. By the end of the year, she should be back in the black. "Everybody is itching to get out." When asked if she was seeing a trend of destinations, she said that 80-90% are always tropical. Of the five bookings she got in April, two were to Puerto Rico and one was to Hawaii.
In October, a group of 30, including herself, will travel to Dubai. When asked if she went on the trips with the groups, she exclaimed, "Absolutely!" Of course, there are restrictions. Travelers who haven't been vaccinated must get a COVID test 72 hours before departure. At the end of the trip before returning back to the U.S., unvaccinated passengers will get another COVID test. The hotel where the group is staying has a testing facility on site. Fingers crossed that by October the pandemic will be done ravaging the world. 
This traveling grandma, as her grandchildren refer to her, is now fully vaccinated and has been able to see and hug her family again. She just returned from seeing one of her sons in Virginia and will spend Memorial Day in Virginia Beach with another son. One more sign that life is slowly returning to the new normal.