Fresh flowers offer a nice, homey touch to any room. But, traditional floral arrangements can often come at a price. In Johnston County, two different farms have recently sprung up to meet the demand of fresh flowers. Poole Family Farm in Four Oaks and Blue Dragonfly Cut Flower Farm in Clayton are family-owned and operated flower farms.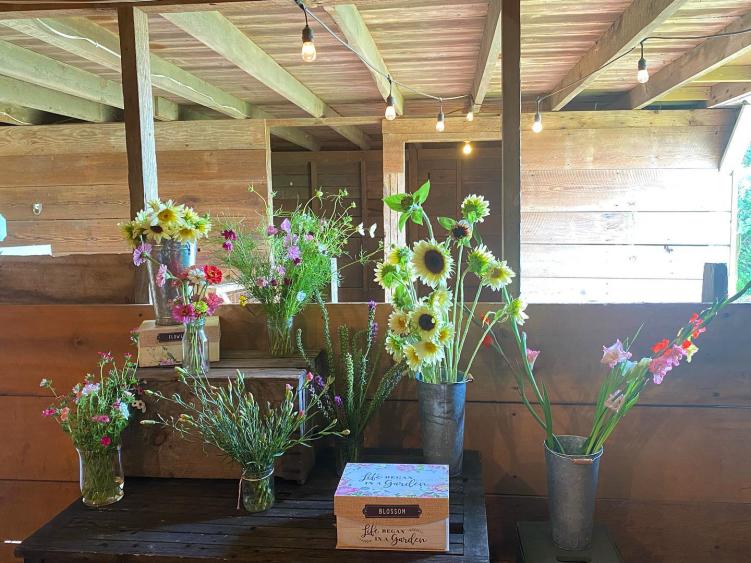 Poole Family Farm is a pick-your-own flowers farm. When you arrive, park behind the barn and then go inside to find the farm/flower stand. Multiple types of vases and buckets are offered in various sizes and pricing, as well as water and cutting shears. Select your vessel and then head out to the field to pick-your-own beautiful, fresh bouquet of flowers. Don't forget to return the shears to the barn and pay when you're done - cash, check, PayPal, and Venmo are accepted. For more info about Poole's pick-your-own process, visit their website. 

Poole Family Farm has also struck a partnership with Stanfield's General Store in Downtown Four Oaks. Find pre-made bouquets for sale at the store, as well as seed packets if you're interested in growing your own flowers. 

Side Note: Poole's also works with brides and event planners interested in taking a more DIY approach to their flowers and looking to purchase in bulk to make their own arrangements.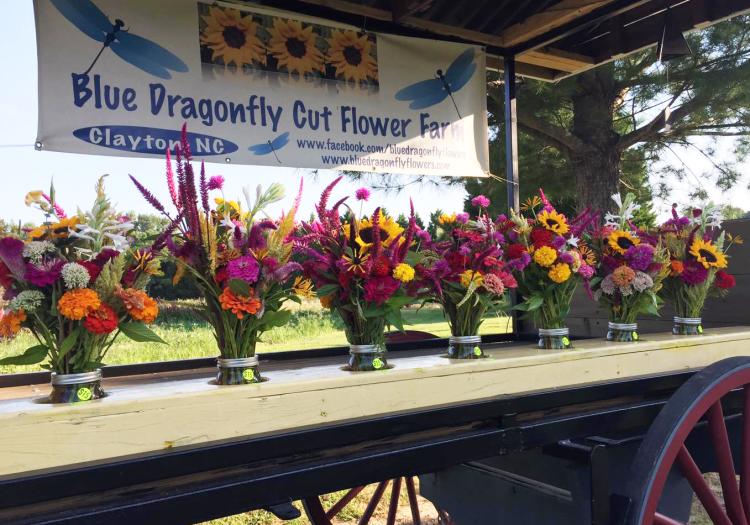 For those looking for the end result of locally-sourced, fresh cut flower arrangements, who aren't as interested in the picking and arranging part... visit the Blue Dragonfly Cut Flower Farm roadside wagon. Blue Dragonfly grows specialty cut flowers from April to October. Stop by the Flower Wagon where bouquets are sold during the week; bouquets are not available everyday so check Facebook for posts on when bouquets are available. The Flower Wagon is operated on the honor system with a cash box.
Another Side Note: as mentioned above, if you need bulk flowers for a wedding or event, Blue Dragonfly offers "Growers Choice" flowers by the bucket. You can call or email for more information. 

According to their Facebook page, though Smith's Nursery is well known for many things... they too are offering a pick-your-own flowers activity; pickers must bring their own vessels and shears. We recommend calling ahead for more info.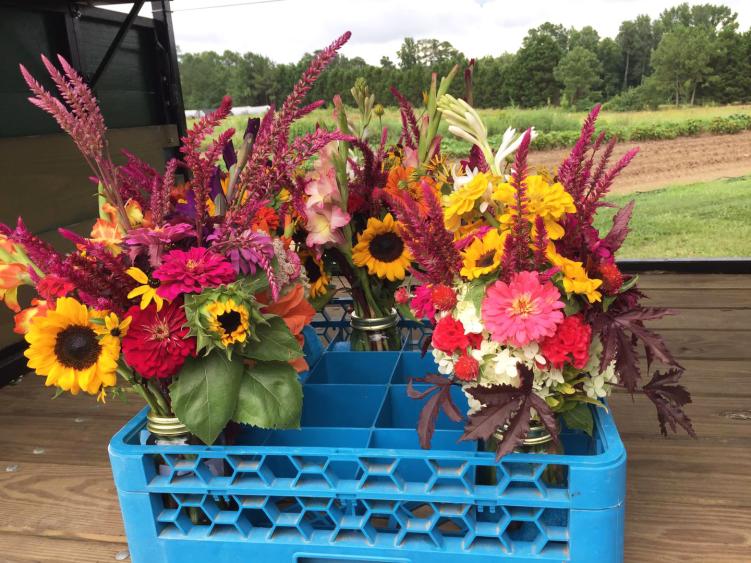 We are sad to say that we missed sunflower season this year; it's a 'here one day and gone the next' sort of thing that happens in July. We hope some of you traveling through the area were able to at least enjoy the gorgeous, bright yellow sunflower fields as you drove through. Lucky residents and visitors sometimes catch open field days by staying Facebook vigilant for open field announcements.

Currently, three of our farms open their sunflower fields seasonally to people looking to cut a few to take home or just to snap a picture: Ashlan Meadows Family Farm in Selma, Pace Family Farms in Clayton, and Sonlight Farms in Kenly. So, now you know for next year.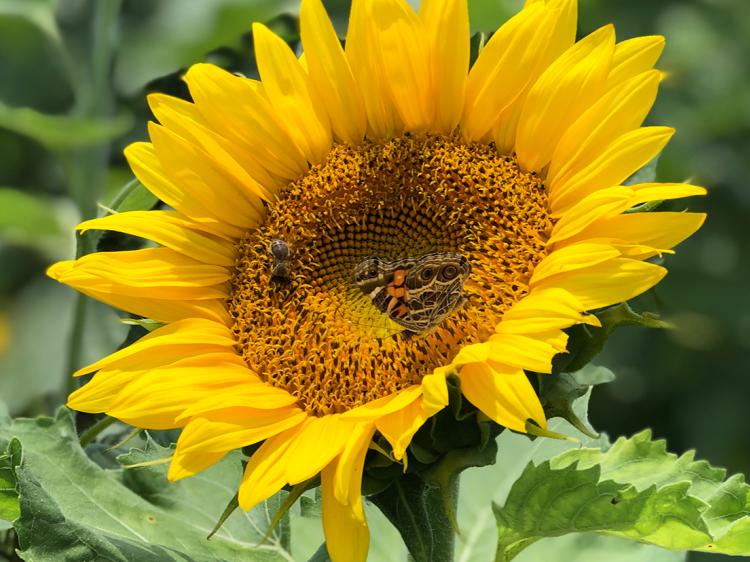 And dare we mention a look ahead to those people who are not satisfied with picking their own flowers, but also enjoying picking out their own Christmas trees. Think of it as a Christmas in July reminder - when it come times this year to get festive for the holidays, remember that there are two places you can go in JoCo to pick-your-own tree. Visit Northlake Christmas Trees & Nursery or Mountain Branch Farm (start looking for info and seasonal hours in late November).