Each year the state of North Carolina's tourism office (VisitNC), a division of the Economic Development Partnership of North Carolina, releases a magazine-style travel guide. Working to obtain editorial coverage in the guide is one of the many goals of the Johnston County Visitors Bureau (JCVB). We work with the VisitNC PR department throughout the year, providing them content about JoCo's tourism partners. 
The JCVB is happy to announce that multiple partners were featured in the VisitNC 2021 Travel Guide, a digital copy of which can be viewed here.
Please note the page numbers are based on the digital publication and not the print publication. On page 40 Howell Woods is mentioned in a section dedicated to outdoor adventure across the state. On page 46 is a half page spotlight dedicated to Johnston County that is actually a native ad (the only paid featured content the JCVB received thanks to a grant) that features multiple attractions around the county and a photo of Clemmons State Forest. On page 58 the Ava Gardner Museum is included in a round-up of "epic collections". On page 82 Blake Gotliffe and his restaurant Under the Oak are featured in a spread about farm fresh dining. On page 104 there is a picture and some copy regarding Broadslab Distillery in a section about NC's craft beverage industry (the photo also appears in the index on page 10). 
The VisitNC office works throughout the year distributing the travel guide to travelers looking to visit NC; those methods include direct mail, travel shows, media missions, and supplying the guide to the nine NC Welcome Centers and visitors centers across the state.
Marketing Through VisitNC Grant Funding 
This year, due to COVID-19 the bureau cut back on spending across the board, including marketing. Thankfully, the state legislature provided Cares Act funds to VisitNC, who provided a Marketing Credit Program, and an additional grant through the NC Travel Industry Association that allowed us to engage in several marketing programs. The grants allowed the bureau to increase advertising partnership opportunities with VisitNC, as well as to complete other advertising opportunities with partners like WRAL, NC F&B Podcast, and Country Superstars 102.3. These promotions highlighted partners like DeWayne's, Carolina Premium Outlets, local main street shops, Atkinson Milling Company, Steven's Sausage, and other local food products. 
The promotional partnership with VisitNC led to print advertising, digital billboard advertising in key markets across the state, promoted content on both the VisitNC website and social channels, and digital ads on sites like Garden & Gun, Accuweather, and the Count On Me NC website. You can find an example of these efforts here and here, as well as in the photos below.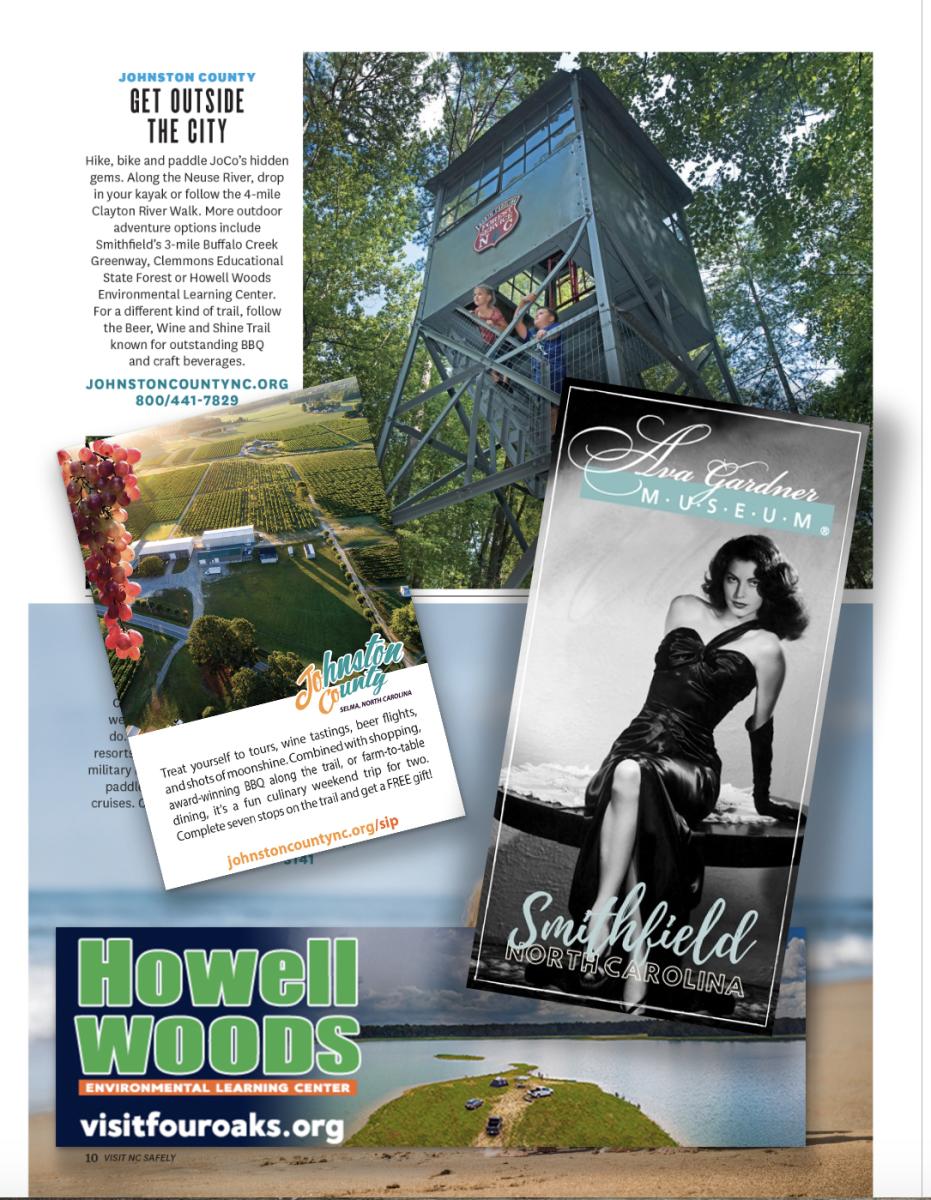 Count On Me NC
Speaking of Count On Me NC, it's still not too late to participate. Both the JCVB and the state are highlighting businesses who participate in the program. VisitNC especially has shown a preference for promoting businesses that are certified and listed on the Count On Me NC website. Over 50 JoCo businesses have completed Count On Me NC! 
It is free and only takes about 30 minutes to complete one course. The courses are planned out for various sectors of the tourism and hospitality industry and are created in partnership with the NC Restaurant & Lodging Association and health officials at North Carolina State University. Courses cover proper safety and sanitization methods that business owners and employees can take to protect themselves and their guests. Count On Me NC also encourages NC's citizens and visitors to take their own pledge to do what they can as patrons of businesses to keep everyone safe. 
Once you have completed the training course a certificate can be printed for you and your business, you can fill out a form to be listed on the website as a participating business, and you will be given access to a Count On Me NC toolkit that includes social media and marketing assets. Learn more here.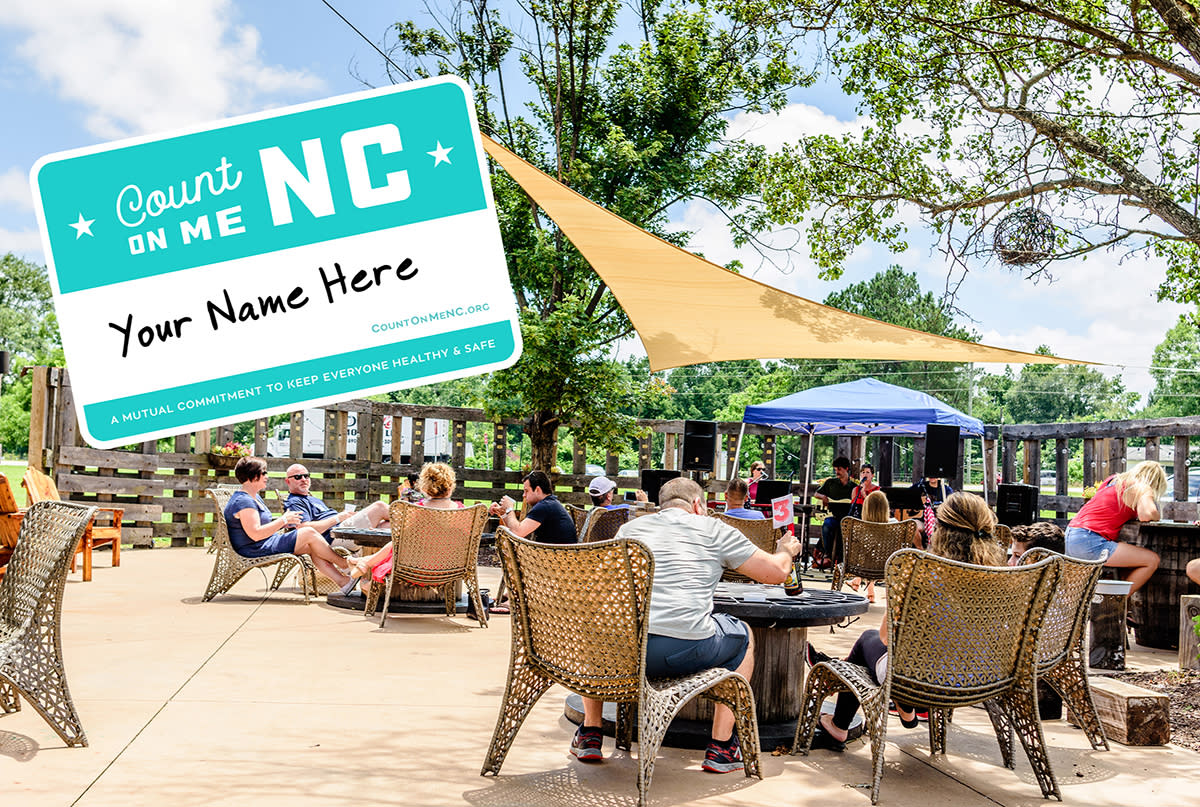 Join the JoCo Hospitality Association
Have you joined the Johnston County Hospitality Association? In a normal year, members enjoy networking and educational events hosted by the JCVB, featured listings on the bureau's website, and additional advertising opportunities available to members only. You can learn more here.
Due to COVID-19 restrictions on in-person gatherings we were unable to provide networking and educational events, therefore, in 2021 membership fees will be waived for past 2020 members and Count on Me NC participants. New members can either pay the $50 membership fee or complete the Count On Me NC program (simply provide your completed certificate). Advertising opportunities on the JCVB website are still available for all tourism partners. 
Once it is safe to resume in-person meetings the JCVB will begin hosting association events once again. In the meantime we will continue to promote JoCo and our partners through this difficult time.