In eastern North Carolina we like our barbecue simple. You could call us purist. Whole hog. Pulled. Splash of vinegar. But the great thing about barbecue is its tendency to be geographically dependent. If I say barbecue in Tennessee or in Texas or in Oklahoma, there's no telling what's gonna end up on my plate. It makes for some confusing moments, some great eatin', and some intense competitions.

Johnston County resident Jerry Stephenson Jr. knows all about intense competition, he enters about 17 to 24 KCBS competitions a year; for the un-indoctrinated that means the Kansas City Barbeque Society. The KCBS is the world's largest organization of barbecue and grilling enthusiasts to the tune of over 20,000 worldwide members. Jerry is one half of a winning barbecue cooking team called Redneck Scientific, the other half being his sister. They grew up on a farm in eastern NC and Jerry says he learned his 'que skills from watching others cook whole hogs, "I just watched and learned. Then I cooked pigs myself later in college for the fraternities, sororities, and the rugby team for extra spending money."

Jerry says that he loves the simplicity of the whole hog approach to barbecue, a man after my own heart, "Low and slow cooking over coals that are burned down from logs. The coals are shoveled into precise places to cook the hog perfectly." Although Jerry likes to tiptoe out of my simplicity circle, going one step above vinegar to put a little Texas Pete on his pulled pork sandwich. That, he says, is his favorite type of barbecue. Fair enough. Although the Oklahoma relatives on my mother's side politely disagree.

Going Whole Hog

But how does one go from being a barbecue enthusiast to a barbecue master? Well, you sign up and then you hope for the best. Jerry started cooking competitions with homemade barrel smokers that he also sold. He eventually trademarked the name of the ovens to Redneck Convection Ovens or RCOs. The name of his team and business, Redneck Scientific, was derived from these homemade smokers. With the help of the RCOs Jerry won a top ten nod in ribs during his first KCBS competition. In the next competition Redneck Scientific got 2 top ten nods in pork and again in ribs. Jerry says he was hooked.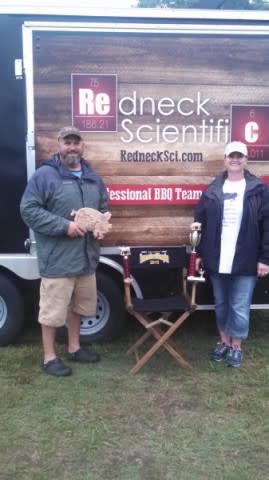 "I still remember the first Grand Championship we won in 2011 at Squealin' on the Square in Laurens, SC. We placed top ten in all 4 KCBS categories (chicken, ribs, pork butt, and beef brisket)." Though Jerry was raised on the whole hog life, he enters all categories when he cooks. And often wins at them. And he doesn't deviate from the process he has for cooking each type of barbecue, whether it's pulled pork or brisket.

"My competition starts on Wednesday night when I make sauces and rubs for that week's competition. On Thursday night I trim all of our meats and load our trailer to leave the next day.  Typically, we like to arrive around noon on the day before a competition. Once we arrive, we have our meats inspected and then inject some of the meats. Around 10 pm that night, I light my smoker and go to bed.  I usually get up sometime between 2AM and 5AM and put my big meats on. My competition day then begins at 5AM with a schedule that I follow every single time."

Sorry folks, that's as detailed as you're gonna get. A magician never reveals his tricks. I can tell you that all of Redneck Scientific's meats are procured locally. But any good competitor knows that a certain amount of superstition goes into the process, "I wear the same Superman shirt that I wore at my first competition, but I'm not really superstitious beyond that. My sister is a whole other story."

The female 50% of Redneck Scientific maybe has some winning history behind the superstition. Jerry's sister, Roxanne Manley, uses the ancillary contests at the barbecue events to showcase her skills as well, beating out 350+ teams at last year's American Royal World Series of BBQ to win Side Dish Champion. You go girl!

Rounding out the Redneck Scientific team are Jerry's wife Liz Stephenson and their two daughters Elle and Fiona. They all travel together to competitions as far away as Las Vegas, Florida, and Pennsylvania. Redneck Scientific has been competing since 2011 and has had their name called in at least a top ten placement or higher over 200 times. That's a lot of wins, folks. Jerry creates his own sauces and cooks on Backwoods Smokers. The team is sponsored by Royal Oak Charcoal, BBQ Guru controllers, Oakridge BBQ rubs, Q Company Backwood Smokers, and Mojobricks.

Getting a Taste of Redneck Scientific

I know what you're thinking. How can I get my hands on some of this amazing barbecue? Well, I've helpfully posted up the Redneck Scientific schedule below. In addition, you can have them cater your next event. Yes, you can have Redneck Scientific personally feed up to 2,500 of your friends and family.

"We offer full service catering all over the Triangle area.  We have an established group of clients we feed each year.  We can cater for 25 or 2500+ people. Our catering menu can be found on our website. I'm also a 50% partner with a friend out of Charlotte and we vend up and down the East Coast at festivals.  Our vending company is called "The Redneck Bubba" after his BBQ team (BubbaJacks) and ours (Redneck Scientific) and you can find more information on that here."

So, what is in the future for Jerry and his team? A restaurant perhaps? In Johnston County? He says that I, and everyone else, will have to wait and see, "I can't speak to a restaurant just yet, but the future of the competition team is my two little girls. They're already clambering to cook a meat or 2 in competition. Hopefully, they'll take over and I'll just get to watch like my Dad used to."

Well, if indeed a restaurant does happen I will be the first in line with a fork in my hand (7/1/17 Update - It did happen). In the meantime, Jerry has a ton of competitions lined up and a lot of cooking and winning to do this year still. While I would recommend a nice Double Barley or Deep River brew to go with your que', Jerry is ever the traditionalist, "I just think it goes really well with sweet tea." That's what I told my Oklahoma relatives about brisket and they almost made me sleep in the storm cellar. Just kiddin'.

Jerry is an eastern North Carolina traditionalist about another thing too, the bonds that keep him tied to barbecue and coming back to compete year after year, "Learning to cook whole hog at an early age left an appreciation in me for the unique taste of eastern NC pulled pork. But, more than that, it impressed upon me the camaraderie and fellowship that comes from standing around a pit."

Cheers to that and good luck this year!

Redneck Scientific Schedule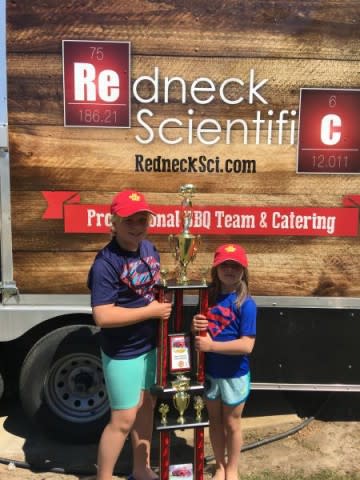 DC BBQ Battle  6/24 Washington, DC
Deep River Brewing vending 6/30 + 7/3
Festival of Discovery 7/8  Greenwood SC
Smoke in the Valley  7/22  Maggie Valley NC
Pigs and Pedals  8/5  Asheboro, NC
Sams Club Richmond VA  8/12
Sams Club Charleston SC  8/26
Low Country Fest 9/2 Charleston SC
Beak Week 9/9 Goldsboro NC
Tilley HD Bike Blues and BBQ  9/16 Salisbury NC
Butts and Beans  9/23  Newton NC
Squealin in the Square  9/30 Laurens SC
East Carolina BBQ Throwdown  10/7  Rocky Mount, NC
Smoking in the Foothills 10/14  Lenior NC
American Royal World Series of BBQ  10/28 Kansas City, MO
Hog Happenin  11/4  Shelby NC
World Food Championships  11/11 Orange Beach, AL