In 2013 the
Johnston County Recreation & Sports Council
was created. At the time, the Johnston County Visitors Bureau (JCVB) was looking to market the county's sports facilities to group tournament organizers and to work to grow and maintain parks and natural spaces throughout the county. An ad-hoc committee was formed with members at large from all over the county, as well as representatives from many of the parks & rec departments and County Commissioners.
During the first few meetings of the Sports Council, it became clear that there was a lot of need to organize at the county level. Recreational facilities across the county were in need of updates. The Mountains to Sea Trail group was gathering momentum to complete the trail; and there was a gap in the trail between Clayton and Smithfield. Lots of cyclists were coming in and out of the county and the first project of the group was creating the
JoCo Bike Routes
. The council realized that not only was the forming of the council necessary to promote teamwork and cohesion across the county, but that a
Parks & Recreation Master Plan
was needed.
The council sent out an RFP and they hired Sage Design from Wilmington to complete the master plan. The bureau made presentations to town councils in the county to garner support for a county-wide plan outlining a vision, goals, facility needs, and funding opportunities. It took a year to conduct inventory visits and collect survey responses and by 2015 the plan was complete. The number one recommendation of the plan was to hire a director at the county level to start organizing and building natural, recreational, and athletic assets in the county. 
As of last year, Adrian O'Neal was hired as the Johnston County Parks, Greenways, and Open-Spaces Coordinator. The bureau recently checked-in with him on his first year in JoCo. 
1. Tell me a little bit about how you got the job and what it entails.
The important catalyst for my hiring was getting the first
Parks & Recreation Master Plan
updated. Even though it wasn't adopted officially by the County Commissioners, they saw the need for a county-level coordinator position outlined in the plan. That got the ball rolling as far as getting the resources lined up and getting me into my position.
I'm not from Johnston County but I have lived in the area for a long time. I grew up in Dunn and now live in Wayne County. I worked for state parks for 27 years and have been in different parts of the state working in every aspect of natural resources. But this job was a challenge in that I was less familiar with the parks & rec side and the timing was good because I was reaching state retirement but wasn't ready to retire yet. So, the county could gain someone with experience and with connections to the natural resources community. 
The purpose of my position right now is to gather the blocks to build the house. We have a lot of towns and municipalities that are doing a great job with their own assets but we don't have anyone facilitating the growth of county-owned assets and we don't have anyone at the county level organizing and bringing everyone together. In addition, the school system is a huge part of the open space and sports community inventory in the county. They have a lot of facilities that are being used but not to their fullest potential. For example, we have schools doing pilot programs like Clayton Middle working with Clayton Parks & Rec to host athletic events. Obviously, that's not being done during COVID, but it was prior to and those programs will resume and grow in the future.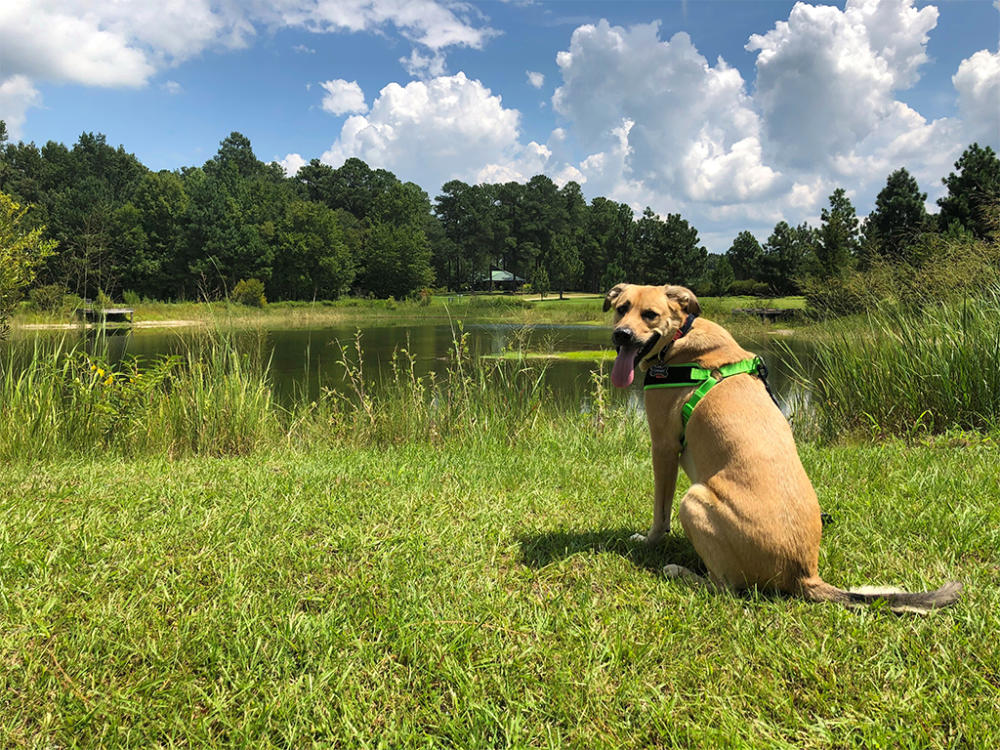 2. How does your position, and your duties, fit into the Parks & Rec Master Plan? 
We have an agreement to update the plan which is a project that is about 80% complete and with that update I hope to have it then officially adopted. However, even without adopting the current plan we have been using it as a guide to make decisions about what needs to be done in the county. Hopefully, once it is adopted officially even more moves can be made. 
The biggest way my position fits into the plan is to be the one point of contact with organizations like the
Mountains to Sea Trail
,
East Coast Greenway
, and
Friends of Johnston County Parks
. I work with these groups to make sure county and town officials are getting updates on these organizations' projects that affect JoCo; projects that the county can work with them on to build assets in JoCo for locals and visitors - nature preserves, trails, recreation facilities, etc.
3. What has the first year been like? What are you most proud of your first year in? 
It's been busy this year; when you come into a new place, even though I was familiar with the area, you have to first physically understand where all the assets are and what they each offer. Before the pandemic I was able to meet with each town that services the county; which gave me an idea about what we're lacking as a county and what our strengths are. 
A lot of my projects are long-term, but we have gotten some things accomplished this year. The county purchased an 80 acre tract in the Cleveland area that was on the radar when I arrived. We were able to secure a grant for half a million towards the purchase of that property. That's a great first year accomplishment as a brand new organization, i.e. as a county-level entity. 
Those 80 acres are the first preserved open space in the county. When we talk about "open space" it's a general term for nature assets in a community as opposed to a park or a sports facility. Trails and greenways are one of the best options for open space because they are multi-use assets for safe and inclusive recreation. Plus, they serve as another mode of transportation to move visitors and locals through the county, with bike and pedestrian connectivity, while keeping people off the roads. These plans and projects also look at connecting open spaces to where people live because if you have to drive to get to an open space it limits who can use it. 
Also, we have an open space fund at the county-level now that is set aside through development fees; this year we were able to allocate $946,500 in grants which went to community applicants throughout the county to revamp fields, facilities, and other assets. 
4. What is something about JoCo that surprised you?
No real surprises, I knew the county was invested in parks & recreation before I got here; but I have seen a great desire for natural spaces and parks at every level. On the other hand, I saw something that is evident in every community I've ever worked in, which is people in the local community not knowing about the resources available in their area. I have come across many people, for example, that don't know about
Howell Woods down in Four Oaks
.
5. List a few short-term and a few long-term projects that you are working on and excited about in the future.
One of my short term goals is to do a site master plan for that 80 acre piece of property I mentioned; what becomes of an open space is determined by these master plans and it will likely be something to do with trails and greenways. Master plans are so important because individuals are not in jobs forever. A master plan can guide an organization or community through a project as people and positions change so that the end goals are realized in a cohesive manner. For example, the parks & rec master plan makes sure that throughout the entire county and all our municipal departments and various organizations, that everything we are doing compliments each other. 
A big long-term project that the Johnston County Planning Department is about to start is a land use plan for JoCo, and as a component of that we are working on getting a comprehensive trails and greenways plan for the county, complete with a map. That will help us long-term because then any time NCDOT has a project they want to do in our county, they will have to look at that plan and map and the onus will be on them to fit their project around our recreational spaces and assets. 
Also long-term I will continue building partnerships and researching alternative funding methods for the future. We want to make sure we're allowing everyone to participate in the funding and use of parks. 
6. What can Johnston County's citizens do to assist you in your efforts and why should they? What about visitors?
For both local community members and visitors I would say, be active and use the existing resources in place in the county. For many of our sites there is almost always something you can do, no matter your abilities or interests. And as you utilize these resources, report back any issues you see so we can make sure that our natural spaces and sports facilities are in the best shape they can be in. Without use, these important assets decline. 
And we ask citizens, if you see an opportunity like property for sale or an activity that we're missing, let us know. Even if it's not something we can do at the county-level, we have partners that look to us all the time for ideas. Be invested in what's going on in your area; support local parks & recreation events throughout the county. We want JoCo communities to thrive and for these events and assets to be successful! 
To learn more about nature and recreation in Johnston County go here. 
To learn more about the Johnston County Sports Council go here.