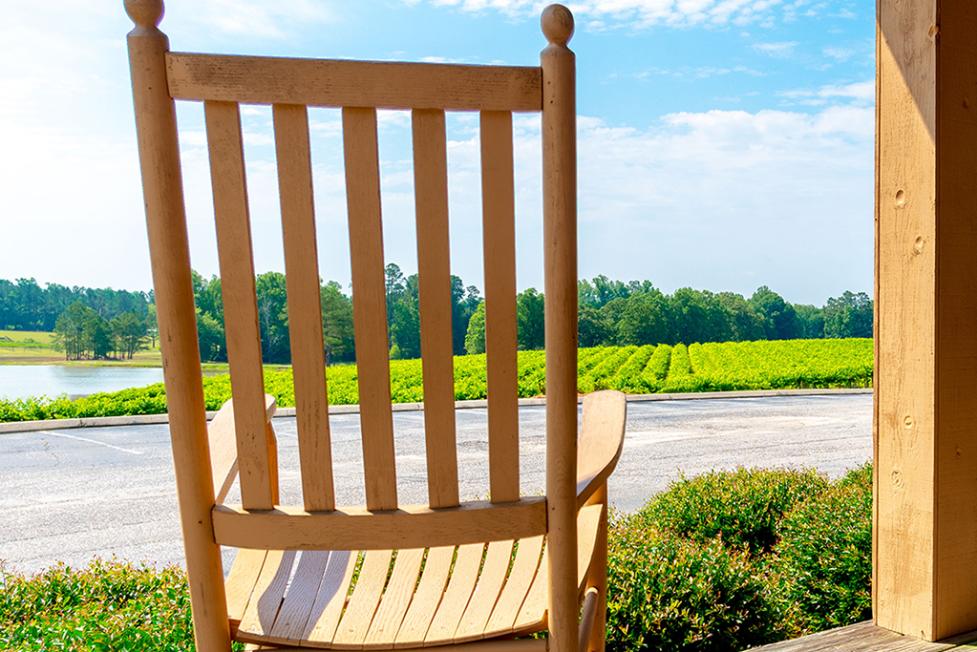 *please note that hours of each craft beverage location vary and that 6 to 8 hours won't be enough time to explore all of the trail. We recommend you pick your top 3 and work to fit those in. Broadslab, Deep River, Fainting Goat, and Gregory have food options at certain times and there are plenty of local restaurants in the area as well.
Exit 98 off I-95
Address: 826 Pine Level-Micro Rd., Pine Level, NC 27568
Phone: (919) 965-3350
A North Carolina tradition since 1972, Hinnant is the largest muscadine vineyard in NC with more than 100 acres of grape vines. Meet winemaker Bob Hinnant as he takes you through the genesis of Hinnant from vineyard to winery. Then, check-out the tasting room to sip on double gold-winning Electric Pelican, Bob's wine of choice!
Half Mile from Bus Hwy 70
Address: 700 W. Main St., Ste 102, Clayton, NC 27520
Phone: (919) 585-2296
Deep River is Johnston County's first legal brewery and many of their beers include locally sourced vegetables, fruits, hops, and grain. Meet owners and brewers Paul and Lynn Auclair, engineers turned entrepreneurs who work to brew a wide range of beer styles so that every visitor to the taproom can find something they like. The historic space Deep River occupies in downtown Clayton was a cotton spinning mill and has been brought back to life by utilizing old barn wood on the walls.
5 miles from Exit 319 off I-40
Address: 275 Bowling Springs Dr., Angier, NC 27501
Phone: (919) 894-7700
This picturesque 135-acre working farm showcases hills of planted vineyards, a winery, a distillery, and a tasting room where you can sip on double gold-winning Mary Elizabeth and Lee Love wines. Meet winemaker Lane Gregory as he takes you through the history of the sweet muscadine grapes that grow in eastern North Carolina.
Exit 79 off I-95
Address: 4682 NC Hwy 50 S. Benson, NC 27504
Phone: (919) 207-1366
Jeremy Norris opened Broadslab Distillery with the help of his grandfather -- teaching him the recipes passed down now for five generations. Jeremy does all the farming, distilling, and production on his "dirt to bottle" product so that he can control every process and ingredient. He also gives the tours, so you'll get to hear him talk about the 100-plus years of history that Broadslab is built on.
Off I-40, Exit 312
Address: 463 Cleveland Crossing Dr. Ste.100, Garner, NC 27529
Phone: (919) 896-6435
The county's newest brewery! JoCo Brewing Company offers six original taps and two guest taps. Patrons will find the climate-friendly and can look forward to trivia nights, entertainment, and food trucks several days a week!
Downtown Clayton
Address: 710 W. Main St., Clayton, NC 27520
Phone: (904) 233-3887 
InStill is Johnston County's newest distillery, currently crafting delicious white rum but soon to be expanding into flavored rums and whiskey. They are locally and veteran-owned, and utilize local artists for their bottle artwork. Tastings, tours, and swag available on site!
Downtown Benson
Address: 102 W. Parrish Dr., Benson, NC 27504
Phone: (919) 701-1500 
Founded in 2014, we are a small, independent, veteran and woman owned brewery located in Benson, NC. We offer a variety of handcrafted brews in a casual atmosphere with a dog friendly patio. Our taproom does not have Wi-Fi, we believe strongly in personal interaction! Come hang out, play a game, talk to a friend or meet new ones. Growlers available for purchase at the taproom.

Option 2 – Ava and Outlets
Exit 95 off I-95
Address: 325 E. Market St. Smithfield, NC 27577
Phone: (919) 934-5830
One of the greatest movie stars of all time is from Johnston County, NC. Tour her museum in Downtown Smithfield to see costumes, personal effects, scripts, letters, and other items that tell the story of Ava's life, loves, and career. The Ava Museum is well curated with rotating exhibits and special events offered throughout the year.
Exit 95 off I-95
Address: 146 S. Third St., Smithfield, NC 27577
Phone: (919) 205-1076
Whether from Tennessee, Texas, Georgia, Louisiana, or the Carolinas, southern BBQ is the sweetest and most sultry taste around. SoDoSoPa's southern comfort food is sure to satisfy any appetite. Their recipes have been gathered over six generations and across three families with strong roots in the south and its tradition of BBQ and soul food. Experience their down-home cooking for yourself. You'll never forget your first time! You'll be back for more.
Exit 97 or 95 off I-95
Address: 1025 Outlet Center Dr., Ste. 905 Smithfield, NC 27577
Phone: (919) 989-8757
The Carolina Premium Outlets are by-far the largest draw of visitors to the county. The outlet center features 80 national brand stores like Coach, Ann Taylor, Banana Republic, The Gap, Polo Ralph Lauren, Tommy Hilfiger, Calvin Klein and many others. Located right on I-95 at Exit 95 the location offers travelers discounted brand-name shopping and a break from the road.