1969 was a year to remember in Clayton.
The men grew beards. Families dressed in pioneer clothing. There were special tours, three grand balls, class reunions, old-fashioned bargain days with merchants, a Miss Centennial coronation, and a time capsule burial.
The Clayton community came together in incredible solidarity to mark the 100th anniversary of our town and now, 50 years later, it's time for the community to come together again to celebrate Clayton's Sesquicentennial!
The Town is joining forces with civic, church, and non-profit groups to plan a year-long celebration marking Clayton's 150th anniversary. It will begin with a big birthday party kick-off on April 12-13, 2019 - marking 150 years since the Town's founding on April 12, 1869. Clayton's come a long way from that sleepy village by the railroad tracks. It's an international biopharmaceutical hub and a community repeatedly recognized as one of the best, safest, and most affordable places in the state and country to live and raise a family.
Visitors to Clayton from other parts of the county, state, and nation are welcome to participate in all the fun and unique activities planned around the big birthday celebration.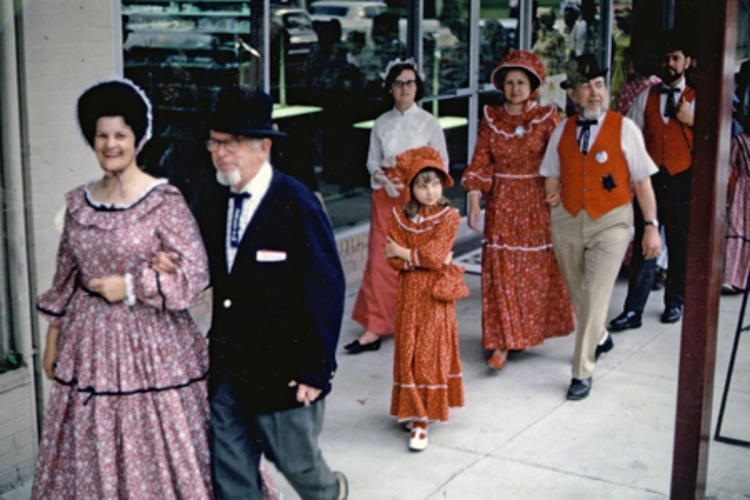 On April 12th at 9 a.m., join Mayor Jody McLeod, the Clayton Fire Department, and Clayton Police Department as we raise our coffee mugs at the popular gathering place Boulevard West to launch this incredible milestone. There will be a birthday toast with limited edition Sesquicentennial coffee mugs - FREE to the first 150 people. And Boulevard West is supplying some free Sesquicentennial sweets! This event is your chance to fuel up with caffeine - because our year-long celebration is just beginning!
The Clayton Police Department will reveal its specialized 150th badges - to be worn by all officers throughout our 150th year and the Fire Department will have its antique fire engine on display and its siren will help kick-off a loud and celebratory salute to this anniversary year. Just as they did for the town's Centennial celebration in 1969, all Clayton churches plan to ring their church bells in unison at 9 a.m. and join the chorus! Honk your horn! Give a shout! The Town of Clayton is turning 150!
The following day, Saturday, April 13th, the Town is throwing a big birthday bash in Town Square from 10 a.m. to 3 p.m. Enjoy a giant birthday cake, free ice cream, food trucks, music, free kids' inflatables, entertainment, and have the first sip of a special 150th anniversary beer by Deep River Brewery.
More events are spread throughout the year with more ways to celebrate Clayton's past, present and future. Clayton Visual Arts is hosting two wonderful art exhibits in April, May and June. In May, it's CVA's Paint the Town contest, where local artists this year were invited to create their own interpretations of Clayton—past and present. Then in June, the lobby of the Clayton Center will be filled with a chronicle of Clayton through the lens of Ben Chadwick who will be presenting a photographic exhibit called "Now & Then." Chadwick worked with the History Room at Hocutt-Ellington Memorial Library to capture historic buildings, homes and sites in Clayton and will work to juxtapose them with visuals of how those locations appear today.
The first Town Square Concert on May 16th will be a throwback to the past with "Larger than Life" a great, 90s cover band.
On June 13th at 6 p.m., the Woman's Club of Clayton and the Friends of Hocutt-Ellington Library are hosting a night of celebrating local lore and hometown stories with WRAL's Tarheel Traveler Scott Mason.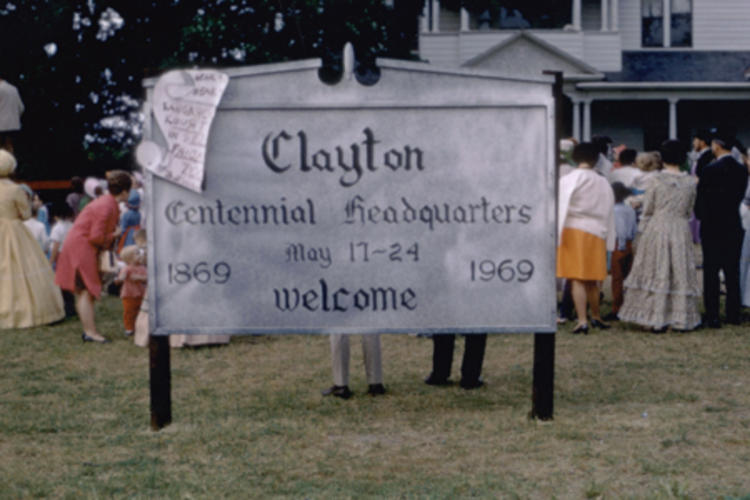 Also, be on the lookout for date announcements on events that are in-the-works. The Clayton Historical Association is planning a Fall "Ghost Walk" – a special guided tour of Clayton's historic City Cemetery, where small groups of visitors will hear brief stories from fascinating personalities in Clayton's history. A special night of storytelling is being planned for The Clayton Center; an event to honor Clayton's African American history with the help of the Cooper Heritage Alumni Association. Lastly, a haunted pub tour is in production that will showcase the dark history of some of Downtown Clayton's historic buildings.
More details on all these events and more will be shared at ClaytonNC.org/150. Whether Clayton holds a special place in your heart, you enjoy small town history, or you're just passing through and love a good party… you're welcome in Clayton as the town celebrates 150 years!