What is it they say? Behind every great man is a great woman? And Roxanne Manley has been 50% of the winning brother/sister duo that is Redneck Scientific's competition BBQ team since 2015. To be fair, her brother Jerry Stephenson, Owner and Chef at the Redneck BBQ Lab in Benson, gives Roxanne way more than 50% credit. She's the genius behind some of the sides and desserts you eat at The Lab, and she's won some competition trophies of her own.
In 2015, Jerry (who you can learn about here) was competing in competitions with his friend and that friend's wife and they had decided they wanted to make the jump from local/regional competitions to national competitions. They entered into the preliminaries for the World Food Championship, and asked Roxanne to develop a winning potato salad recipe; she wanted to do something different and unexpected, not just good ole southern style potato salad. She attended the competition and enjoyed the social aspect, the fun, and comradery; and her hot bacon and bleu cheese potato salad won 2nd place! Guess what beat her for 1st…. good ole southern style potato salad. Of course.
In 2016 Jerry and Roxanne officially became a sibling competition team. He needed someone on the road with him helping with set-up and turn-ins. They did 15 competitions together that 1st year and as Jerry competed on the BBQ side of things, Roxanne entered the ancillary contests; these are often Sides, Desserts, or even a category they call "Anything But" which means you can enter in any dish that does not include the 4 main Kansas City BBQ Society meat categories. Roxanne has competed with filet mignon, shrimp & grits, sausage, and more. About 40-60% of competitions include some sort of ancillary category.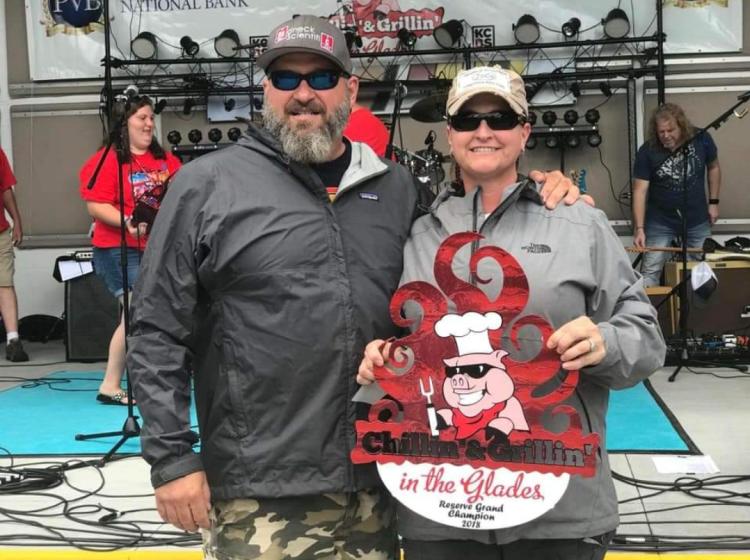 In 2017, with Jerry trying to be in 2 different places at once, Roxanne had to attend the first half of a competition they had entered on her own. Following Jerry's instructions, she did most of the cooking for that comp and they won. Now, even though they often still compete as a team, Roxanne also competes individually; and not just in ancillary, but in the BBQ side on the competitions too.
"Any time we can get up on the stage together, and especially now that Jerry's girls, my nieces, are old enough to participate when we can get them up there too, and we've won as a team… that's a great moment."
Roxanne placed in 2017 at the American Royal Dodge Championship. She came in 2nd in the Vegetable category, 16th in Sausage, and 12th in Beans. She says she isn't the only woman competing and there are more of them every year, and not just in ancillary competitions.
"I see it predominately on the East Coast, but more and more pitmasters are women, especially out of NC and VA. I definitely think this sport started out male-dominated, but I know I'm there to get on that stage. I think a lot of the men the last few years are realizing that women are showing up and we're there to win."
At the Redneck BBQ Lab, Jerry's restaurant in Benson, you can taste Roxanne's influence over the menu in the slightly sweet and moist cornbread (watch a video of Jerry cooking the Lab's packaged cornbread mix). The coleslaw and potato salad were both originally her recipe. She even had a hand in the delicious bread pudding (which you should definitely try if you're not too full for dessert).
And Roxanne was wonderful enough to give me a tip for all you spice-lovers out there…
Take 2 ½ cups of Lab cornbread mix.
Then Add:
1 can of creamed corn
2 tsps of diced jalapenos
1 egg
Cook according to the package directions.
And enjoy! It will be moist and perfectly spicy. Maybe even sprinkle some cheddar cheese one top… maybe not… we don't want to mess with competition-proven perfection!