As the weather gets cooler here in JoCo and we usher fall in, it's the perfect time to double-down on all your outdoor activities. Explore new places in the county or revisit places you've been before to hike, bike, and play among fall colors and cool breezes. 
There are multiple parks, trails, and events in Johnston County this time of year to encourage your outdoor enthusiasm. The visitors bureau, the county, our towns, and other organizations are offering even more ways to discover and access all the natural and recreational assets JoCo has to offer. Read all about new web offerings, trail extensions, and outdoor events coming soon below.  
 
JoCo's New Partnership with Outdoor NC
The Johnston County Visitors Bureau has recently partnered on a new initiative from VisitNC (the state tourism office) called OutdoorNC. This partnership involves the Leave No Trace initiative and seeks to both market NC's unspoiled natural spaces to visitors while encouraging everyone who enjoys them to keep them pristine. 
On our dedicated OutdoorJoCo page, you will find more information about exploring nature in JoCo across our towns, recreational assets, trails, and more. We have created three separate recreation-themed itineraries based on where you are in Johnston County - Benson, Clayton, or Smithfield. The page also includes more info on the 7 important principles of Leave No Trace. 
There will certainly be more to come out of this partnership as VisitNC gets it off the ground; the bureau will be sharing future initiatives as they happen!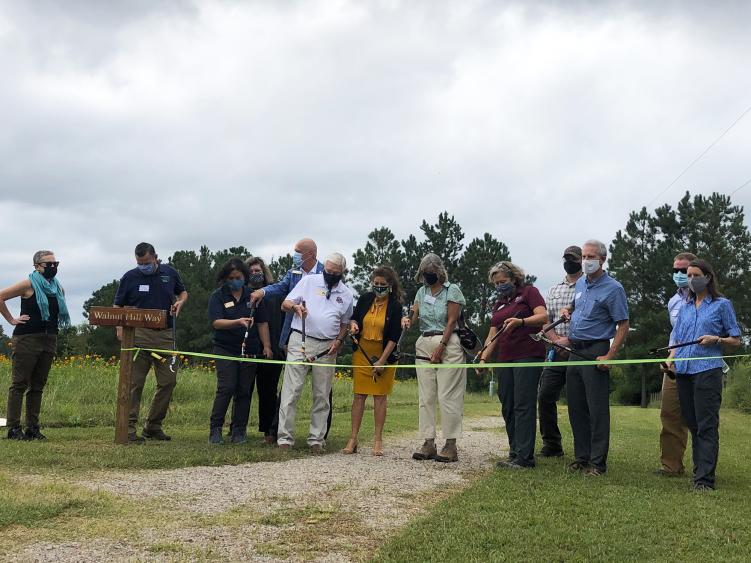 Williamson Preserve Ribbon Cutting 
Check out this photo (above) from the recent ribbon cutting at the Bailey and Sarah Williamson Nature and Farm Preserve - using pruning shears instead of scissors (we love it!). This land is brought to the public through many local and state government agencies and the Triangle Land Conservancy. 
The preserve adds many miles of trails and natural space to Johnston County's current offerings. It is a wonderful biking and hiking asset that straddles the Johnston/Wake line and ties in with Clayton Parks and Recreation trails; which are a part of the Mountains-to-Sea Trail and the East Coast Greenway. See a map of the preserve trails here.

A Brand New County-wide Parks Site

The Johnston County Parks and Open Space Program just unveiled their brand new website! See a clip above of program coordinator Adrian O'Neal discussing the site with WRAL. This website will serve as a central point for communication to residents and visitors of Johnston County in regards to parks, recreation, and athletic news/features. The website includes a large variety of new tools and features that can be used as a resource to find the JoCo parks, recreation organizations, public events, athletic offerings, and a number of partner organizations. 
 

One of the main features that this website is geared towards is providing a tool that allows users to find all the parks in the county using the "Find your Nearest Park" tool, which will display the facilities, amenities, locations, websites, and known events. Another important tool is the Calendar of Events, which will display all of the published park, recreation, and athletic events in the county. Additionally, the website includes maps for all the parks, recreational sites, and athletic fields/facilities.
You can find the new website here: www.jocoparks.org.
 
CycleNC Coming to Town & Upcoming Runs 
Lastly, we want to note that for the second time in as many years, Johnston County is welcoming the cyclists of CycleNC's Mountains to Coast Ride. Hosted by Clayton in 2019, CycleNC is back in JoCo, this time in Smithfield. Hundreds of riders will be whizzing along our beautiful greenways and rural roads into the Smithfield Recreation and Aquatics Center on Oct. 7th.
The group will camp over at SRAC, eat and explore Downtown Smithfield, and then will be up and gone on the 8th as they bike across NC. We're wishing them great weather and a smooth ride! If you're interested in biking JoCo for yourself, check out our rural bike routes here.
Or, if running is more your thing, JoCo also has multiple fun runs at towns all across the county this fall/winter. See below for details on each event. 

Run JoCo