JoCo Beer, Wine & Shine Trail

Johnston County has one of the largest number of working farms in North Carolina, and continues to lead the nation in the production of cash crops, including sweet potatoes. For several years, area farmers have expanded their operations to sustain the family farm, offering agri-tainment, farm markets, on-farm tours, and promoting local products. Our wineries, breweries, and distillery are perfect examples of this.

Sip a glass of wine while sitting in a rocking chair overlooking the vineyards and watch the sunset. Try local brews using sweet potatoes or watermelons from nearby farms. See the corn growing that will be used to make a batch of legal moonshine. Find out all the details at beerwineshinetrail.com and contact our staff for a FAM trip to experience and write about it yourself.
 

 

Day One
Begin your Beer, Wine, and Shine Trail exploration in the Southern part of the county near Benson...please be sure to have a designated driver....and stop for some truly local cuisine, eastern NC Barbecue.  Choose to write about our Sip & Stay weekend package with hotel discounts and gift bag which includes additional offers and coupons from our destination partners.
Broadslab Distillery
4682 NC Hwy 50 S., Benson, NC 27504
Broadslab Distillery products have captured, not only the true heritage of the region's famed moonshine, but have also preserved the craft, skills, and techniques of over five generations of the Norris family. Products are available in area ABC stores and are being featured in several restaurants around the state.  Visitors can take a tour of the distillery and enjoy a tasting -- NC law now allows visitors to buy one bottle per year on site at the distillery.
Stephenson's BBQ
11964 NC Hwy 50 N, McGee's Xrds.

Conveniently located between Benson and on the way to Gregory Vineyards, you will find Stephenson's BBQ, where they continue to smoke pork shoulders in a fire-pit.  Enjoy a basket of hush puppies while you wait!
Gregory Vineyards
275 Bowling Springs Dr., Angier, NC 27501
This picturesque 135 acre working farm showcases hills of planted vineyards, a winery, a distillery, and a tasting room where you can sip on double gold winning Mary Elizabeth and Lee Love wines. Meet winemaker Lane Gregory as he takes you through the history of the sweet muscadine grapes that grow in eastern North Carolina. Enjoy sitting by the fireplace or grab a rocker on the front porch.
Fainting Goat Brewing Co.
102 W. Parrish Dr., Benson, NC 27504
Founded in 2014, they are a small, independent, veteran and woman owned brewery located in Benson, NC. Offers a variety of handcrafted brews in a casual atmosphere with a dog friendly patio. Come hang out, play a game, talk to a friend or meet new ones.

Day Two
Start your day at one of the top Muscadine Vineyards in the state of NC, and enjoy the beautiful vistas and very tasty wines.  If you happen to need to do some shopping (many of our visitors do!), stop by Carolina Premium Outlets in Smithfield, where you will find national name brands offering 25-65% off retail, every day!
Hinnant Family Vineyards
826 Pine Level- Micro Rd., Pine Level, NC 27568
Award-winning vintner, Bob Hinnant, invites you to take a gander at the oldest and largest Muscadine vineyard in the state, sprawling 75 acres growing several varieties of grapes. After enjoying the tasting, shop around in the gift shop for homemade jellies and juices.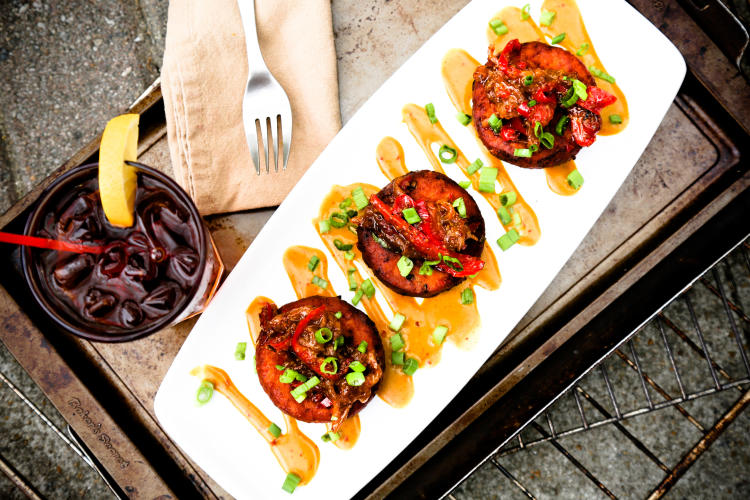 Suggestion for lunch: 
SoDoSoPa
146 S. 3rd Street, Smithfield, North Carolina
Whether from Tennessee, Texas, Georgia, Louisiana, or the Carolinas, southern BBQ is the sweetest and most sultry taste around. Chef and owner of SoDoSoPa Mike O'Dowd's southern comfort food is sure to satisfy any appetite. Their recipes have been gathered over six generations and across three families with strong roots in the south and its tradition of BBQ and soul food. Experience their down-home cooking for yourself. You'll be back for more!
Deep River Brewing Company
700 W. Main St., Clayton, NC 27520
Deep River is Johnston County's first legal brewery and many of their beers include locally sourced vegetables, fruits, hops, and grain. Meet owners and brewers Paul and Lynn Auclair, engineers turned entrepreneurs who work to brew a wide range of beer styles so that every visitor to the tap room can find something they like. The historic space Deep River occupies in downtown Clayton was a cotton spinning mill and has been brought back to life by utilizing old barn wood on the walls.
InStill Distillery
710 W. Main St., Clayton, NC 27520
InStill is Johnston County's newest distillery, currently crafting delicious white rum but soon to be expanding into flavored rums and whiskey. They are locally and veteran-owned, and utilize local artists for their bottle artwork. Tastings, tours, and swag available on site!
Wrap-up in Downtown Clayton where local restaurants like the Clayton Steak House and Vinson's offer dinner options and hangouts like First Street Tavern, and Revival 1869 are serving up after dinner drinks.

Come back again! Our partners along the Beer, Wine, and Shine Trail offer seasonal wines, craft beers, and special events throughout the year!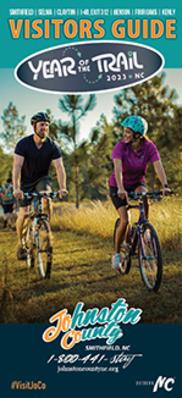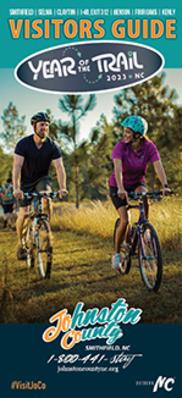 Get your free Visitors Guide today to learn about Johnston County and all it has to offer!
Get the Guide

Sign up for our Event Newsletter