Visit Us for the Clayton Harvest Festival!
Clayton Harvest Festival in late October has roots dating back to 1951 and is one of the largest festivals in Johnston County. It includes a midway with fair rides, games, and food, Clayton Idol singing competition, Clayton's largest vendor fair, classic car show, tractor show, and bike show, as well as local performances, and a Latin American Festival celebration.
Schedule of Events
The Clayton Harvest Festival boasts 5 full days of fun - find the perfect day to visit or stop by again and again to see all there is to offer!
Wednesday, Oct 27th
Horne Square
5:00pm
Festival Ribbon Cutting Ceremony.
5:00pm-10:00pm
Midway Carnival Rides & Games
presented by ElectriCities of NC
Thursday, Oct 28th
Horne Square
5:00pm-10:00pm
Midway Carnival Rides & Games
presented by ElectriCities of NC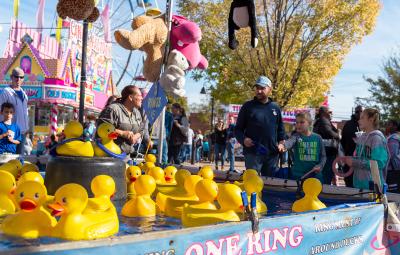 ​Town Square - Family Night
5:00pm-8:00pm 
Family Night
sponsored by Leak Locators
5:00pm-6:30pm 
Kid's Trunk-or-Treat
sponsored by Clayton Steakhouse, Brad Palmer - Edward Jones Financial Advisor, and Kids 'R' Kids Learning Academy
5:00pm-8:00pm
Food Trucks, Zaxby's and Craft Beer from Deep River Brewing Company
6:30pm
Movie Night: Monsters Inc.
sponsored by Zaxby's & Clayton Downtown Development Association
Friday, Oct 29th
Horne Square
5:00pm-11:00pm
Midway Carnival Rides & Games
presented by ElectriCities of NC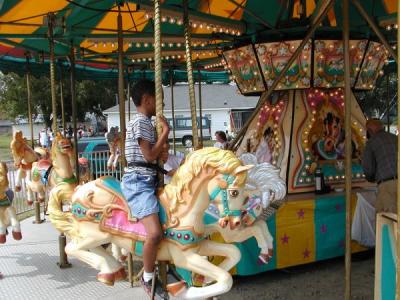 SATURDAY, OCT 30TH
Horne Square
10:00am-11:00pm
Midway Carnival Rides & Games
presented by ElectriCities of NC

Squealin' on the Square at United Community Bank Parking Lot (more info here)
presented by Carolina Packers, Home of the Bright Leaf Hot Dog
9:00am
BBQ Contest NC Pork Council Judging
11:00am
People's Choice BBQ Contest Voting
11:00am-3:00pm
BBQ Plates and Bright Leaf Hot Dogs on Sale
12:00pm
Pig Calling Contest
Sponsored by The Cardinal 
1:00pm
BBQ Awards Presentation
1:30pm
Hot Dog Eating Contest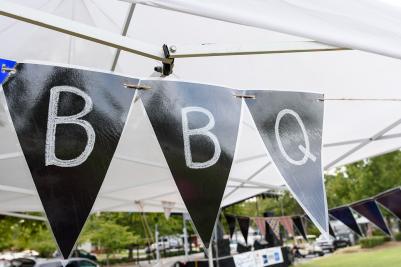 SATURDAY, OCT 30TH (continued)
Harvest Festival Along Main Street
10:00am-5:00pm
Clayton's Largest Vendor Fair
More information here
sponsored by Caterpillar
Clayton Harvest Festival Car Show
More information here
sponsored by Matthews Motors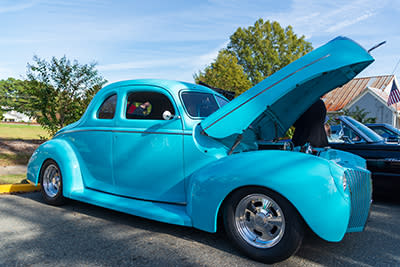 International Harvesters Tractor Show
sponsored by Hudson's Hardware Outdoor Equipment
Backwoods Stables Pony Rides ($)
sponsored by Alligator Steps Swim School

Front Line Line-up on Main Street
presented by Yellow House, The Community Place
10:00am-5:00pm
Line up of activities TBD

Kid's Village at N. Lombard Street
sponsored by Childcare Network
10:00am-5:00pm
Mother's Care Area
includes clean diaper changing area and nursing mother station
sponsored by Align Family Chiropractic and WakeMed Health & Hospitals
Sidewalk Chalk Fun Area
includes arts and crafts, bubbles, and Disney Characters
sponsored by Kids First Pediatrics of Clayton
Stilt Walker/Balloon Artist
sponsored by Bungalow Bounce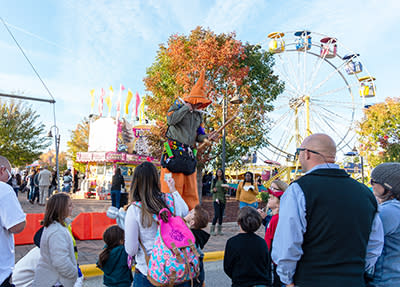 Face Painting
sponsored by Rainbow Lanes Family Fun Center
​
Hometown Talent Showcase in Town Square
sponsored by Clayton Flooring
10:00am-10:30am
Music and Movement with Childcare Network
10:30am-11:00am
Lipscomb's Learning Center
11:00am-11:30am
Kid's 'R' Kid's Learning Center of Clayton
11:30am-12:00pm
Disney Classic Performed by the Disney Princesses of Daydream Event
12:00pm-1:00pm
Probable Kauze - Kyle Mulling
1:00pm-2:00pm
Wade Hill
2:00pm-3:00pm
As We All Float
3:30pm-5:00pm
William Ashley Band
SUNDAY, OCT 31ST
Horne Square
12:00pm-6:00pm
Midway Carnival Rides & Games
presented by ElectriCities of NC

Town Square
12:00pm-5:00pm
Latin American Festival
Vendor Fair, Food Trucks and Craft Beer from Deep River Brewing Company. More information here.
presented by Compare Foods of Clayton
12:30pm-1:30pm
TBD
1:30pm-3:00pm
Grito Contest
3:30pm-4:00pm
TBD
​4:15pm-4:45pm
TBD
Places to Stay
Choose to stay the night or stay for the weekend to enjoy what Clayton has to offer beyond the Harvest Festival. Plan where you're staying AND what to do by checking out the Sip & Stay Package that takes in the stops in Clayton along the Beer, Wine, and Shine Trail. Find all the places to stay by clicking here. 
Places to Eat
Steakhouses, coffee shops, cupcakes, red hot dogs, and even sushi...you will find a variety of great places to eat in Downtown Clayton as well as along the US Hwy 70 business corridor. Right in downtown enjoy rooftop dining at Manning's, get a sweet treat at Patty Cake's Littlest Cupcake Shop or The Crazy Comet Creamery, and enjoy a night out with a craft beverage at Revival 1869. If you'd like to venture out of the heart of Clayton visit a local favorite, Simple Twist, for delicious southern meals, or Clayton Bakery & Café to enjoy coffee, lunch, and dessert all in one spot. For more places to eat, visit our page here.
Clayton Coupons