In Review: 2021 Highlights & 2022 Updates
The Ava Gardner Museum Staff and Board of Directors wish you all a Happy New Year! As we take time to reflect on the year that was, we want to share with you, our friends and supporters, some highlights from our 2021.
After a shaky start to the year, due to a water leak in one of our restrooms, we spent the first few months of 2021 completing building repairs and preparing new exhibits. Thanks to the hard work of our dedicated team, we happily welcomed back visitors in the Spring to see the Museum's updated interior design and our five brand-new exhibits. The reviews of our new exhibits, which feature costumes from Ava's entire career and items from her personal wardrobe, have been overwhelmingly positive. We are happy to report that the Museum is thriving once again!
When the Ava Gardner Museum's doors reopened in May 2021, visitors were greeted with a completely renovated space to enjoy – including updated Museum interiors of new carpet and paint colors. The reopening coincided with the debut of multiple, new exhibits about Ava's life and career.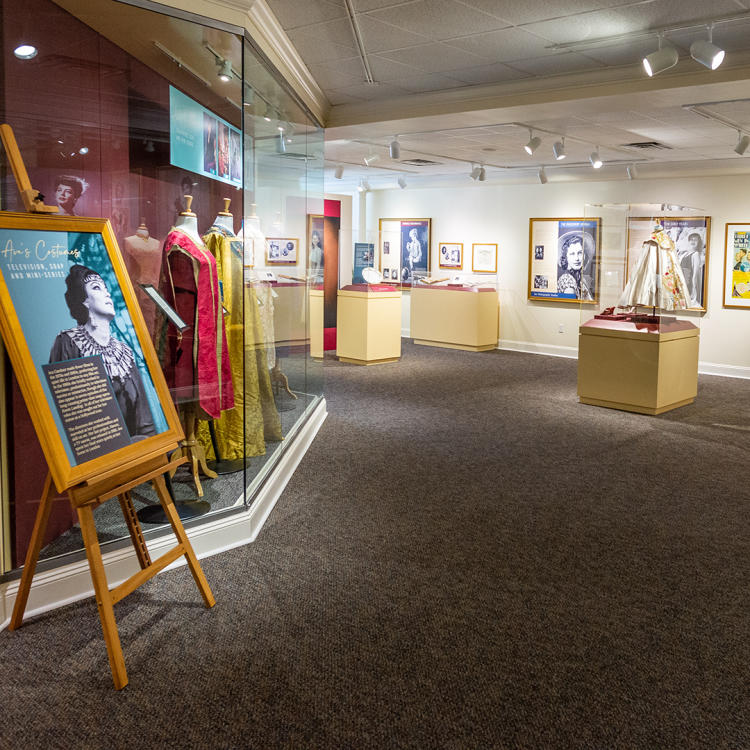 New Ava Wines Launch
As we were preparing to reopen the Museum, the Ava Gardner Trust was busy in May 2021 with the launch of the new Ava Gardner Signature Wine Collection. In partnership with Seven Jars Distillery and Winery of Charlotte, NC, the collection consists of four unique wines which are crafted to be playful, refreshing, and fruity. The wines are available online through Seven Jars or for in-person purchase at our Museum gift shop. The four wines in the Ava Gardner Signature Wine Collection consist of two flavors developed from a red wine base and two developed from a white wine base. The name and flavor profile of each wine in the collection were inspired by aspects of Ava's life and personality. Read More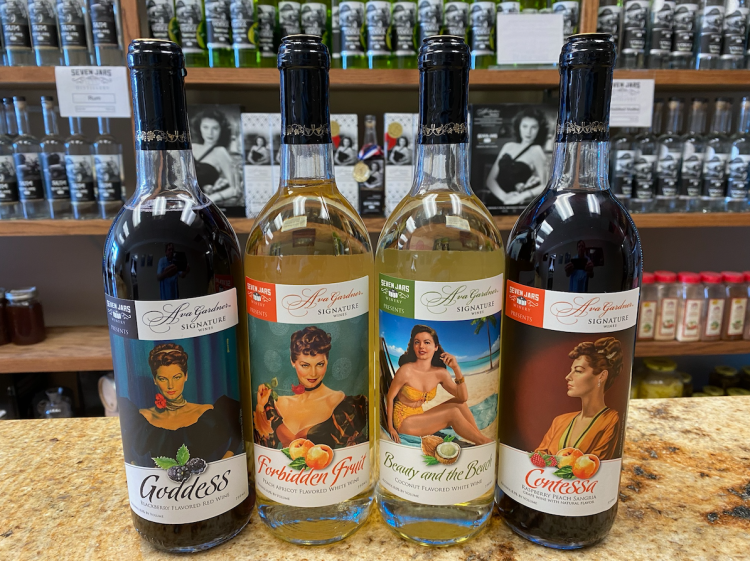 Museum Outreach  
Throughout 2021, safety was at the top of our priority list. We remained diligent in our efforts to keep our visitors and staff comfortable and secure within the Museum walls. We provided sanitation stations and masks to ensure everyone's safety. We also instituted enhanced cleaning practices throughout the Museum. These measures will continue into 2022.
While we hope to see you soon, we understand that some of our supporters are not yet comfortable traveling or might be unable to make it to North Carolina for an in-person visit. To bring the Museum to you wherever you are, we spent 2021 expanding our virtual offerings. We now have four virtual exhibits and four episodes of our video program "Ava Chats", including our latest edition which takes you on a behind-the-scenes look at our newest exhibits. Last year, we added 21 new posts to our blog – featuring some special articles by Ava's friends and fans around the globe. Additionally, we participated in numerous online interviews, podcasts, and Facebook Live events – talking about all-things-Ava like her legacy of generosity and her love of cooking. We were also invited to speak to several community groups – including the local Rotary Club and the Woman's Clubs of Clayton and Wendell, NC. 
The Museum continues to develop exciting digital offerings including the original video interview series called "Ava Chats" and multiple virtual exhibits. The latest episode of "Ava Chats" takes viewers on a behind-the-scenes look at our new exhibits with Collections Manager Beth Nevarez.
Special Visitors
In August, we were thrilled to welcome Cecilia Peck to the Museum. As many of you know, Cecilia is the daughter of Gregory and Véronique Peck and an actress, producer, and director in her own right. Gregory Peck, who was a frequent co-star and close, personal friend of Ava, toured the Museum back in 1992, and we were honored to have his beloved daughter join us 29 years later for a private tour. Cecilia was so pleased and touched to see artifacts related to her late father in the Museum. We were so happy to hear Cecilia, who knew Ava in real life, compliment the Museum's efforts to preserve Ava's memory and legacy.  Executive Director Lynell Seabold toured the Museum with actor and filmmaker Cecilia Peck, daughter of Gregory and Véronique Peck. Read More
Other Museum Happenings
In November, the Museum hosted a special event called "Telling Stories". The intimate occasion included the premiere of a new film by Jonathan Levin, featuring poetry by former NC Poet Laureate Shelby Stephenson, and live music by Juilliard-trained, piano prodigy Joey Chang. After the presentation, attendees enjoyed a reception and private tour of the Museum's new exhibits.
We are always on the lookout for new Ava artifacts, and last year was no exception. Although we missed out on a few high-dollar auction items, we did add several new pieces to our collection through acquisitions and private donations. We look forward to sharing these items with you in future social media posts and exhibits. We plan to continue adding new artifacts whenever possible for our visitors to enjoy and to further expand our extensive Ava Gardner Collection. If you have an item you would like to donate or loan to the Museum, please contact us.
Actor Van Johnson gifted his friend and co-star Ava Gardner with this pillowcase which reads: "VAN LOVES AVA." This unique artifact was donated to the Museum by a supporter in 2021.
Ava Gardner Play
Now that we have recapped some of our favorite moments and events from 2021, we want to share some exciting news with you about 2022.
To start off the year, a brand-new production will premiere in January at London's Riverside Studios called "Ava: The Secret Conversations". The play follows the fascinating and complex story of an international film star and British journalist collaborating to write a Hollywood memoir. Based on the 2013 book "Ava Gardner: The Secret Conversations" by Peter Evans and Ava Gardner, it stars Elizabeth McGovern as Ava and Anatol Yusef as Peter. Elizabeth McGovern, pictured here in costume and makeup as Ava Gardner for a series of promotional stills, is also the playwright of the new production "Ava: The Secret Conversations". Read More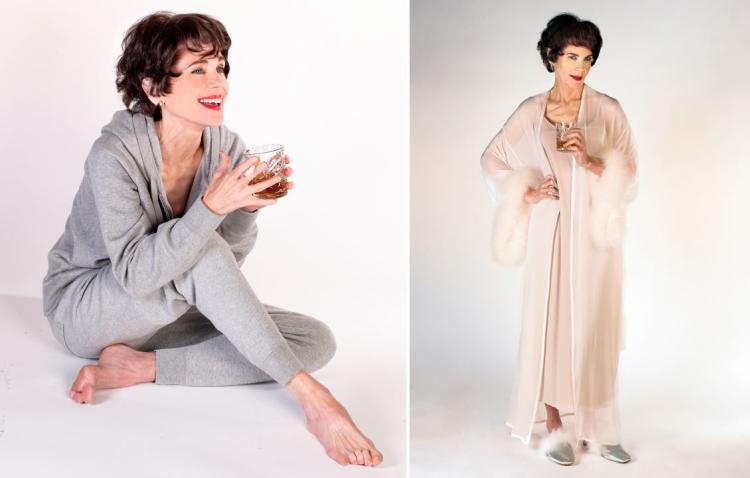 Ava Gardner's Centennial Year
We have big plans in the works to commemorate Ava Gardner's centennial year. Save the dates for the next Ava Gardner Festival, happening October 7-9, 2022, when we will kick off a year-long celebration of Ava's centennial. The weekend festival will feature an opening night gala, new exhibits, heritage tours, movie screenings, and much more. We will then mark Ava's 100th birthday on December 24, 2022, with some special treats for our visitors and fans. Then the festivities will continue throughout 2023 as we celebrate Ava's centennial year with an assortment of special programs and virtual offerings to salute our favorite movie star. Stay tuned to our social media accounts, blog, and website for future updates and announcements.
The Museum will mark Ava's 100th birthday with a year-long celebration, beginning with the next Ava Gardner Festival in October 2022. Follow the Museum's social media for updates and announcements.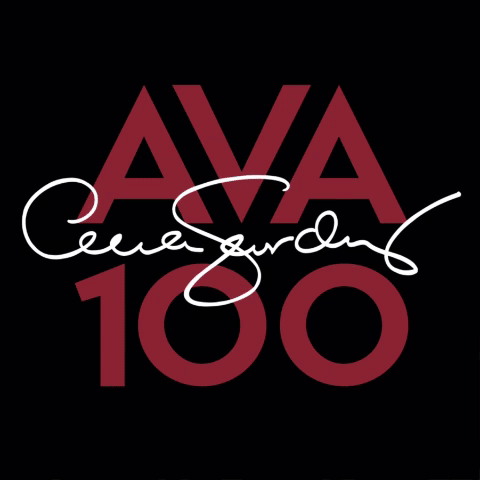 Support the Ava Gardner Museum
In closing, we would like to extend a heartfelt "Thank You" to all of our visitors, followers, and especially our Ava Advocates from last year and now this year. Without your continued support, we would not be able to do all that we do to share and preserve Ava Gardner's legacy. Your patronage is so important – allowing us the opportunity to execute our mission to display, expand, and protect the collection for generations to come! We are truly grateful!
To become an Ava Advocate, you can sign up through our online gift shop, call the museum directly, or send in your dues by mail. Annual dues remain unchanged for 2022 and are $36 for individuals; $45 for couples; and $60 for a family membership. This entitles you to unlimited free admission (excluding special events); a 15% discount on gift shop purchases; a free "thank you" gift of the 2022 museum calendar; and a bi-annual newsletter.
We hope you and yours are well and everyone has a wonderful 2022! You can contact the Museum by calling 919-934-5830 or e-mail us at avainfo@avagardner.org. Please stay connected with us for the latest updates on our social media, blog, and website. Follow along with us as we share our extensive collection with you and explore new ways to present Ava's remarkable life and legacy to her fans around the world.  Your Donation means so much to us - thank you!