Did you know that Johnston County has a Rugby team? Well, it does. The Bootleggers. Appropriate for this area, no? Established in 2013 the Clayton Rugby Football Club, or the Clayton RFC, is one of the fastest growing club teams in the USA. In fact, the Bootleggers just added a U20 squad (players between 18-22). This adds to a team roster that already includes men's Division 3 and 4 teams and an Old Boys (35 & over) team. In addition, the club runs a youth rugby program called the Clayton Copperheads that offers playing opportunities from kids between the ages of 6 and 18.

The Clayton RFC practices twice weekly at East Clayton Community Park and that's also where they host home games. The club is very proud of their growth. They'll be hosting their 2nd tournament in Clayton this coming July. It's called the CottonTown 7s Rugby Festival. And it brings in visitors from out of town as well as giving the Bootleggers and the community a chance to showcase their talent as a team and their organization as a club. A win/win.

I spoke to club President Ted Hardy about how far the club has come and about the serious (dare we say professional?) goals they have for the future.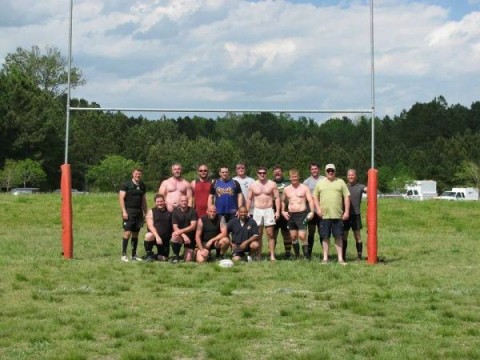 Clayton Rugby Football Club Dreams Big

Let's talk first about the major news coming out of the club in the last few months. You guys have been working on an impressive partnership with the Glasgow Warriors. That's a professional European rugby team. That's incredible! There can't be too many small-town USA club teams that can boast that sort of network?

"Our relationship with the Glasgow Warriors is quite unique. There are a few other relationships between European professional rugby clubs and American clubs, but the American clubs involved are from major markets, field elite squads, and have been around for 30-40 years. The fact that our club is young, just starting to climb the competitive ranks, and from rural North Carolina makes our relationship that much more interesting and special. Our experience with them has been flattering, humbling, and extremely important to our growth. There are cultural, administrative, and marketing structures that we are using right now with the Clayton RFC that are scaled versions of what is being done by Glasgow. We have truly been blessed, but at the same time we went out and worked for it."

 So, what are the logistics of this partnership?

"Technically speaking, we are referring to our agreement as a Developmental Relationship with Nathan Bombrys, whom is the Managing Director of the Glasgow Warriors. Through him we are gaining access to the Warriors, but we do not have a formal agreement in place with the club. We hope to see this relationship continue to grow to the point where we can create a formal partnership with the Warriors down the road. The current relationship in place provides our club quarterly teleconferences with either Nathan or one of his administrative/marketing staff or coaches depending on the topic we're interested in discussing. Nathan has also helped provide administrative support to our club through his mentoring and advice. He has been instrumental in opening multiple doors for our club in Scotland where we have quietly created a strong network of professional contacts and resources. This relationship led to a group of our Board Members making a development trip to Scotland in February of this year which was an amazing experience. During our stay we spent time with the Warriors as well as staff from the Scottish Rugby Union and multiple clubs in Scotland. All of which was facilitated through our relationship with Nathan. There is a keen interest overseas in the development of rugby in the USA and they were incredibly gracious with their time and information. The hospitality we were shown rivaled our very own Southern hospitality."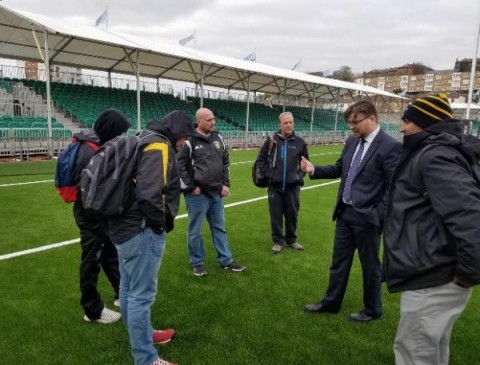 What does your partnership with clubs abroad, that aren't professional teams, look like?

"One club that we have aligned with is Ayr RFC. They are one of the top clubs in Scotland and a model organization with teams in every age group from U6 through Premier Adult Men and Women. We are in ongoing talks with them on a variety of topics. Our goal is to set up an exchange program between our clubs where we have yearly player and coach exchanges. This will allow promising players that come through our club, as well as coaches, to experience true immersion in a rugby culture. This will benefit our players and coaches by improving their knowledge and skill set, and will ultimately help our club continue to rise up the ladder in American rugby as they bring that experience back to Clayton. On the flip side, their coaches and players get to experience rugby in a developing rugby country and bring their experience to our club to help us improve. Our club is also heavily involved in working within the community and developing non-rugby events. Ayr is a leader in this area and their expertise in community events is one of the reasons that Nathan opened their doors for us."

I don't know much about rugby but it seems like the momentum that Clayton RFC is building is lightyears beyond what I'd except from a rural club just a few years old.

"We have taken an aggressive approach to our club's development. Instead of focusing solely on wins and losses, we have instead placed an emphasis on building the administrative and operational foundation that will be the platform for sustainable success, on and off the field, for many years to come. Having been around rugby for a very long time, I can say that what is happening with our club is very special in American rugby. There aren't many clubs operating at the organizational level we're delivering, certainly not in the Carolinas."

So, you're starting a U20 team. How do you decide when to add teams or program options in the club?

"The U20 team has been in the works for about a year. Jumping from high school to men's rugby is tough physically and mentally. USA Rugby, our governing body, is soon to start pushing U20 as a bridge to help with the transition. We're hoping to get ahead of the curve. We have some really neat ideas for the group that will help those involved and help our club as they develop into men's players. One idea on the table is to take local kids that may have not otherwise gone to college and give them scholarships to JCC so they can get a 2-year degree and play rugby for our U20s while in school. We're also hoping to send some overseas."

Aside from the growth in teams and participants, what else is on the horizon for the club?

"We have some very exciting prospects on the horizon for our club. At the top of that list is our new rugby facility which we hope to break ground on this Summer. We have recently worked out an agreement with the Town of Wilson's Mills. They have a Community Park project that has been in the works for quite some time. Last year they approached us about getting involved in the project. Almost a year later we have an agreement in place that was unanimously approved by their Town Council. The Town is going to put in a playground, bathrooms, parking and some support structures at the park and then provide us space to develop a multi-field complex. We intend to install 3-4 fields at the park. At least two of the fields will be multi-purpose in nature and one will be what we're referring to currently as a 'Championship Field'. The Championship Field is going to have permanent professional grade rugby goal posts, a manicured playing surface, team sideline shelters, and raised bleacher seating for 500-1000 fans initially. Essentially a mini rugby stadium. Right here in Johnston County... who would have ever thought?"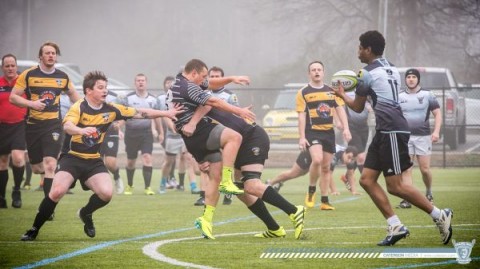 This project seems like an excellent opportunity for all involved. We here at the Visitors Bureau of course love it when something brings in tourists (like visiting sports teams and fans). But, this partnership will also be about what the Bootleggers can bring to your community. What's the ultimate goal in regards to that?

"While we're keeping close tabs on the Championship Field, all of the other fields that we install will be made available to the town and community. This was a win-win for everyone involved. We get much needed land without the expense of purchasing and in return we provide recreational space for the Town. We are also launching a new youth rugby program through the Town of Wilson's Mills next Spring that will be open to kids in Wilson's Mills, Smithfield, and Selma. We have also received permission to construct a full-service clubhouse on the grounds. We expect that to come a few years down the road, but once it is complete it will include banquet space, locker rooms for teams, meeting rooms, a kitchen, and more. We are hoping to team up with the town on that project and allow the facility to be used as a community center as well."

On the flipside of that, it seems like the ultimate goal of Clayton RFC is to make your home turf an attractive and professional location to play rugby. What could this new facility mean for hosting major rugby events?

"When the facility is complete it will make us an extremely attractive option for hosting rugby events in the Eastern USA. There is very little competition for elite rugby events in the Mid-Atlantic and Southeast and we expect our facility to bring in a number of teams and events to Johnston County in the coming years. Our weather profile also makes us an excellent Winter destination option for clubs from the Midwest and Northeast. We've completed some rough economic impact studies and our facility could be the cornerstone for sports tourism for the county. We also intend to use the facility to host non-rugby community events throughout the year like movie nights, concerts, kids events, and more."

As a club, do you think your ultimate dream is to be North Carolina's first professional rugby team?

"The fact that there isn't a major sports team in Johnston County is something we are keeping in mind. Another reason why it is important that we lay down a solid foundation first – administrative, financial, coaching, and facilities. While we may not be professional in the sense that we are paying staff, we can certainly take a professional approach to how we operate our club and provide services and entertainment to the community. We aim to continue to grow and improve our teams, which will improve us as a product worth viewing. Rugby has received such a warm welcome here in Johnston County already. I think there is so much potential for the sport here. We, as a community, have a very interesting opportunity to get on board at the ground level with rugby as it begins to explode across the United States. Johnston County could never get a Major League Baseball team or an NFL franchise, but rugby is on the verge of professionalizing in the USA and there is a very real opportunity to bring it to us."
 


See It All for Yourself – Catch a Bootleggers Rugby Match

Where can people interested in watching the Bootleggers play see you next?

"Best place to see us next is at our 2nd Annual CottonTown 7s tournament on July 15th. We're hoping to have 30 teams playing in four divisions this year. There should be 2-3 teams of Clayton players in the tourney. That is 7 v 7 rugby like what is played in the Olympics. It is our big event for the year. The season just wrapped up and will start again in September."

Any last comments?

"I'd be remiss if I didn't take this chance to highlight our many wonderful local partners and sponsors: Deep River Brewing Company, Clayton Chiropractic, Crossfit Clayton, Orthopaedic Specialists of North Carolina, Sheetz, World Rugby Shop, and TanseyReviews.com. Without their support, we wouldn't be able to deliver rugby to the community like we do."

If you're interested in learning more about the Clayton Rugby Football Club, or maybe becoming a Bootlegger yourself, visit their website - www.claytonrfc.com.