Just a short reminder that it is the Year of the Trail in North Carolina. You can learn all about how and why and what in our previous blog detailing the Year of the Trail initiative and how Johnston County plans to be involved. One of those ways includes a monthly blog featuring a trail in JoCo. This month's featured blog is all about Bentonville Battlefield State Historic Site.

Many outdoor enthusiasts may not consider historical sites to be recreational spaces, but in fact, Bentonville was included in a 2017 USA Today round-up of great places to hike through history! That's exactly what makes Bentonville's trails so wonderful - there is something for all interests and abilities... including those that would rather drive than walk or bike.  

Bentonville Battlefield State Historic Site is a Civil War battlefield registered as a National Historic Landmark. The Battle of Bentonville was fought March 19-21, 1865, nearly three weeks before Robert E. Lee surrendered at Appomattox and nearly four weeks before the largest troop surrender in the state of North Carolina, at Bennett Place in Durham. The last major battle of the Carolinas Campaign involved approximately 80,000 men. When the battle ended, the number of dead, wounded, and missing numbered 4,143. The Battle of Bentonville was the last full-scale action of the American Civil War in the spring of 1865.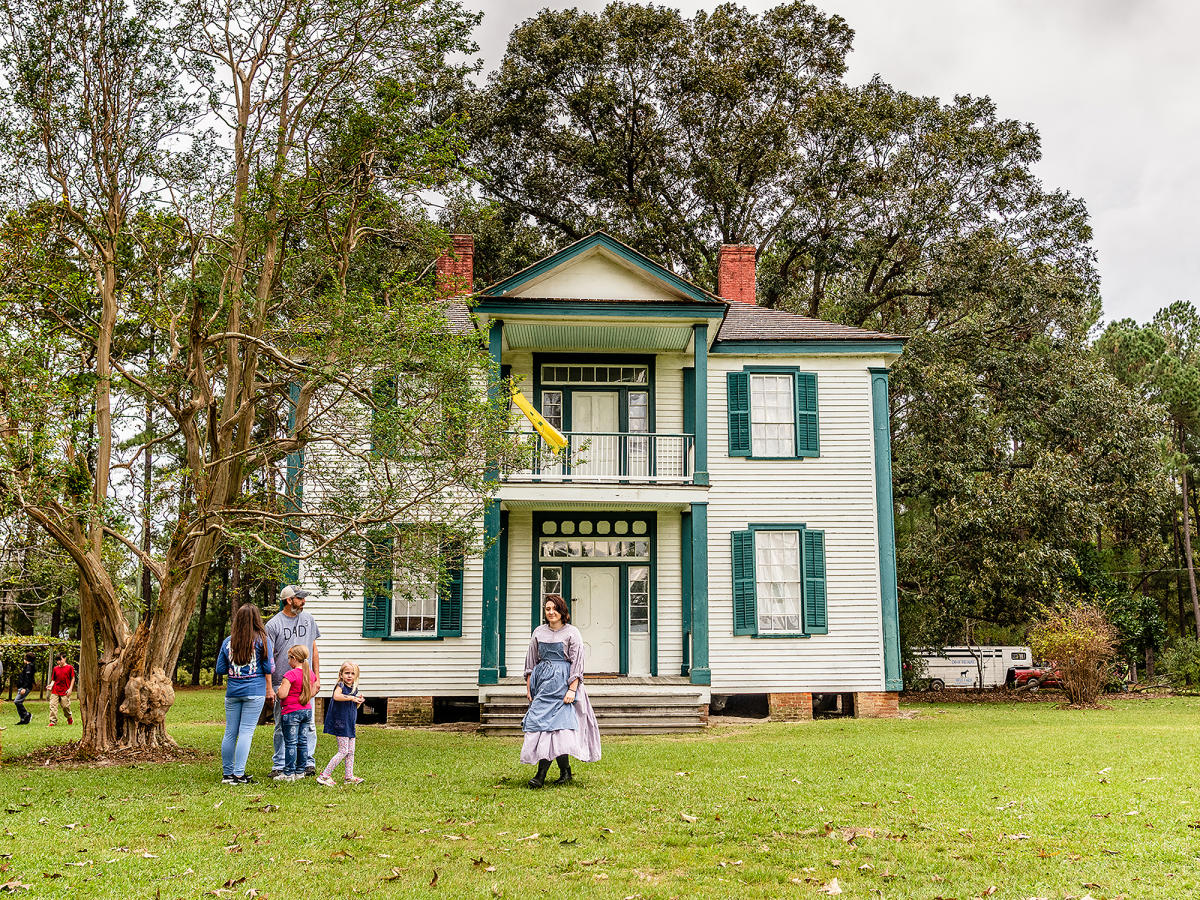 Bentonville is located just a few miles from Exit 90 off I-95 in Four Oaks, NC. The site has a visitors center, a gift shop, and the historically preserved Harper House, plus daily guided and self-guided tours, and year-round special events. Bentonville's historic site footprint preserves over 2,200 acres of land for the enjoyment of the public. Miles of hiking trails wind through flat county-side and farm-land, some which saw active fighting in 1865. History buffs can enjoy signage detailing the event as they walk and those just looking to hike can do so on beautiful and well-maintained trails (though none are paved). 

Bentonville is even part of the state's Mountains to Sea Trail. Segments 11 to 12 of this trail, which stretch 1,200 miles across the state, extend from Howell Woods Environmental Learning Center down to Bentonville. This area is in the vast flood plain of the Neuse River, or as it is often called, the Let'Lones; an extremely biodiverse area. Bentonville's trails are open daily from sunrise to sunset. 

For those not interested in walking, and maybe more interested in history, there is a Bentonville Battlefield Driving Tour (self-guided) with 18 pull-offs throughout the battlefield area and beyond into other parts of the county. Visitors can follow troop positions, marches, and major offences. The map below offers more information and Google driving directions for each pull-off point. 
 

Special events are a great time to visit Bentonville to explore all of the above, plus enjoy living history demonstrations, hands-on activities, and more. Bentonville offers events seasonally, many of which repeat annually. In March don't miss the 158th-anniversary commemoration of the battle; the anniversary is observed each year but large-scale reenactments are held every 5 years. There will be free living history demonstrations, informative talks, and family activities on March 18th at the site from 10 AM to 4 PM with concession options as well.

In addition, tickets are on sale now for a limited and unique battlefield tour experience on the 18th. For the first time ever, costumed interpreters will recreate the "Last Grand Charge" of the Army of Tennessee on the Cole Plantation. Also for the first time, spectators will have the opportunity to fall in behind the men; joining the army on the move for an unforgettable vantage point. All of this is part of an immersive battlefield tour, led by author and historian Wade Sokolosky. Tour participants will be shuttled from the site's visitor center parking lot to the Cole Plantation; however, expect to walk at least 2 miles during the tour. 

Be sure to return in April for Bentonville in Bloom, a must for those more interested in nature. This event will educate visitors on the natural resources of the battlefield, and encourage visitors to enjoy the walking trail system throughout Bentonville. So, an excellent time to explore Bentonville's miles of trails for the first time! Other 2023 events include the Fall Festival and evening Christmas event among others. 

For those looking to expand beyond Bentonville, be on the lookout for the Civil War Trails markers and informational signage you'll find while you hike or drive around Bentonville. These signs are part of a larger system; Civil War Trails was founded in 1994 with 12 thematic trails and now has over 1,200 sites across six states. It is the world's largest open-air museum with outdoor interpretive signage detailing the history that unfolded where you're standing. Learn more about CWT here and find a PDF version of their North Carolina map here.