Johnston County will be joining with communities across North Carolina in celebrating the 2023 Year of the Trail, a statewide campaign inviting North Carolina residents and visitors to get outside onto the trails, greenways, and blueways that stretch across the state. 

On August 10th, 2021, the NC legislature passed HB 554, designating 2023 as the "North Carolina Year of the Trail." This historic designation underscores the tremendous energy behind showcasing, promoting, and celebrating North Carolina's trails, both in terms of their incredible positive impact on the quality of life for NC residents, as well as the significant economic impact on individual communities who benefit from 'trail tourism'.

The Visitors Bureau will work closely with our partners in the county and across the state, including The Great Trails State Coalition (GTSC), OutdoorNC, Leave No Trace, Johnston County Parks and Open Spaces Program, and Friends of Johnston County Parks.

GTSC is leading the Year of the Trail efforts in North Carolina. Made up of over 50 organizations working to build more opportunities to hike, bike, walk, run, roll, paddle, and horseback ride, the GTSC proudly proclaims that North Carolina IS the Great Trails State. 

Learn more about the Year of the Trail by watching the informative video below. 
You may have already noticed that our 2023 visitors guide is promoting trails in Johnston County with a gorgeous cover photo featuring bikers at Howell Woods Environmental Learning Center. The guide also includes a page dedicated to explaining the Year of the Trail initiative. The 2023 visitors guide is in circulation now; you can request a physical copy or download a digital version on our website. 

We're excited that our new visitors guide will promote all the trails Johnston County has, which visitors and residents alike can explore! Info about our trails can be found throughout the guide and also on our website. In addition, the Bureau plans to post about JoCo trails and the Year of the Trail throughout the year on our social media platforms.

JoCo has a ton of trails, you may not even know how many there are to explore! And there is something for outdoor enthusiasts of every skill level. Both Clemmons Educational State Forest in Clayton, Howell Woods Environmental Learning Center in Four Oaks, and Bentonville Battlefield have miles of networked trails with options for short and long hikes. Both the Smithfield and Clayton paved greenway trails are a part of the larger, state-wide Mountains to Sea Trail and the even bigger East Coast Greenway trail. Clayton's system of greenways now connects Downtown Clayton to the Triangle area over 80+ miles through Raleigh and into Durham. In addition, Johnston County also offers several rural bike routes that take avid cyclists past JoCo's most popular landmarks and attractions.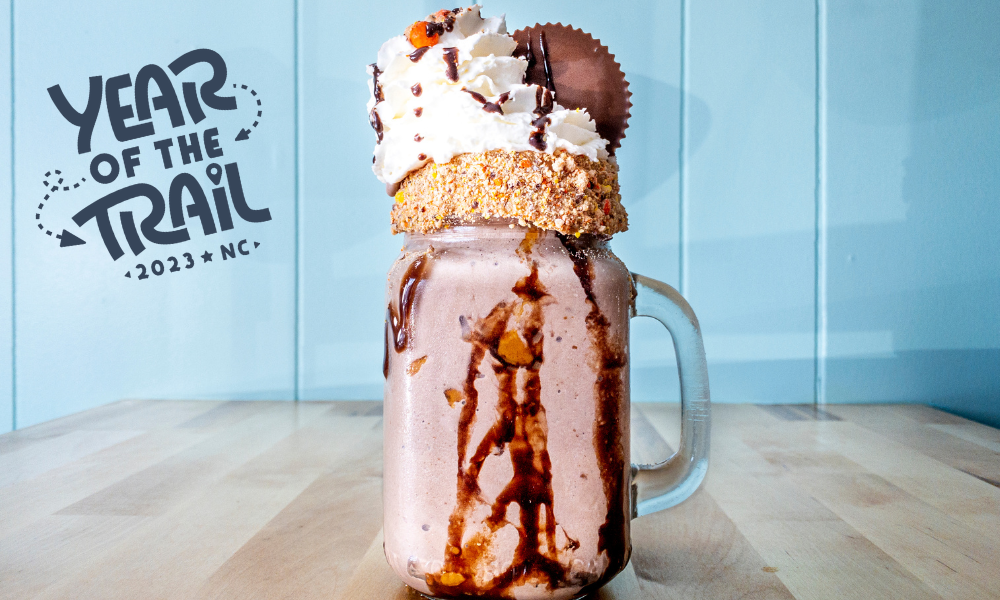 The Bureau is also going above and beyond the scope of the Year of the Trail in acknowledging that not all trails are physical pathways meant for recreation. JoCo has several themed trails that involve driving and exploring from place to place for interests ranging from history to art to food and even craft beverages. Have you considered traveling along our Red Hot Dog Trail? Or exploring the Beer, Wine & Shine Trail? Or walking to each location on the Clayton Sculpture Trail? There are so many options!

In an effort to help you discover all the trails Johnston County has to offer, the Bureau will be doing a blog series this year which will feature a different trail each month. This month we're letting you know about the JoCo Geo-caching Trail! 

The Year of the Trail values include participation, inclusivity, stewardship, connectivity, and collaboration. All of these are important, but when you encourage trail and natural space use, we believe it is important to encourage that use in a responsible way. The pandemic years saw a dramatic increase in the use of JoCo's parks, trails, greenways, playgrounds, and natural spaces. In an effort to work with our local community, outdoor partners, and the state tourism office (VisitNC) the Visitors Bureau has participated in OutdoorNC for two years now. 

JoCo and the state of North Carolina are fun, and unspoiled, places to recreate and enjoy the outdoors, and we want to keep them that way. Our partnership with OutdoorNC and by extension, Leave No Trace (LNT), is not just about promoting natural spaces to explore, but also about promoting the ways in which we can make sure to leave these spaces pristine for everyone. You can read the seven important principles of Leave No Trace and about OutdoorNC on their website. 

Through OutdoorNC and LNT the Bureau will be promoting stewardship alongside our efforts to celebrate the Year of the Trail. It is our hope to promote the safe and responsible use of trails with the OutdoorNC principles. To promote our natural spaces and preserve them for future generations. To boost outdoor recreation tourism across the state and in JoCo. And lastly, to inspire people of all ages, abilities, and backgrounds to try trails.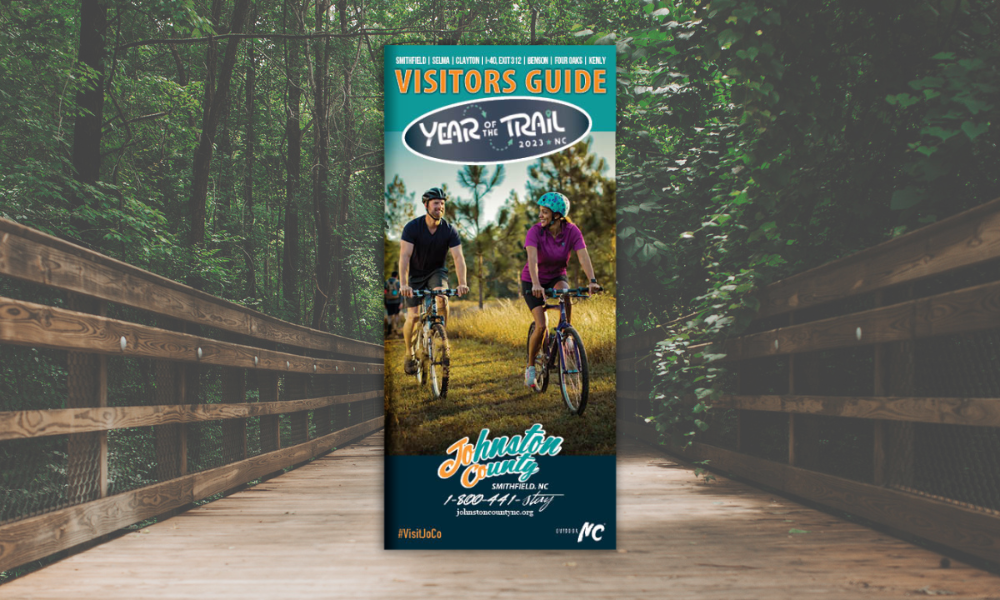 Here's how you can get involved:
Find a trail and invite someone along; the outdoors are meant to be shared.

Champion a trail in your community through maintenance and advocacy.

Write to your legislators in support of North Carolina trails.

Host an event using the Year of the Trail Community Toolkit.

Share & tag your moments on the trail with @greattrailsnc and #yearofthetrail; and don't forget #VisitJoCo.

Trails are important to the physical and economic vitality of a community. Trails provide recreation, physical activity, community wealth, alternative forms of transportation, and land preservation.  

The Johnston County Parks and Open Spaces program works for the active preservation of open space that protects and maintains the natural and cultural landscape for the overall enrichment of the community. Johnston County is growing and changing from primarily rural to suburban and the efforts of the Parks and Open Spaces Program are based on meeting the community's need for parks, greenways, and open space. 

They are dedicated to improving the county's opportunities for community wellness and connectivity while preserving the heritage and natural landscape. The Bureau and other county entities like the Friends of Johnston County Parks are working in partnership with the program to advocate, enhance, and promote trails and open spaces in JoCo. 

Some of the current projects happening across the county right now include Johnston County's first county-owned park in the Cleveland area which will include 81+ acres of land. A feasibility study, adopted at the end of 2022, to connect the Clayton and Smithfield Neuse River trails; this particular project would help further the goal of completing the Mountains to Sea Trail through JoCo as part of a larger state-wide goal to make sure the entire trail can be utilized across the state without hikers and bikers having to get on a roadway. There are also more project announcements to come in 2023!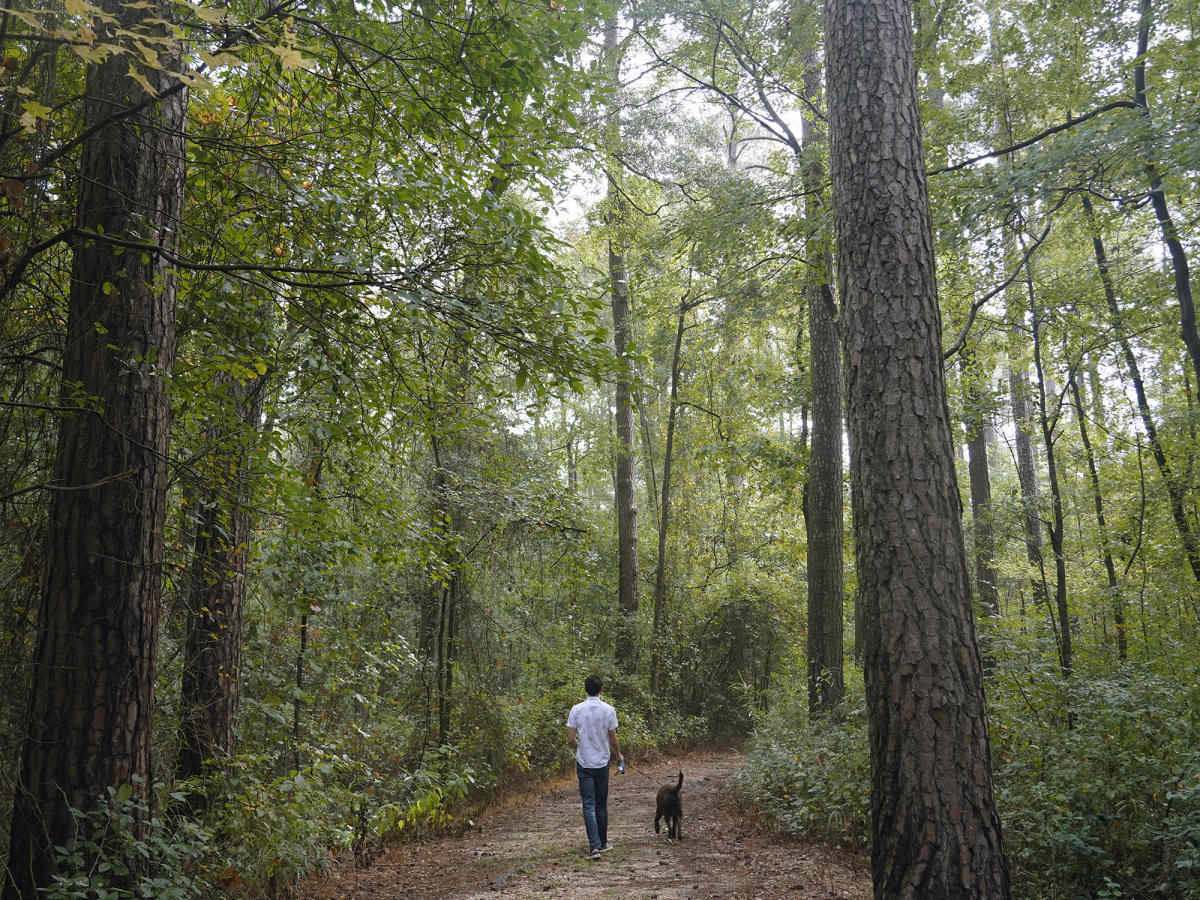 In closing, enjoy the North Carolina Year of the Trail Anthem:

In North Carolina, we are the product of our environment. The people who can greet a sea breeze in the morning and tuck into a mountain chill at night. Who sprout from land that rolls across the hills of the piedmont. Who shape cities that hustle and bustle beside glistening rivers.

Across this vibrant stretch of Southern soil, a system of trails unfurls into limitless opportunity. These paths are a place of refuge and recreation. They connect us to the very essence of this state. To its natural splendor. To its storied, winding history. And – with our active use and care – to its future. Because we blaze and sustain trails together: those born and bred here, and those beckoned by its promise as the Great Trails State.

Down rugged trailheads and through city parks, there is a trail for each of us. An invitation for bikers, hikers, paddlers, and riders. For amblers, explorers, and commuters. Craving the inhale of impossibly crisp air, we meet mountains and look over the edge of the earth. The lull of Atlantic tides pulls us back to sandy paths. With the wind in our hair and a rush of adrenaline, we weave and bob alongside buildings that scrape the clouds.

Along these trails, we lead and we follow. With kids on our shoulders, dogs trotting ahead, critters burrowing below and flying above. We march on our own and we build community. We find new purpose, generation after generation. We laugh and sweat and reflect. We take on epic adventures. Or we might just take a moment.

We need trails. To move, to play, to discover. Because North Carolina's trails are for all of us. To enjoy, to sustain, and to champion. Us, the products of the places where our feet are firmly planted – and the new growth where great trails lead. This is our year. The Year of the Trail.