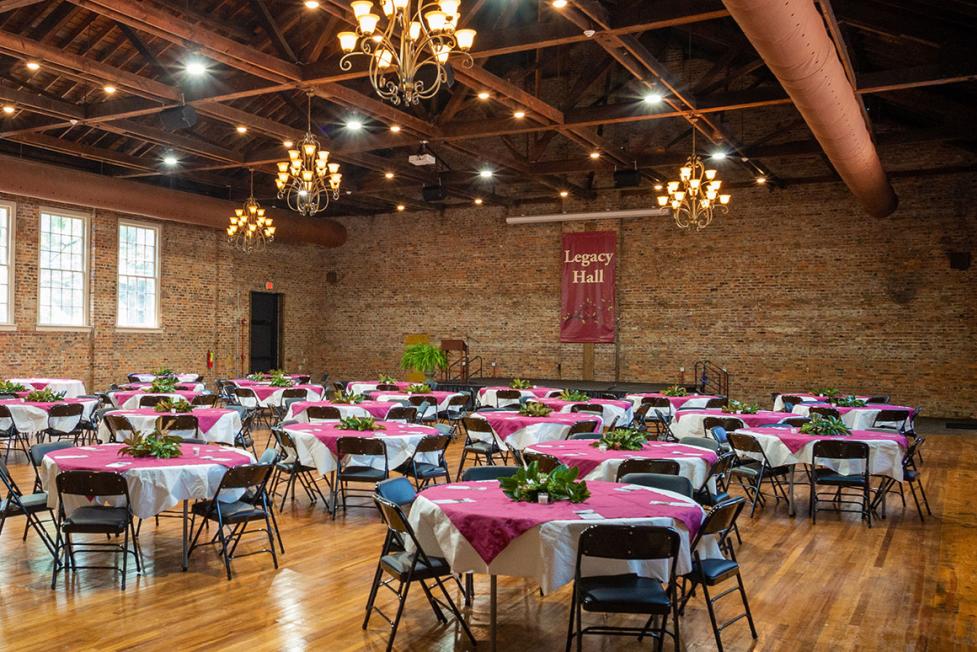 The New Selma Civic Center is now open for business in historic downtown Selma, just behind The Rudy Theatre and the Antiques Shopping District, offering a great location for local, county, and regional small meetings. The venue has charm and character as it was originally built as a gym for the school system.  The Town of Selma took on this project to acquire and renovate this building to become a draw for meetings and events to town.
The following information is provided on the building, room capacities, and booking the venue.  It will be managed by the Selma Parks & Recreation Department, for more information, call 919-975-1411.  Download the rental agreement HERE.
The Site: The Selma Civic Center is a premier historic venue in the heart of Selma, NC. Our unique space offers the perfect setting for your once-in-a-lifetime celebrations or special events.
The Building: The building was originally constructed in 1939 as a gymnasium with a catering kitchen and smaller meeting space. The entire building was renovated in 2018- 19 and now features the larger gym space (now called Legacy Hall) with the original hardwood floor and open wood trusses in the ceiling – very dramatic. A large restroom facility has been added. The maximum capacity for the large room is 299 (without tables) 240 (with tables). The Catering Kitchen features good counter space and a staging area for buffets. However no cooking is allowed. The Oak Room is a smaller 550 square foot room that will accommodate approximately 24 people with its own private restroom.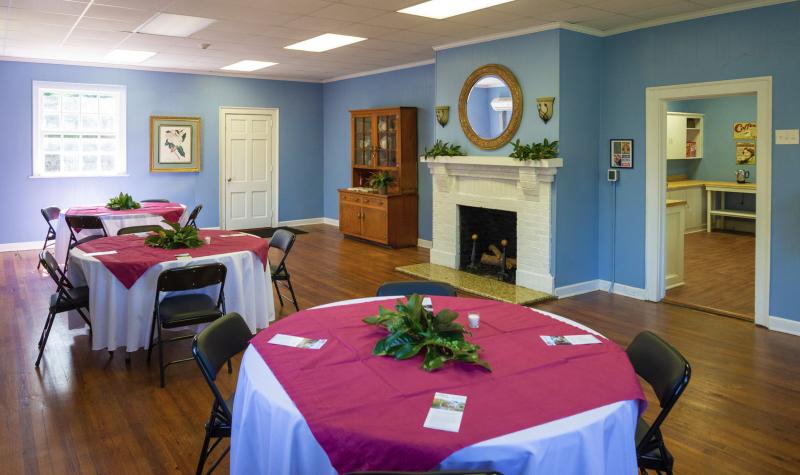 The Special Features: Legacy Hall includes a sound system, a large projection screen and projector, Wi-Fi connectivity, a 20' x 16'stage, round 60" tables, and metal folding chairs. It can be arranged for many different occasions. The Oak Room also includes round tables and metal chairs, a small restroom, and includes a small fireplace (non- operable). Both of these spaces have access to the catering kitchen for a separate fee.
The Grounds: There is currently no parking on the grounds, but plenty of street parking on two sides of this corner lot as well as other adjacent streets.
Location: The building is conveniently located at 300 N. Webb Street, one block from the Selma Historic Business District, one block behind the famous Rudy Theatre, and directly across the street from the Selma Fire Department and Johnston County EMS.
Purpose: The Town of Selma purchased this building in 2016 and has restored it through funds donated by many individuals, corporations, and foundations. In addition, the Town was a recipient of a large United States Department of Agriculture Rural Business Enterprise Grant. Because of the nature of the donations, first priority for renting this facility will be given to local businesses, corporations, and civic groups.
Second priority will be given to local citizens for special events. Even though this facility is managed by the Selma Parks and Rec Department, it will not be rented for athletic events of any nature.
Floor Plan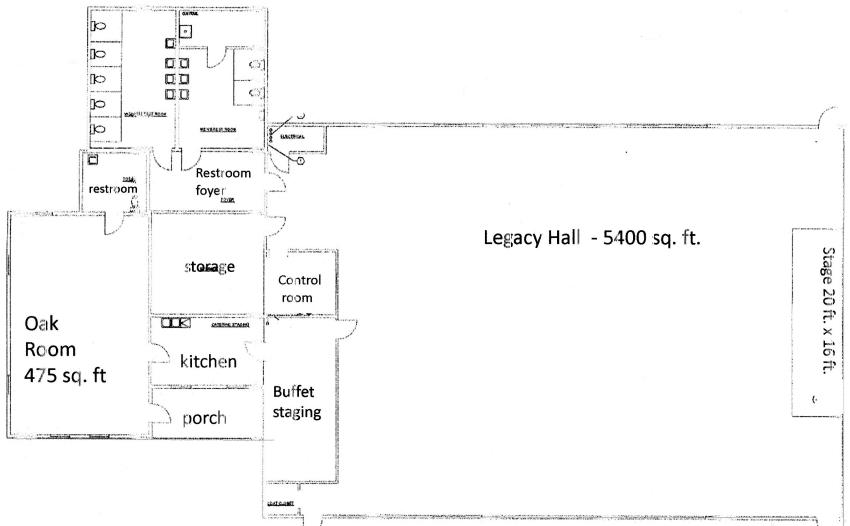 Rental Information
Legacy Hall - $125.00/hour; 3 hour minimum - ($1000 for 12 hr. day not past midnight)
The Oak Room - $50.00/hour; 3 hr. minimum – ($400 for 12 hr. day not past midnight) (Tables and chairs and room set up are included in the rental fee. No outside tables and chairs may be used.)
The Catering Kitchen - (optional) $15.00 flat fee when renting either of the areas.
Your rental time must include decorating and cleanup. Whatever you have brought in, food, decorations, tablecloths, cups, plates, napkins, etc. must be removed from the rented area(s), placed in trash bags, and put in our outside trash containers.