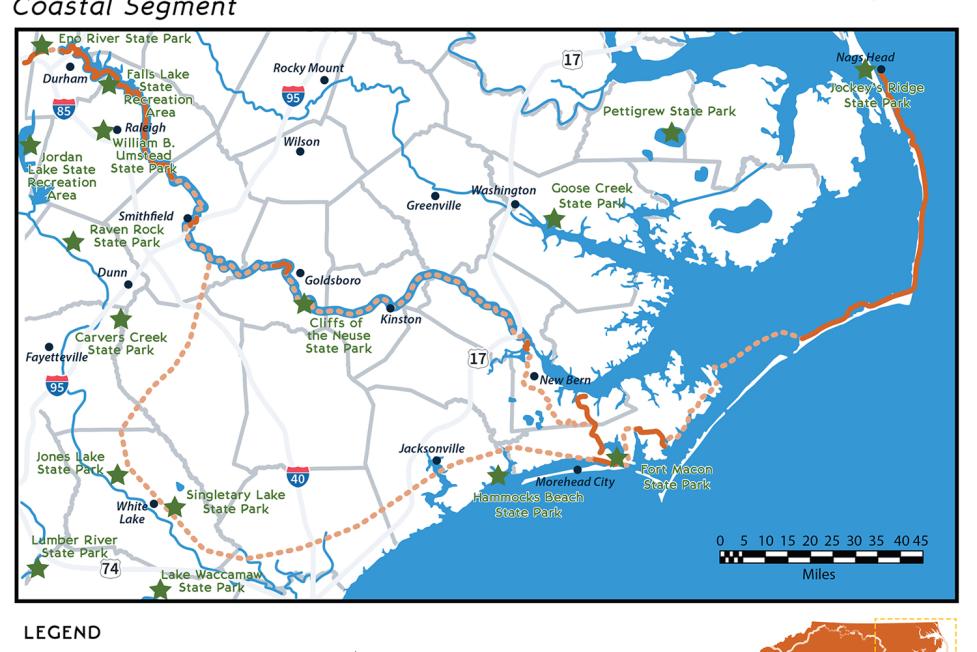 Johnston County Expanding the Connections to the MST
Currently visitors and residents enjoy two sections of the Mountains to the Sea State Trail in Johnston County. The section that leaves Wake County connects all the way to the Town of Clayton at Clayton River Walk Trail and Sam's Branch Greenway Trail. The town has improvement plans and expansion plans for the trail to take it out to the town limits, where approximately 14 miles of proposed trail will in the future connect to the Buffalo Creek Greenway in Smithfield.
Trails are perfect for hiking, biking and non-motorized forms of transportation. Visitors enjoying the trail will find art from area schools and views of the Neuse River for a scenic hike. You can connect to town businesses in Clayton and Smithfield if you are on a leisurely mission and need a bite to eat or a place to stay for the night.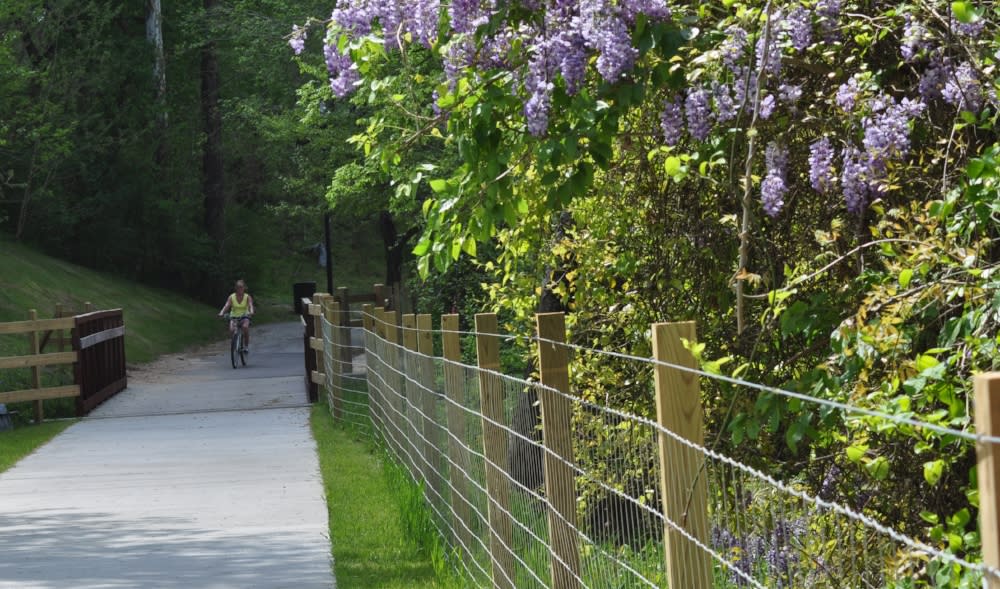 JoCo Trails


About the State Trail
The Mountains-to-Sea State Trail, or the MST, is North Carolina's flagship state trail. The notion of a trail extending across the width of North Carolina was proposed in 1977 by Howard Lee, who was then the Secretary of the North Carolina Department of Natural Resources and Community Development. In 2000, the MST became a state trail and a unit of the state parks system. In 2017, the General Assembly authorized a major addition to the MST: the Coastal Crescent route that loops through southeastern North Carolina.
The North Carolina Division of Parks and Recreation is completely committed to developing the MST as a continuous, off-road trail across the state. To that end, the Division has dedicated considerable financial and staff resources to the planning and coordination of the entire trail. In addition, the Division has acquired land for the trail and funded trail construction. One of the hallmarks of its efforts is developing partnerships with local, state and federal land management agencies, along with nonprofit organizations, land trusts and volunteers, to advance the development of the MST. The Friends of the MST organization provides information on the trail, sponsors most of the task forces that build and maintain sections of trail and promotes thru-hiking the trail by providing interim routes that connect completed portions of the MST.
When completely constructed, the MST will be about 1,400 miles long. Currently, there are 659.5 miles of trail that are completed and designated.