There are a lot of new and wonderful things happening with the Johnston County Heritage Center. I sat down with Director Todd Johnson recently to discuss the history of the county's Heritage Center, its expansion into a new space, and what visitors and residents can expect to see now and in the future. 
The History of the Heritage Center
In 1967 it started as the Johnston County Room, a library collection, of books, files, and genealogy information - one room in the county library lovingly curated by Margaret McLemore Lee. It grew in the 70s, thanks in part to the buzz around America's bicentennial year and the television premiere of Roots. Suddenly, the interest in genealogy research boomed.

"People thought it was a passing fad, that people would lose interest, but they did not," says Todd Johnson, Director of the Johnston County Heritage Center, "then the internet came along and records were more accessible and it really exploded, and it's just continued to grow."

Through the decades the Johnston County Heritage Center's collections were relocated a few times within the library, expanding to 3 rooms. By the 250th anniversary of the county in 1996, it was clear that the Johnston County Room had outgrown the space. By that time, Todd was on-board, though his history with the heritage center pre-dated his work as its director.

"In 1979 when I was in high school Margaret Lee recruited me to help her, and it was my afternoon and weekend job, organizing and assisting. I did that part-time through college. I had been hanging out there doing research since I was 12, and I started working there at 15. I was one of the few people she trusted to take care of her "baby," as she called the Johnston County Room. She became my second mother."

Todd said he never expected to end up back in Johnston County after finishing his education, much less back at the library. But, sometimes, life brings you back around, as I can also attest to. And so, by 1996 Todd was working to finally shepherd the Johnston County Room and its growing collection into a new space, the old First Citizens Bank building on Market Street in Downtown Smithfield. Residents and visitors alike come to the Heritage Center to learn about their families and their historical ties to Johnston County.

"In 2000 we were able to open the museum part of it, which the county had never had before," said Todd. 

In the lobby of the Heritage Center rotating exhibits could be viewed by the public showcasing history from across the county's many towns and crossroad communities, and covering historical eras from pre-colonialism to the Cold War. But, of course, that's a lot of time to cover, and Johnston is a large county.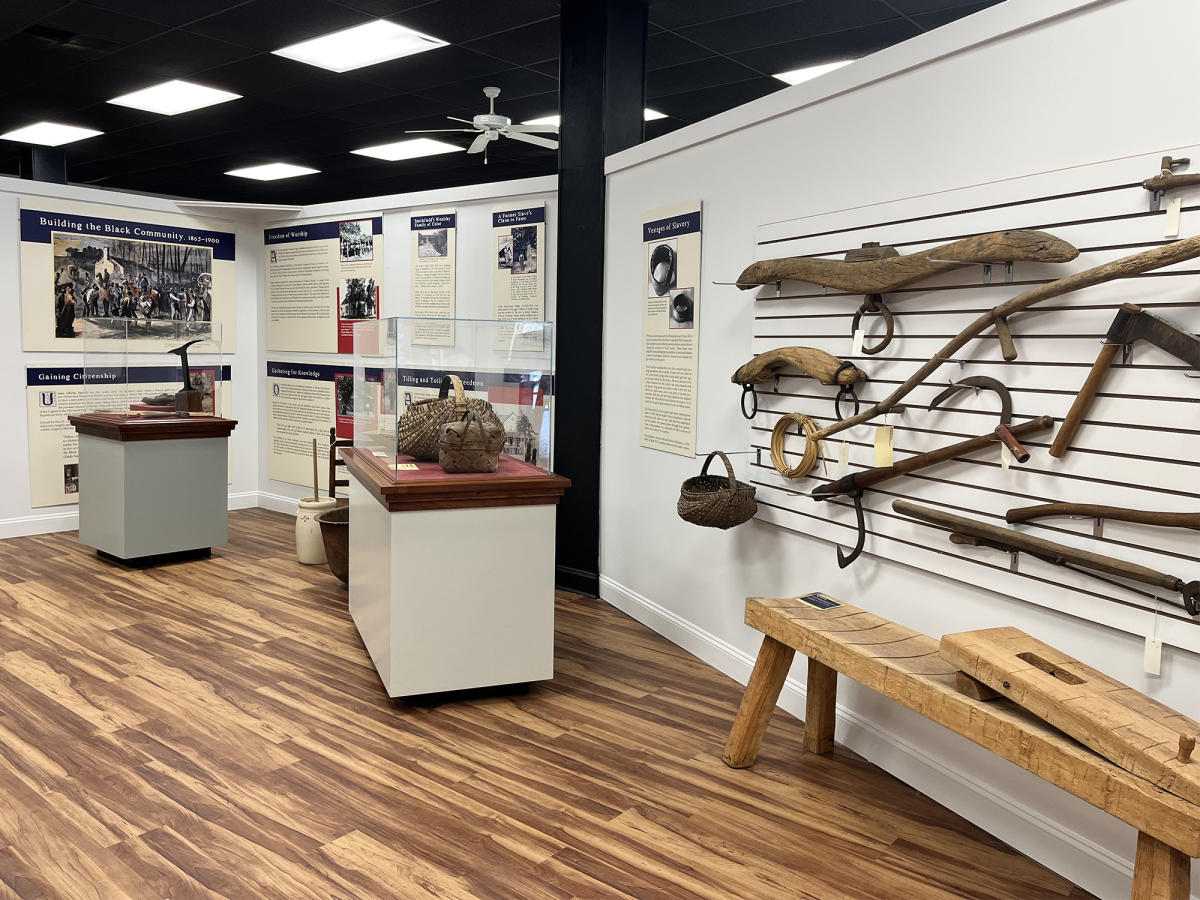 Space to Share the Whole Story 
In recent years, the idea came about for two locations - a Johnston County Heritage Center (241 East Market St.) and a Johnston County Museum (329 East Market St.). A dream that is now a reality. The new location provides the Center with 5,000 sq. ft. of display space for exhibits.

"We knew we needed additional space and the opportunity came about to lease part of the old Rose's building. It allows us to do more of a panoramic display of the history of Johnston County. We have space to really present the county's history in a timeline fashion. Starting with pre-history and Native Americans through the colonial period and into the 19th and 20th centuries." 

There will be semi-permanent exhibits, but also a rotating space in the lobby of the museum to tell more recent history. There is so much to see and learn about; in walking through the new space I learned so many things about Johnston County that I didn't know about even as a native Johnstonian. For example, the oldest county artifact in the museum dates back to 4,000 BCE! See if you can find it for yourself. Both visitors and locals alike should stop by to explore, especially people who love history (like I do)! 

And don't worry, the Heritage Center is still open to the public for genealogical and historical research. It's a 2-minute walk down Market Street from one space to the other - less if you catch the crosswalk light just right. 

"We've kept the research collection at the old bank building - books, papers, microfilm, photographs - and we still use that building to store a lot of our artifacts not on display," Todd said. People would still go there for genealogy research, "We also have public computers where people can access online sources."
 
Looking Toward the Future
The Heritage Center works to put on annual events like the very popular Downtown Smithfield Ghost Walk - an outdoor, living history event where ghosts of historical figures from around the county regale the crowd with tales from their lives. The center also offers beginner and intermediate genealogy classes, taught by Chief Genealogist Rebecca Owens.

"We reach a lot of people that we normally would not have come through our doors, by doing the living history events," Todd pointed out. 

Plans are currently in the early stages to coincide with future events and exhibits around the American 250th birthday celebration in 2026.

Many people know about Johnston County's Civil War history at Bentonville, and also about our moonshine legacy. But, I asked Todd what he wishes more people knew about Johnston County's history.

"I wish people knew more about the every day, sturdy salt-of-the-earth, farmers that have made this county what it is. Their stories are largely not told. We tend to gravitate toward the sensational, but when I think of Johnston County and what it means to be from this place, I think of my grandparents and their stories. I would like for people to know not just about the notorious and outlandish characters, but also about the everyday people and how they survived and thrived." 

There are certainly some of both types presented to you at the new museum, where the unimaginable and the mundane stories mingle together to create a tapestry of a county that's still got more stories to tell.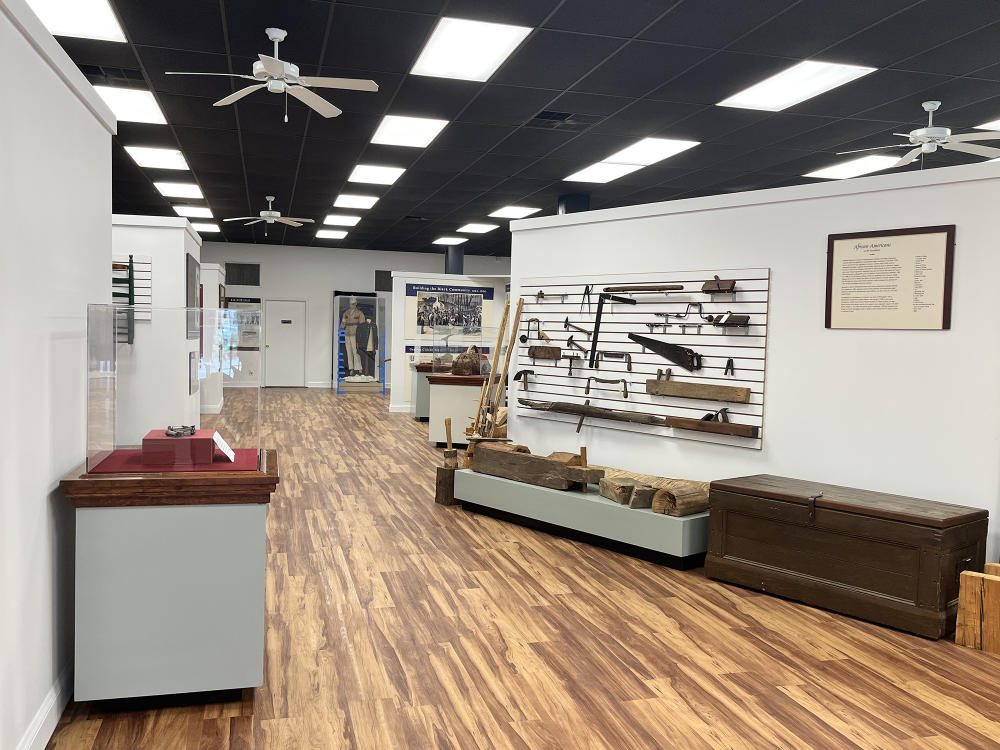 The Johnston County Heritage Center is a public/private organization. Having support at the county level has been and is important to keeping the Heritage Center's work in the community going. But just as important is the support from private donors - both in monetary donations and collection items. Visiting the museum is free, but please consider making a donation. 

You can learn more about the Heritage Center and Museum by visiting their website here, or stay up-to-date on happenings and exhibit debuts via their Facebook page.