December is packed full of events, parties, and shopping...why not enjoy a drive through the country-side for a Christmas Lights show!  Johnston County is lucky to have two locations where you can visit to see a wide variety of outdoor light shows and displays this holiday season. Meadow Lights in Meadow, NC is a gorgeous display of thousands of lights that continues to amaze audiences with familiar scenes; while every year they seem to add new displays.  Lights on the Neuse, in Clayton, NC, allows you to experience holiday scenes on a hayride around the farm and end the evening around the campfire with s'mores!  Kids and adults will have a wonderful time...remember to bundle up!

MEADOW LIGHTS
4546 Godwin Lake Rd.
Benson, NC 27504
919-669-5969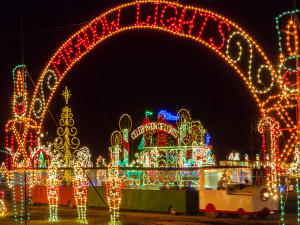 Meadow Lights is the perfect holiday attraction for the family.

The Meadow Lights is one of the largest and oldest Christmas Lights Shows in Eastern NC, starting when the owner wanted to decorate his home and yard for his children to enjoy. These decorations grew and grew over the years, and soon others in the community started to enjoy the lights also. As the community got involved, so did the number of people wanting to see them. Today, there is over 30 acres of lights and people from all over the state come to experience them. To get the full experience families of all ages can take a train ride through the lights and see all the animations up close. Before you leave you have to stop at The Old Country Store where Santa and every type of candy, preserves, drinks, and much more are waiting for you. This year don't miss out on the carousel rides. If you haven't been to the Meadow Lights, head out there this year and you won't be disappointed. Who knows - it might even become a family tradition for years to come!

LIGHTS ON THE NEUSE
1620 Loop Rd.
Clayton, NC 27527
919-553-0016


Take a stroll through the enchanting 3D Christmas house at Lights on the Neuse

Located in Clayton, NC, Lights on the Neuse allows families and friends to get together to celebrate the magic of Christmas. The main attraction is the Christmas Hayride, a one-mile long, 30-minute old-time tractor-pulled hayride through a beautiful Lights Extravaganza, filled with Christmas music and holiday magic. While you're there take a tour of The Christmas Barn to see an enchanting 3D Christmas house and buy some old-fashioned Christmas candy, hot chocolate, or a wonderful s'mores kit that you purchase and cook at the picnic area. Don't forget to bring your camera to get a picture with Santa! Call or visit their website for ticket information and details.

 

Tis the season all around the county for Christmas Parades and Christmas Tree Lighting Events in every town. For a full list and schedule of holiday events visit our website at www.johnstoncountync.org/events/ and enjoy the magic of Christmas with friends and family.