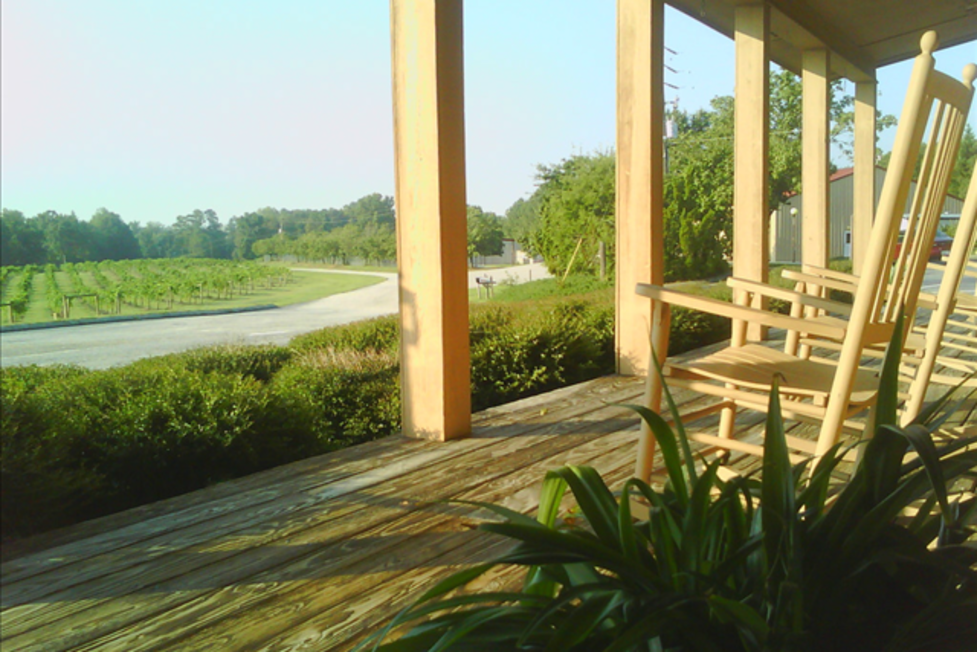 According to the North Carolina Department of Agriculture and Consumer Services, "Agritourism is activity that incorporates tourism and agriculture by bringing individuals to farms, ranches, vineyards, and other agricultural enterprises.  Agritourism helps to educate the public and often generates income for farmers and agriculturalists.  There are many types of agritourism enterprises, including pick-your-own farms, agriculture museums, corn mazes, hay rides, winery tours, barnyard animals, etc."

Due to Johnston County's rich heritage associated with the land, this may not be the first time you have heard of or experienced agritourism. Many land owners who open their farms, ranches, and vineyards to the public do so in the name of education. With so much of the media dictating what we think we know about our food, agritourism allows farmers the opportunity to be more transparent about how our food and beverages are produced - from seed to store and from farm to table. Not to mention how fun agritourism is - picking your own blueberries, selecting a pumpkin to carve, tasting wine while exploring the vineyard the grapes were grown in, experiencing a southern sunset over a corn field.

But for tourists and locals like you, yes you, to enjoy picking fresh strawberries straight from the field, haunted hay rides, and adventurous corn mazes, farmers must first learn how to go about opening their land to you. Because of this need for education, Johnston County has previously offered workshops on agritourism with the hope of assisting local farmers who may be seeking ways to utilize their land and equipment to serve tourists. Thanks to these previous agritourism classes, many of which took place 10 years ago, right here in Johnston County there exists all types of agritourism options for visitors and locals. Families who owned farms like the Boyette's, the Thompsons, and the Browns utilized knowledge gained from attending the classes to set the foundation for agritourism in the county.

On that foundation exists old and new local businesses that have only grown with the consumer demand for farm to table experiences. Current trends show increased interest in agritourism surrounding the beer and wine market. Not just nationally, but right here in Johnston County. Wehave 4 wineries, 2 breweries, and 1 moonshine distillery where visitors can learn about the local ingredients that go into the beverages they get to enjoy in the tasting rooms.

One local farmer, Caroline Hines, stated both the benefits and obstacles that agricultural enterprises face when entering into and remaining profitable in agritourism. She has a family-owned farm outside of Micro called Hines Farm. They grow tobacco mostly and have not expanded into agritourism, but Hines is one example of the farmers that exist in the newest generation of agricultural professionals considering the opportunities and particulars involved in agritourism. According to Hines one of the most important aspects, and often the most baffling to farmers, is marketing and branding. She continued, "agritourism takes people visiting your operation and that takes branding your farm as a place people want to go. With most conventional farms you have a product and you sell it and that's it. You don't have to market your crops."

Project Skill-UP 2015 hopes to provide the opportunity for a new generation of local farmers to train for agritourism. The program hopes to provide the most current information on all aspects of agritourism for the counties farmers, vintners, brewers, and distillers. The classes are made possible by the Johnston County Visitors Bureau, Cooperative Extension, and the JCC Small Business Center.

The project will consist of 3 free seminars and a tour of local successful agritourism businesses:
March 24th - Agritourism: Then and Now - 7:00 PM

April 28th - Farm to Table - 7:00 PM

September 22nd - Agritourism Trails and Marketing - 7:00 PM

October 27th - Agri-Business Tour - Time TBD

Training topics include defining agritourism, how to be profitable, and how to market an agritourism venture. In addition, the seminars will cover the logistics involved in operation including insurance and preparing a farm for visitors. All events are free (with the exception of the tour lunch charge) thanks to a grant from the NC Tobacco Fund Commission and will be held in the Lampe Meeting Room, N Third St, Smithfield. To register, contact Rose Andrews at 919-209-2594 or rsandrews@johnstoncc.edu.