This morning I stood by the side of the road on the sloping lawns of Sunset Memorial Park Cemetery to bear witness with around 2 dozen other people. I stood in the cold sunshine and watched as the historical marker of Ava Gardner was revealed by her remaining friends and family. It was a beautiful ceremony in which the Director of the Ava Gardner Museum, Ava's great niece, and Ava's nephew all offered words on who Ava was and what she me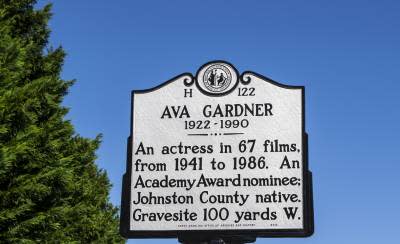 ans to her home county of Johnston.

For those of you who don't know, public figures of historical significance must be deceased for 25 years before the North Carolina Department of Cultural Resources will erect a roadside plaque in their honor. Ava passed away in 1990, exactly 25 years ago. But she would be 93 today; her birthday is in fact Christmas Eve. Ava's marker, as you can see from the picture, rests 100 yards away from her gravestone.

This week there have been 2 events related to the dedication of this historic marker. Both involving the Ava Gardner Museum, Ava's family, and also Ava's long-time companion and housekeeper Carmen Vargas. A private dedication took place at The Carolina Theatre in Durham, NC on Wednesday the 18th of November. Following his performance at the theatre that night, Ava's step-son Frank Sinatra Jr. was kind enough to join guests in honoring Ava and to say a few kind and passionate words. By his own admission he interacted with Ava very rarely, but she once showed him a great kindness at a difficult time in his life; something she did not have to do and something he reminisced he will never forget.

I thought about Frank Sinatra Jr.'s words as I stood in front of the marker this morning at the public dedication ceremony listening to those friends and family members who knew Ava discuss their memories of her. It seems to me that every time I hear somebody talk about Ava Gardner, someo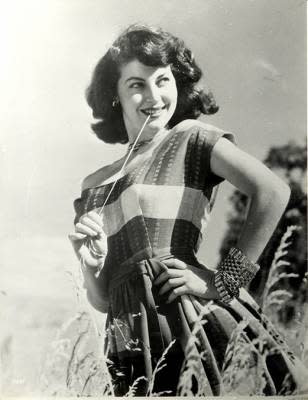 ne who knew her, it is never about how big of a star she was... it is always about how big of a person she was. Her genuineness. Her love for her corgis. Her zest for life. Her early and passionate involvement in civil rights.

On paper Ava Gardner is still one of the biggest stars Hollywood has ever known. She remains ranked by the American Film Institute as the 25th most popular screen actress of all time. She is Johnston County's Cinderella story. A girl from Grabtown that became a star. Her legacy remains alive in Smithfield, NC where her museum brings in people from all around the world and where a plaque now marks her final resting place so that fans (old and new) can pay their respects.

But Ava Gardner was more than a star. She is more than her story. Being present at both dedication ceremonies was like watching Ava come off the paper, like watching her come alive again. To be able to see Ava through the eyes of the people who love her, who spent time with her, who knew first-hand her kindness and humor and spirit. It was an honor. To understand how humble she was. How fierce and feisty. To be awed by the unapologetic way she lived her life. It makes her seem all the more real. Because she was a real person.

In the years and decades to come there will pass a time when no one will be here to speak for her. To recount first-hand who she was. How proudly southern and proudly JoCo she was. All we will have is the historic marker and the Ava Gardner Museum. They will remain her legacy. A legacy worth protecting to anyone else who calls themselves a lover of Johnston County, a fan of Ava Gardner, or a believer in unapologetic living and southern hospitality.

I encourage you to visit Ava's museum. To go by her grave and her brand new historic marker. Spend some time with one of the most beautiful women the world has ever seen. Who soared to great heights, and kept her (bare)feet firmly planted in the Johnston County soil.