If you like exploring the great outdoors, visiting interesting places, and scavenger hunts then you're going to love geocaching. For those who don't know what this popular hobby is, geocaching is a family-friendly activity for people of all ages where participants find hidden containers using GPS coordinates.
These containers or "caches" can be hidden anywhere and in fact millions of them exist world-wide. You can find caches at attractions, restaurants, businesses, parks, monuments, downtown areas, and more. Many geocaching participants use a handheld GPS device or a mobile phone. Once the container is discovered a log book located inside is signed by the finders of that particular cache – almost like a guest book. The container can also include items placed there by other participants for gift or trade to other participants.
The coordinates will lead you to within about a 25-foot radius of a cache and then you will have to start searching. The container is never buried but may be hidden in, on, under, or on top of something. The look and size of a container can vary and could also be camouflaged or hidden somehow by leaves, bark, or other materials.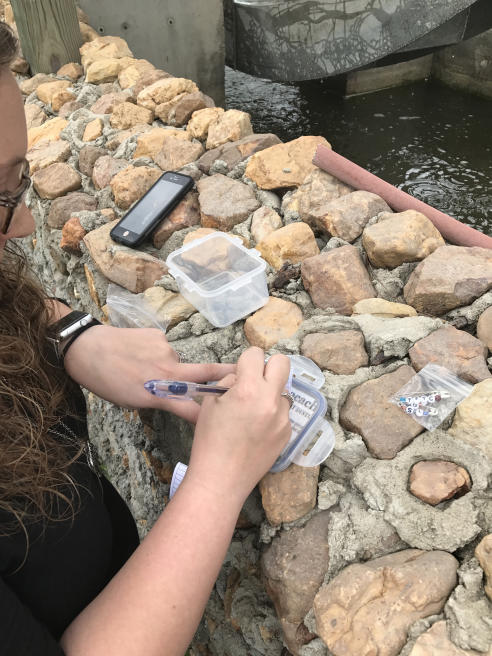 Visitors and Locals Alike are Encouraged to Geocache
Geocaching is a great activity to do as a group and especially as your travel around or through an area. The official geocaching trail in Johnston County, called the Johnston County Heritage GeoTrail, has 50 caches hidden throughout the county and create a thematic trail that includes some of Johnston County's most popular tourism stops encompassing history, culture, food, art, and more!
Fun Fact: apart from the strategically placed "official" geocaches along the trail Johnston County Heritage GeoTrail there are over 2,000 caches located around JoCo hidden by other participants in the hobby.
Here's how to participate in the official Johnston County Heritage GeoTrail:
1.    Create a free account on geocaching.com and then search for GC73Q1A which will bring you to the official listing for all the geocaches on our trail.
2.    Download and print your passport.
3.    Brochures on the trail with the 50+ coordinates listed can also be picked-up from the Johnston County Visitors Bureau office at 234 Venture Drive, Smithfield, NC 27577.
4.    Find all 50 caches on the trail & record the code words from each cache in your passport or on the official brochure mentioned above.
5.    Bring or mail your completed passport or brochure to the address above.
6.    Receive your free, trackable geocoin (while supplies last).
The Johnston County Heritage GeoTrail was organized and is managed by the Johnston County Visitors Bureau in partnership with local, avid geocache hobbyist.
For more information on our trail specifically and tips on how to geocache like a pro visit johnstoncountync.org/joco-geocaching-trail. For information on the phenomenon of geocaching worldwide visit www.geocaching.com.
Happy Hunting!