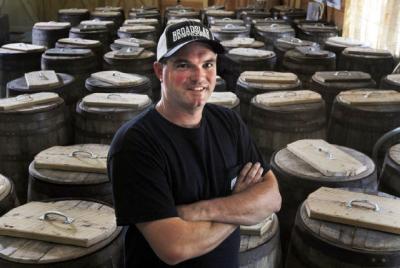 Jeremy Norris now producing several "shine" products and two rum spirits.

Jeremy Norris was always intrigued by his grandfather's stories of making whiskey in the woods, sampling the product by moonlight, and the tales of hiding from lawmen who came to bust up the stills.

Of course, Jeremy's grandfather was a bootlegger. In fact, the Norris family has been making whiskey in the woods of Johnston County since the 1700s.

Norris is carrying on the family tradition, but now in a completely legal way. Broadslab Distillery, located near Benson, has been legally manufacturing spirits since 2012 on the land once owned by his grandfather.  But now Jeremy can stay out in the open and out of trouble with the law.

Although distilled spirits have a long way to go to catch up with beer and wine, they're a growing business in North Carolina. Agnes Stevens, public affairs director for the state ABC Commission, said there are 14 working distilleries in the state, with more on the way. The oldest is Piedmont Distillers in Madison, which started producing liquor in 2005.

Distilleries were outlawed in North Carolina in 1909, 11 years before Prohibition went into effect.  After Prohibition ended in 1932, the state permitted breweries and wineries to operate, but continued to ban the manufacturing of spirits. That ban was lifted in 1979.

It looks like distilleries are following the same growth pattern that wineries and breweries have in North Carolina -- which are booming!

Distillery operators must obtain a permit from the federal department of Alcohol and Tobacco Tax and Trade Bureau, a state ABC permit and a city or county business license.  Labels must also be approved. Bottles can only be sold at state ABC stores, which are required to have a separate section for North Carolina-made products.  Before Prohibition, North Carolina had more distilleries than any other state.