The Town of Benson is excited to announce the installation of its mule sculpture on the pedestal at the intersection of Highways 27 and 50 is now complete.

This installation is the culmination of nearly a year of research and deliberation by the Benson Art Advisory Board. The mule — as an icon — was chosen for its obvious connection to the Town of Benson and its farming heritage, annual Mule Days celebration, and how the famed "stubborn" animal represents a drive into the future while also representing Benson's roots.

Greenville, North Carolina artist Jonathan Bowling, aided by Benson Public Works and the Benson Police Depart for brief traffic control, finished installing the statue today just before noon.

Mr. Bowling is an accomplished sculptor — his commissioned works can be seen at the Public Sculpture Park in New Bern, the Secret Garden Gallery in Ocracoke, the Chowan Arts Council in Edenton, and the Peninsula Fine Arts Center in Newport News, VA among several other locations around the nation.

His unique approach to sculpture utilizes scrap metal from old vehicles, farm equipment, discarded tools, and structural components like steel rebar to form something new entirely — like Benson's mule.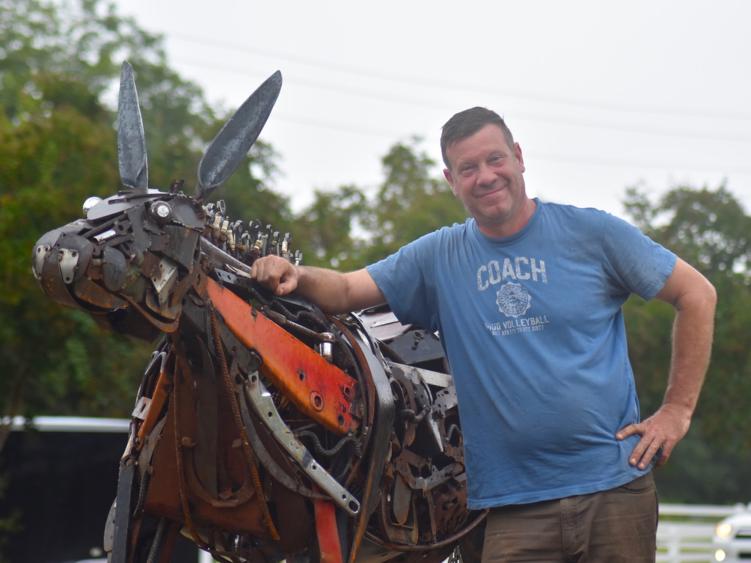 Taking a closer look at his latest piece for the Town of Benson, the complexity reveals itself. Wrenches for the mane, welded chain for the tail — while cogs, gears, steels supports, machinery panels, and more make up the body of the animal.

The Town of Benson would also like to thank NCDOT Division 4 for assisting with this roadside enhancement project several years ago with the elevated landscape area/pedestal and allowing the installation of the sculpture under the NCDOT Right of Way Art Policy.

To see a video documenting the installation of the sculpture, follow the Town of Benson on Facebook. This opportunity was made possible by the Johnston County Visitors Bureau through occupancy taxes collected from Benson hotels — designated for marketing and the beautification of downtown Benson.

More about the artist Jonathan Bowling from his website www.jonathanbowling.com: Jonathan Bowling grew up on a small farm in Kentucky. His first sculptural efforts were the simple games of childhood — fieldstone castles, a bridle of hay twine, a driftwood armada.

As a teenager in the late 1980s, Mr. Bowling lived in Belgium, where he had access to the museums of Western Europe. On his return to the states he attended the University of Kentucky where he received his BFA in sculpture and a BA in art history.

In 1996 he moved to Greenville, North Carolina, to pursue an MFA in sculpture at East Carolina University in 1999. He has been working out of his Greenville studio ever since. Mr. Bowling has showed extensively in the Eastern United States, which has resulted in a number of long term lease agreements and sales to municipalities and private collectors.