Hard work, good service helps Pine Level Hardware & Furniture stand the test of time
PINE LEVEL — Terry Arthur has been working at Pine Level Hardware & Furniture since 1977. That's a long time — until one considers that the store was founded 64 years before she became a full-time employee. Terry's great-grandfather, Berry Godwin, her great-uncle, Clarence Godwin, and DP Crocker incorporated the business in January 1913 at its current location on Peedin Avenue, and in the 105 years since, the company has become a Johnston County institution.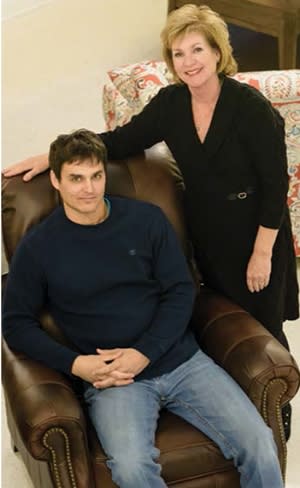 We are so blessed and proud to still be here," she said. "We're thankful for this business and all the opportunities it has given us. Pine Level is 'The Best Little Town in North Carolina.' The small town we live in and the special friends we've made over the years — that's the best part. It's nice meeting new people from all over who have become our new friends."
Her grandfather, Leon Godwin, bought stock in the company near the end of World War I and eventually took over the store, building part of the current location in 1935. Leon and his wife, Merle, provided a solid foundation to keep the business going — and growing.
"I can't say enough about how smart, hardworking, conservative and steadfast they were," Terry said. Merleon Rose Creech, their daughter and only child, has kept faith in the tradition of offering personal customer service while trying to be a positive benefit and influence to others. While Terry is a fixture at the shop, greeting customers and balancing the books, her mother, Merleon Rose, is still the store's owner.
"Mother told me 40 years ago, when she asked me if I wanted to come to work at the store, that 'as long as we were having a good time, we would keep on keeping on.'" Terry said. "Sometimes, over the years, I would ask her if we were still having a 'good time' and we would laugh."
Merleon Rose taught her daughter and the store's staff to think about others and their needs. "A solid Christian family foundation has been the key from the very beginning," Terry said. "Also, we have always been blessed with Christian employees who follow the Golden Rule. You can't do everything yourself. Good employees make the big difference."
Those lessons have also been passed down to Terry's son, Elliot — the fifth generation from the family to enter the furniture and hardware business. "Hopefully, Elliot will enjoy it and continue to help the business grow," Terry said. "He certainly has a great personality and a wonderful patience. I tell everyone he took after his daddy." Terry adds that he's a critical part of the store's day-to-day operation. His view, however, is a bit more modest.
"I do a little bit of most things," he said. "I deliver. I help people pick out what they want. Sweep. Mop." He visits trade shows each year to stay on top of the latest trends in furniture and is a big part of a delivery system that stretches "from Raleigh to the coast."
"I like seeing people happy with what they pick out," he said. "Sometimes, I call in the cavalry." That's Terry, of course, who has a lifetime of experience from which to draw. Her main goal is to make sure folks leave the shop happy."Customer service is number one," she said. "The customer is most important. (We want our customers) to be happy. To get what they want and for their home to look beautiful."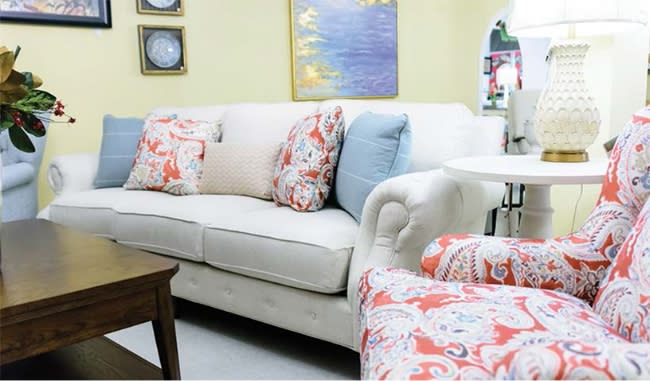 It's not a business that makes the best use of her English degree, but it's one that Terry has come to love. "It's not anything I went to college for, but it's something that kind of fell into place," she said. "I've really enjoyed it. It's a lot of fun and we have a good time, but it's a lot of work, too. It takes that to keep it going." She doesn't have any plans to retire any time soon, but she's hoping to play a role similar to the one her mother held as she eases into retirement.
"I like to work, but I'm getting older and I don't want to work as much," she said, when asked about the future. "But I also want Elliot to have a life, too.... As long as he'll let me work a little bit, I'll keep doing it. Maybe do the books, anyway." After she stopped working a full schedule, Merleon Rose remained involved in the business.
"She used to come in about 4 o'clock in the afternoon, do the books, check up on us and then she'd leave," she said. "She'd post the books, take the money out of the cash register, make a deposit and go home." Terry's husband, Richard, and younger son, Jonathan, also "get roped into" doing things for the company. Like always, it's very much a family affair. "I just think my granddaddy was very smart," she said, of the store's longevity. "I think he worked hard, and my grandmother worked as hard as he did. Mother has always been a really sharp bookkeeper — a lot sharper than me.
"Everyone who's worked here has been wonderful. We've had some great people over the years. They really helped the business grow." It doesn't seem likely to change much, with Elliot serving as the latest link in a long chain. "Yes, I hope I'm still around," he said, when asked about running the store someday. With more than a century of family history tied up in Pine Level Hardware & Furniture, it seems like a good bet that he will be.

You can read this entire article in the recent issue of Johnston Now. Be sure to follow Johnston Now on Facebook as well.