Reprinted with permission from the Kenly News. An article written by Keith Barnes.
 
Based on calculations from previous sales totals sometime during June or July The Grocery Bag, located inside the Percy Flowers Store complex 6½ miles east of Clayton on N.C 42, will be serving its six millionth hot dog. Considering when and where the business began that's quite an accomplishment by any standards. The history of The Grocery Bag goes back to the fall of 1972 but at a different location some 3½ miles away at the old Roy Hinton Store on Buffalo Road. Tommy Fitzgerald of Selma had just quit his job at the Winn-Dixie data processing center in Raleigh so he and his brother Duncan formed a partnership and purchased the store from Roy Hinton. They re-named the business The Grocery Bag but shortly thereafter Tommy Fitzgerald bought out his brother and became sole owner of the business.

During its early years The Grocery Bag was a combination country store, tire business and lawn mower repair shop along with having two pool tables in the back room that helped keep the business afloat. "It was a learning experience," said Fitzgerald. "One of the best motivators in the world is hunger."
Fitzgerald said Percy Flowers, a legendary figure in Johnston County history, used to come by the store and jokingly scold him about being able to sell his gasoline so cheap. "Mr. Flowers asked me if I'd be interested in running his store, Percy Flowers Store, that was located at the intersection of N.C. 42 and Buffalo Road," said Fitzgerald.

The two men tossed the idea back and forth for years but before they could agree on anything Percy Flowers died in 1981. Fitzgerald said he had "struggled along" at the original location for 10½ years and following Flowers' death Fitzgerald wrote a letter to his widow, Delma Flowers, expressing an interest in renting the Flowers Store. One thing led to another and they eventually worked out a lease arrangement. Fitzgerald said when he moved into the new location he only sold typical country store items like "sardines and beenie weenies" but after a few weeks he had an idea he wanted to try.

"I used to visit Winslon Kornegy's hot dog stand in Selma and enjoyed eating his hot dogs," said Fitzgerald. "I bought me a crock pot, a hot dog steamer and heated up some chili in the crock pot."

A man named Mr. Boykin and his son, Bud, stopped by and I made them each a hot dog," said Fitzgerald.  "They were the first hot dogs we made and we just gave them away."

"Alonza "Jack" Watson came in next and he actually bought the first hot dog," said Fitzgerald. "Later on the same day some guy wearing coveralls came in and smelled the hot dogs cooking."

"He asked 'Are they any good?' said Fitzgerald. "I told him they were so good they were almost famous."

That phrase from the first day of the hot dog business opened stuck immediately and is still used today as part of the slogan. Fitzgerald figured he might be onto something good so he bought some Carolina Packers Hot Dogs, Stevens Chili (made in Smithfield), Holt Lake (Four Oaks) coleslaw and some buns, fresh onions and mustard and, presto, he was in the hot dog business. He hired Betty Fleming to run the cash register and a high school student named Shelly Parrish to make the hot dogs, and the rest is history.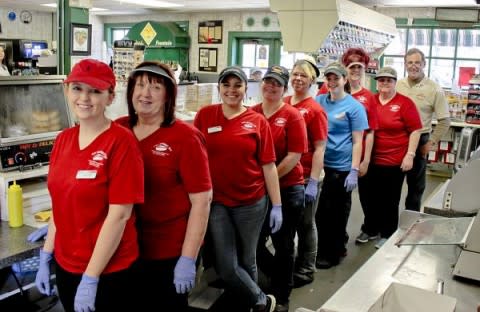 Fitzgerald prepared a simple formula to go by; "Fix it like you're going to eat it yourself, with a smile on your face, and they all come with a guarantee," he said. "If the person behind the counter doesn't have the right attitude you don't have anything."

"Our mission and primary goal at The Grocery Bag is to be the friendliest convenience store you'll ever visit," said Fitzgerald. "If you come to our store without a smile on your face we want to make sure you smile before you leave." The business has evolved and now boasts 24 employees, plus Tommy Fitzgerald and his wife, Donna. The Grocery Bag has become something of a destination not only for the local clientele but some customers who come from many miles away just to get a Grocery Bag hot dog.

"We have some people stop by who say they don't even eat hot dogs but they come here to get one of ours," said Fitzgerald. Every day, particularly around lunchtime, the place is a beehive of activity as a staff of around 10 on duty at a time prepares hot dogs at the counter for hungry customers. In the early years 200-300 hot dogs sold was a good day but today they average 1,300-1,400 per day and have gone as high as 1,729 according to Fitzgerald.
Hamburgers and cheeseburgers have also been added to the menu but not french fries.

Fitzgerald said the person that orders hot dog number 6,000,000 will be the recipient of major prizes including hot dogs for life at The Grocery Bag.

He said the success of The Grocery Bag has been due to several factors including a friendly and hard-working staff, the many patrons who have visited over the years and the Flowers family who allowed him to get started and continue at the same location. opportunity I was afforded by Delma Flowers initially was the starting point," said Fitzgerald. "And being a part of the Rebecca Flowers (Percy Flowers' daughter) vision in the growth and development of Flowers Plantation has been remarkable."