For going on five years now, the Redneck BBQ Lab has become a can't-miss Johnston County experience that residents, regional visitors, and drivers up and down both I-95 and I-40 come back to again and again. Its world championship winning barbeque has something for everyone - pulled pork, ribs, brisket, burnt ends, turkey, sausage. It's an Eastern North Carolina barbeque joint that reaches across the style and sauce divide. And it's a business that Owner and Chef Jerry Stephenson has been working hard the last few years to grow and evolve.
Expanding the Lab 
If you visit the Redneck BBQ Lab today, you will find a small but well maintained, pale yellow building with two small, adjoining dining rooms and a drive-thru… all attached to a bustling BP gas station. Yes, a gas station. It's a wonder of the rural South, the sort of delightful culinary creations you can find in gas station restaurants. Though, admittedly, Redneck BBQ Lab is a stand out amongst them. 
But Jerry admits that the business is outgrowing the unique location. On top of currently working to open a second location, The BBQ Lab, in the North Hills area of Raleigh, Jerry is working on a (secret?) project he terms Project JoCo. All he'll admit currently is that he's working to transition the Redneck BBQ Lab in JoCo into a space that better fits their needs and is a community attraction.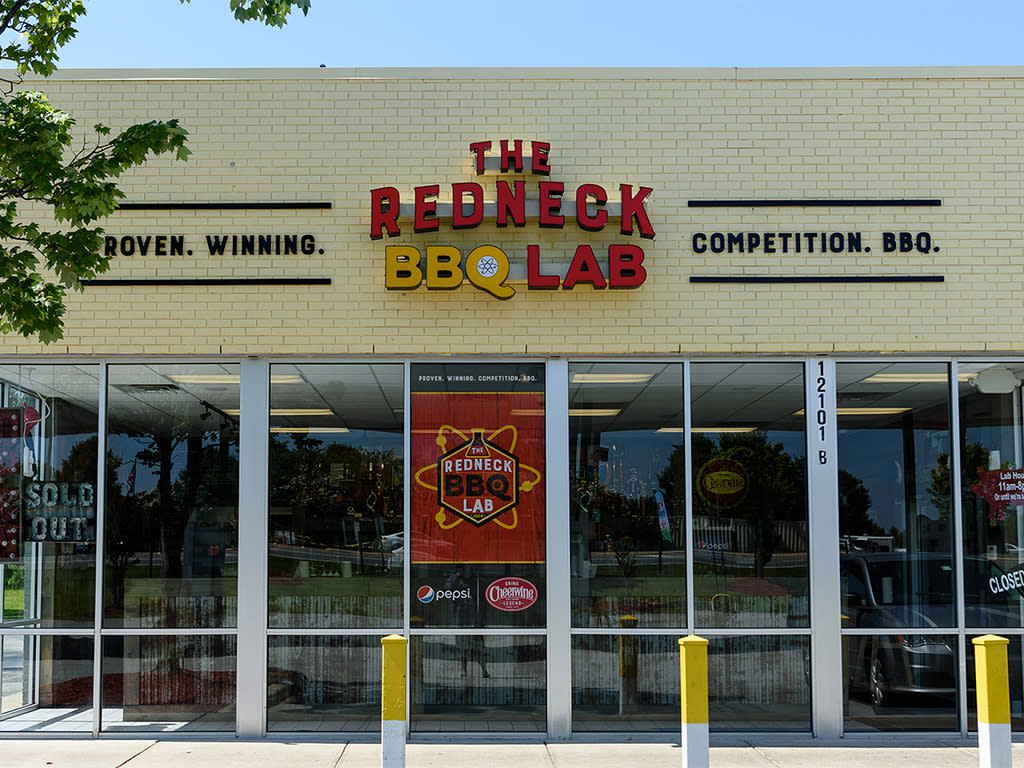 For those interested in possible variations between the beloved JoCo-based Lab and the soon to be opened North Hills Lab, Jerry admits they will be different. Not in quality, but in menu variation. There are going to be hushpuppies instead of cornbread, fries, and a drink menu, among other things. Jerry likes to be continuously evolving. A few years ago, he added Dole Whips to the menu, a treat rarely found outside of Disney World. 
Most recently, the Redneck BBQ Lab added breakfast to the menu (only during the morning and only available via the drive-thru). Pro Tip: get the sausage roll. The menu is made to be delicious, simple, and practical for Lab Lovers on the go. And, just like Jerry approaches everything, has a few twists… the biscuits are square.
"It's not a gimmick. I met a lady who served square biscuits one time and I asked her why and she said it was because you waste less dough in the cutting than with circular biscuits," Jerry explained to me. 
Food Trucks, Catering, & Products 
If you've never been to Benson, you may have discovered the Redneck BBQ Lab out in "the wild" via one of two food trucks or the two vending trailers traveling around Eastern NC. Jerry also recently purchased a third truck and says he could continue to grow the food truck side of the business if he could find employees and drivers to staff them. 
"I purchased the third truck because I want us to be able to do more public-facing events; we're pretty booked-up right now with mostly private events. But honestly sourcing staff is my biggest barrier to growth right now."
If you, like me, have wondered how one tiny little restaurant is currently cranking out food for this expanding empire, which also includes catering, the answer is the commissary kitchen. 
As Jerry explains, "we own a space, not open to the public, which serves as a base of operations for RBL Catering & Food Truck LLC. Our commissary kitchen can produce food for about 10,000 people per day."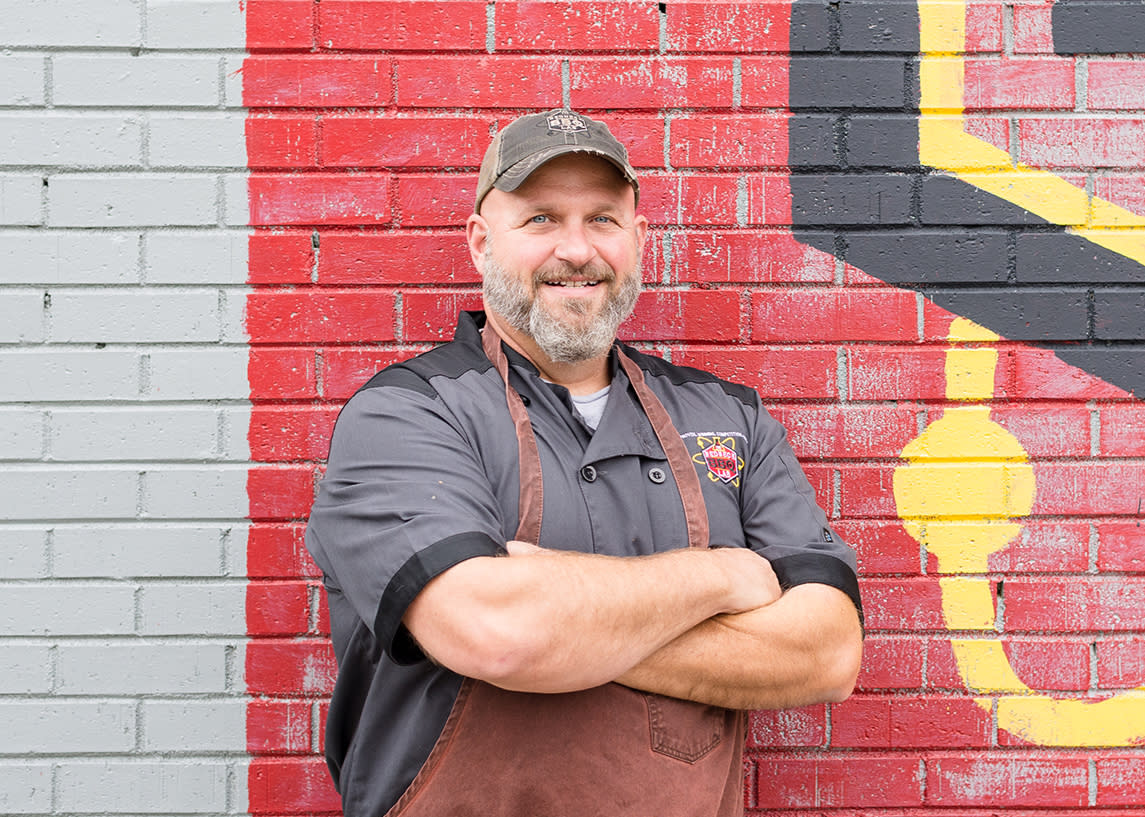 For those home chefs and backyard barbeque masters, there is a division of the Redneck BBQ Lab empire for you too - called RBL Provision Company. It's a line of 5 sauces (called sawse) and three rubs to use at home on all your many concoctions… and I mean ALL. I've sprinkled Redneck rub on potatoes and popcorn, among other things. 
"I just added a Texas themed hot sauce to the line-up and a sauce we're calling Pop's Mustard Sawse that I just won 3rd place with at the World Mustard Championship recently," Jerry mentioned, along with a soon to be released line of seafood themed seasonings. 
There is also a cornbread mix based on the Lab's recipe and Jerry says his favorite thing has been to hear from people on how they use the mix, "I had a guy tell me he uses it to make pancakes, and I've heard from people that work it into casseroles." 
Speaking of recipes… I asked Jerry if I can still hold out hope for a cookbook. He said, "there is hope I would say. It would have to involve my Mom, who is 78, and my sister. The cookbook would be our shared family recipes and also the different takes the three of us bring to those recipes."
Best in the World?
With everything going on, I asked Jerry if he still had time for competitions, "it's on the back burner right now, but I still do it. I only choose world championships at this point in order to focus my goals and my energy on bigger titles. I'll start prepping in August or September of this year for some competitions in the Fall. Even when I don't win the title, to be able to stand on a stage that big and say I'm from Johnston County, NC… that's the consolation prize!" 
I wrapped up our conversation with what Jerry feels like he's learned over the last five years as he grows and evolves the Redneck BBQ brand, "the first lesson is, BBQ is not a perfect science. It's hard to replicate. What I've learned is that I love to hear 'but', as in 'I loved this, but…'. The 'but' is how you keep a pulse on your customer needs, the 'but' is where the improvement and evolution is."
As for the future of the Redneck BBQ Lab empire, Jerry says he aims to keep delivering on what customers want, "the people who come to Redneck BBQ Lab are the folks I love… our customers are like 'vegetable soup'… all shapes, colors, sizes, and they all have smiles on their faces. I want to bring more of what we do to more people. Food is the best vehicle for getting people's attention, and then we try to give them something that they would not get elsewhere."