The Ava Gardner Museum will be unveiling a new exhibit including artifacts and information associated with Ava's friend and costar Omar Sharif, who sadly passed away this year. The exhibit will also include a tribute to her husband Frank Sinatra in honor of his 100th birthday this year, and a commemoration of the 25th anniversary of Ava's death.

The museum feels that this year is particularly significant in commemorating Ava's role in Hollywood history and that the new exhibit as a three-part tribute will be a first for the museum, "the new exhibit's design will be different from any we have done before. Our main gallery case will be split into three sections, giving each commemoration their space."

The grand opening of the exhibit will be on Saturday, October 3rd at 9 AM in conjunction with the 15th anniversary of the opening of the Ava Gardner Museum in its current location. There will not be an Ava Gardner Festival this year, but the museum invites Ava fans to come view the new exhibit and celebrate Ava, Frank, and Omar. Light refreshments will be served throughout the day.
 
Ava's Contemporaries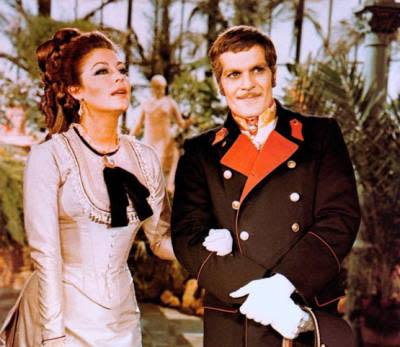 Omar Sharif, a widely-respected Egyptian actor, is mainly known for his epic roles in the blockbuster classics Lawrence of Arabia (1962) and Doctor Zhivago (1965). Ava first starred with Sharif in the 1968 film Mayerling, in which she played his mother, the Empress of Austria. Ironically, almost two decades later in 1986 she played his wife in Harem. Harem was also one of the last movies Ava ever made before she retired from the spotlight for health reasons. The new exhibit will include artifacts, photos, and information from both movies as a tribute to Ava's friendship with Sharif.

In Mearene Jordan's book, Living with Miss G, she says that Miss G (Ava) and Omar Sharif became fast friends while filming Mayerling, "Sharif immediately captivated us with his sense of humor, his charm, his immense knowledge about practically everything, and the fact that he was completely on Miss G's wave length." On both sides however, the friendship remained platonic.

According to the museum, "Sharif once described Ava as one of his dearest friends up till her death and that he considered her to be the 'most beautiful woman in all of the world.' Omar's passing was a major loss for the industry and its history and we wish to highlight his role in Ava's life as we have done with other friends, such as Lena Horne. Ava's husband and friend Frank Sinatra also held a similar view of Ava and they were a large part of each other's lives for five decades. "

And so, another tribute within the new exhibit will be to Ava's third husband and love of her life, Frank Sinatra. Though their marriage did not last very long, Frank and Ava were life-long friends who loved each other passionately and forever. Even post divorce Mearene said that Frank and Ava's love affair was still in high gear, "...there were daily phone calls. If they couldn't reach each other by phone there was an unending stream of loving cablegrams reinforcing their undying devotion to each other."

This year would have been Frank's 100th birthday. His son, Frank Sinatra Jr., is currently touring the country performing his tribute show - Sinatra Sings Sinatra, which features his discussion of his father's life as well as a concert of the songs for which his father is known. He will be performing at the Carolina Theatre in Durham on November 18th.
 
All of Ava
The final tribute within the new exhibit will be in honor of Ava herself. Since this year marks the 25th anniversary of her death, Ava will also be receiving a historical marker to be placed near Sunset Memorial Park, the cemetery in Smithfield where she is buried. While the new exhibit will premiere in October, the plaque dedication is slated for sometime in November with details to be announced soon.

Brandenberger says that this is a wonderful time to focus in on who Ava was as a person, "the 25th anniversary of Ava's death is a time for us to draw attention to Ava the woman, and give a eulogy to her personally as well as professionally. When people visit the museum, they will discover the dichotomy of the movie star and the country girl she always remained. Essentially, we hope to represent Ava as those close to her remember her: as a true Barefoot Contessa."  

In Ava's own words, "no one believes me, but I've always been a country girl at heart with a country girl's values." The museum is excited to continue to bring you new and exciting parts of Ava and her contemporaries.  

The Ava Gardner Museum is located in downtown Smithfield and more information is available on www.avagardner.org or by calling 919-934-5830.