Summertime in the south means peaches. And while Georgia is known as the "peach state", North Carolina roadside stands are full this time of year with fresh-picked, locally grown peaches. In Johnston County, the best place to go is to Thompson Orchards in Four Oaks - where the sweet, juicy fruit of summer can be purchased by the peach or by the peck... you could even go up to a bushel, but that's a lot more peaches than you think it is.
Thompson Orchards has been in business for over 30 years, owned by Vernon and Pat Thompson. The Thompsons operate a peach orchard, with over 100 trees. Most of the peaches produced are for sale, but the original stand is not open anymore, but the orchard still offers call ahead and pick-up sales at 2145 Stricklands Crossroads Road, Four Oaks NC 27524. The Thompsons ask this year that you preorder your items at least 24 hours in advance (when possible) to help them run things smoothly and efficiently. You may place your order by calling or texting Vernon at (919) 631-3051.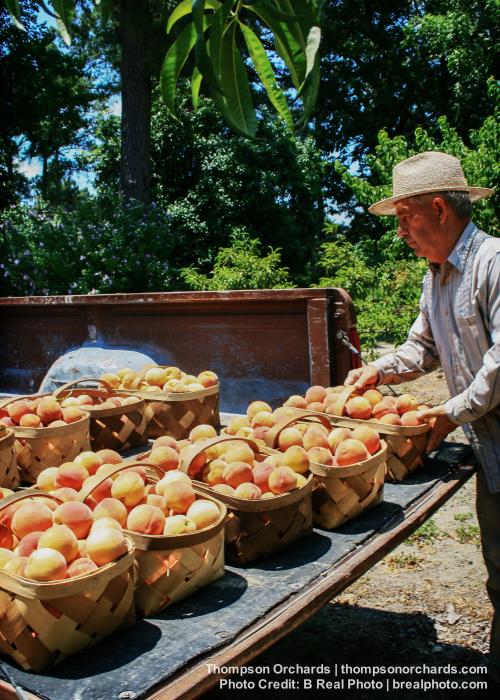 If you're not the sort to enjoy biting into a peach like an apple, fuzzy skin and all, then find a peach recipe to try - crisps, cobblers, marinades, turnovers, and more. Find a plethora of peach recipes on our website here.
There are many remembrances of simple summer pleasures that keep us warm through the frost of winter - splashing in sun-warmed water, the smell of honeysuckle on the vine, the sizzling sound a firework makes as it fades, the feeling of grass on our bare feet, and chasing peach or watermelon juice as it escapes down our arm. Order peaches from Thompson Orchards to experience a few seconds of simple today.
For more information about agritourism, visiting our local farms, produce stands, and more, please visit the JoCo Grows homepage. JoCo Grows promotes the agricultural industry in Johnston County as it relates to visitors and residents alike; the website has more information about on farm events and experiences, as well as links to JoCo Grows' social media channels - so you can be in the know from season to season.