Once again, the Beer, Wine, and Shine Trail in Johnston County expands to include two new tourism partners, and the new brochure design goes back to the root campaign developed by the Johnston County Visitors Bureau (JCVB) in 2013.  What began with four wineries on a driving tour, has become seven stops: two wineries, three breweries and two distilleries. 
In May both Fainting Goat Brewery in Benson and InStill Distillery Co. in Clayton opened, bringing the total of craft beverage stops on the trail to seven.  The Visitors Bureau held meetings with the partners on the trail and consensus was reached to bring back the trail concept of collecting stamps and awarding swag items from the JCVB, which is how the trail program began in 2013.  Visitors have two options – first, to get stamps from four stops for a small prize or second, check in at all seven stops with options for a larger swag item.
"With the new brewery and another "legal" distillery now available in Johnston County, we wanted to expand the trail with these new experiences and tastings," stated Donna Bailey-Taylor, President/CEO at JCVB, "the revised brochure features seven panels of information and photos for each partner, information on itineraries, and hotel packages."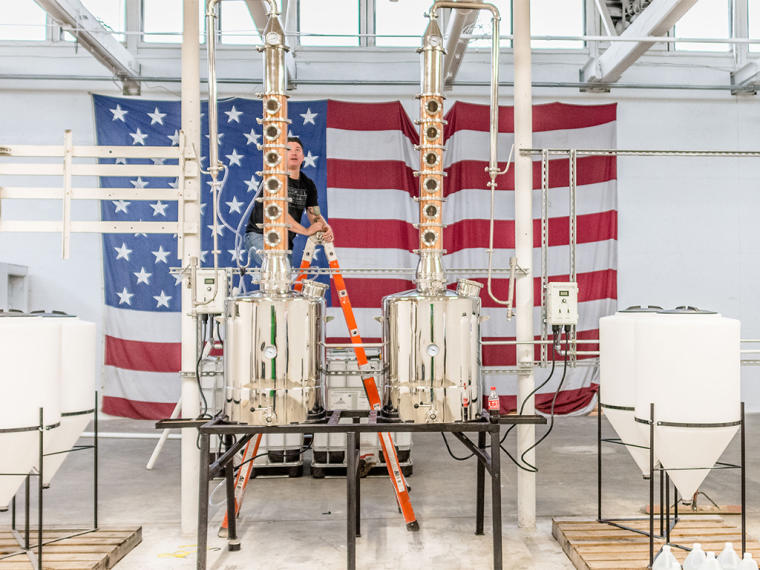 Visitors along the trail need only receive a stamp on their visit and are not required to purchase products.  The wineries, breweries and distilleries agreed that the main intent of the trail is to give the visitor a good experience, and gain a customer for the long term.  After collecting four stamps, visitors will receive a bottle koozie from the JCVB and after visiting all seven stops, visitors may pick one promotional item such as a t-shirt or hat from the venue of their choice. 
Brochures promoting the Beer, Wine, and Shine Trail are available at area attractions, NC Welcome Centers, and may be downloaded on the website.

"We encourage visitors to check back often to see what events are being planned at the venues. Our wineries host events and concerts, the breweries have food trucks and trivia nights, and now with changes in ABC laws, distilleries may serve beer, wine, and cocktails. We have heard there may even be axe throwing too, so check our events calendar," stated Bailey-Taylor.
Wine, spirits, and craft beer enthusiasts can join the JCVB email list for announcements of special events throughout the county, or download a visitors guide.