An Update from the VisitJoCo Team | February 2022
AdVenture Development, LLC announced last August their partnership with Hospitality HQ (HHQ) to serve as the operator of the Old North State Food Hall (ONSFH). Helmed by award-winning chef, restaurateur, TV personality and cookbook author Akhtar Nawab, HHQ will oversee all operations of the ONSFH - from vendor curation and relations, to day-to-day logistics and guest services.
Nawab and his Brooklyn-based company plan to bring talented culinary creators from across the country to the ONSFH. Through thoughtful curation, visitors will get to experience delicious artisanal concepts, as well as try dishes from renowned chefs and restaurateurs. Nathan Lambden has recently been hired as the food hall's General Manager and the Old North State hopes to be up and running Summer of 2022.
"We are thrilled to partner with Hospitality HQ on this exciting project and look forward to bringing the Old North State Food Hall to the residents of Johnston County and travelers alike," stated AdVenture Development President Kevin Dougherty.
As construction continues there have been many exciting updates to touch on as we look forward to opening day:
Vendors to be announced include a pizza concept, BBQ, burgers, dessert, and even an all-day breakfast option
The full craft beverage bar towards the back of the food hall will be called the Longleaf Tavern
There will be both open and more private dining areas; and eventually a bookable event space attached to the food hall
A dedicated app is in the works that will allow for to-go orders and a rewards program
An outdoor patio will allow for a pet-friendly dining option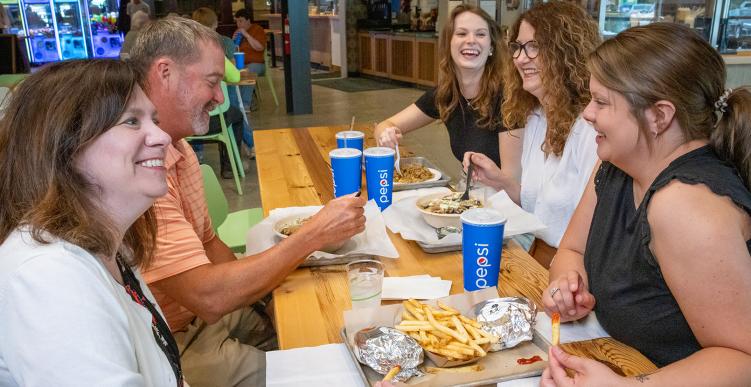 Randy's Original Article:

Most people in Johnston County are familiar with Exit 97 on I-95 in Selma. It's an area that used to feature JR's, a driving range and a healthy amount of cars in a sprawling parking lot facing the interstate. Today, there are only traces of that activity on the southern part of that interchange. But, at the top of the ramp, if you look across U.S. 70 toward the Days Inn, you'll see an understated sign that reads, "Eastfield. Leasing Opportunities."
Change is most certainly coming. AdVenture Development's Eastfield Crossing will be a 400-plus acre mixed-use development that will include a business park, retail, medical, and entertainment options and both single- and multi-family living options — among other things. Imagine an area like North Hills in Raleigh, but in Selma.
"I've met with the folks at North Hills a couple of times," AdVenture Development founder Kevin Dougherty said. "And I've gone there to get inspiration. They're very vertical. We're going to be more horizontal."
It's an ambitious project, but one that Dougherty and his team have had some practice handling. The recently completed McCandless Crossing, outside of Pittsburgh, is a mixed-use property that features a fitness center, a Trader Joe's, a movie theater, a HomeGoods and a litany of other retail options that dot the wish lists of Johnston County shoppers and diners.
"I've told people down here that's the Crabtree of Pittsburgh," Dougherty said, comparing the project to the popular Raleigh mall. "It's 1.2 million square feet of mixed-use on 135 acres. (Eastfield Crossing) is three million square feet on 470 acres. It could get bigger than that. Could be a little smaller. But it's going to be somewhere in that range."
Either way, the economic impact will be massive, creating somewhere between 3,100 and 5,000 new jobs. Eastfield Crossing wasn't always going to be this big. The aforementioned sign bears that out, as the 1.5 in front of the "million square feet" is crossed out on the sign with a 2.8 in red in its place.
"I was just putzing with a 10-acre piece up here," Dougherty said, pointing at the space on a map in the AdVenture Development conference room. "Then, it sort of grew to 90. It really came from my kids saying, 'dad, there's no Panera. There's no Target. There's no Dick's.' … That's what really started me thinking about retail."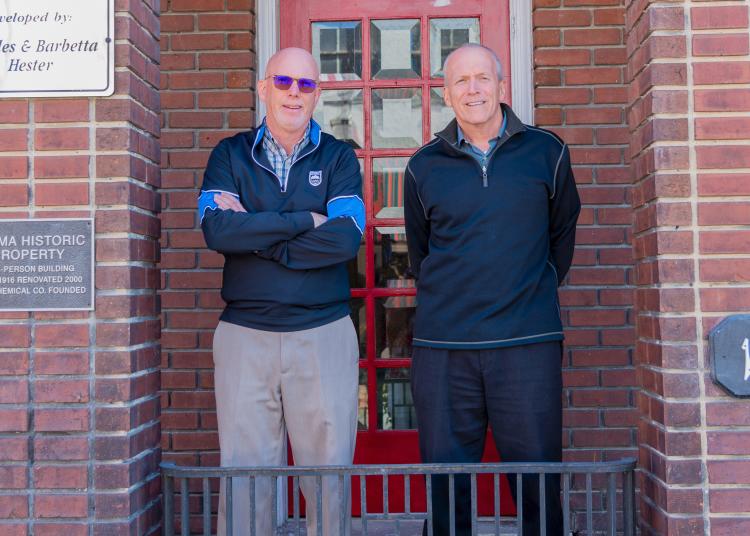 Dougherty and his family moved to Johnston County in 2004. For his wife, Hope, a Princeton native, it was a move back. As the ideas for the project got bigger and bigger, Dougherty wanted to bring in some help. So, he turned to Mark McDonnell, a college roommate from his days at John Carroll University, just outside of Cleveland.
"He was sitting in Chicago in January," Kevin Dougherty said. "So, when you call and invite him down here, I didn't even have to open my mouth. He said, 'when do I start?"
McDonnell brought a different perspective to, and a new idea for Eastfield Crossing.
"When I came on board, one of the things I said to Kevin was that this is a great logistics location," he said. "I was in logistics and supply chain for 30 years before I made the transition over (here). You look at the highway network with 95 and then we're in the center of North Carolina and really the center of the east coast."
"It's 822 miles from here to Portland, Maine," Dougherty added. "And it's 822 miles to Miami."
"Then, we looked at the north, south, east, west rail access," McDonnell said. "That led Kevin to take a look at that piece in the back which will become the business park."
That park, with easy access to both I-95 and U.S. 70, as well the railroad will add inventory for potential businesses to relocate to Johnston County. Adding the business park meant scrapping the original plan and coming up with an even grander vision.
"This thing, in the middle of the recession, kind of stalled," Dougherty said. "We had somewhere around 90 to 100 acres. Then, around 2013, it revved up again. Then (McDonnell) joined, and we threw out all those plans. We started over again, adding the business park piece. Since then, we've closed on 403 acres, including buying the former JR building."
JR's used to reside in that 70,000-square foot building, but now they're just in a cigar lounge on the end. The rest of that parcel is being redeveloped as the Triangle East Center, which will feature an event space, a food hall, a medical clinic and the North Carolina Craft House, which Dougherty hopes will become "a Mecca for craft beer lovers."
The food hall will be comparable to a mall's food court, or similar to Morgan Street Food Hall in Raleigh, with as many as eight dining options, along with coffee and dessert vendors. This part of the project is scheduled to be completed next year, with the rest of it coming later. McCandless Crossing, for example, took seven years and eight phases.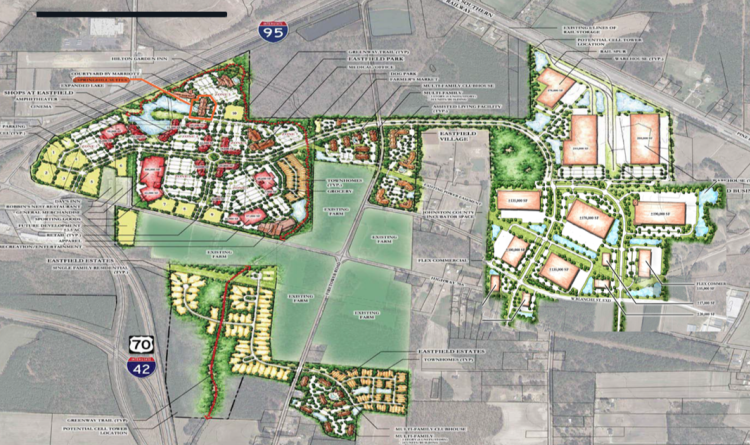 "This elephant won't get eaten quick," Dougherty said. "It will be a seven- to 10-year build out."
Naturally, people are curious as to what names might wind up in all that planned retail space.
"I expect there will be a new grocer," Dougherty said. "I expect maybe an entertainment piece. But I do think you'll see fashion, you'll see sporting goods. Probably a home improvement of sorts. Many of the national retailers that aren't here. It's a huge list."
He also mentioned the possibility of as many as a dozen new restaurant options. And everything on the potential list is family-friendly.
"We're not going to have non-family uses here," he said. "It's going to be an environment where children, parents and grandparents can be here together. One of the things I love up (about McCandless Crossing) is that we have a brew pub called BJ's. I love seeing four generations in there celebrating granddad's birthday."
Another unique aspect of Eastfield Crossing is the fact that it will include a farmer's market and will be built around existing farms in the area.
"Paying attention to Johnston County's roots in agriculture has been a big component," Dougherty said. "Instead of having a golf course community, having a farm community. Having residential tied to a farm is important. They refer to them as agrihoods."
When the project is completed, it's not hard to imagine the restaurants in Eastfield Crossing buying sweet potatoes from the farms right down the road. That attention to detail, and a desire to listen to county residents, runs through the planning of Eastfield Crossing.
"I pray about it all the time," Dougherty said. "I don't want to do anything stupid here. I want us, as a team, to do a project that the community's proud of, that enhances the culture here. … By bringing something complimentary, not something that competes directly.
"For the most part, people have been very supportive. We've also been encouraging people to provide their input. We're just several knuckleheads here who have decided that we want to do this thing and create an environment."
That environment is located in a place that offers developers incentives for their investment.
"All of downtown Selma, and our property, is Opportunity Zone," Dougherty said. "Anybody that makes an investment using capital gains, if you put $100 that normally you'd pay tax on because you sold something — whether it be a stock or a business or a piece of real estate. If you take that and invest it in an OZ, you'd pay no tax until 2026. And then, you'll pay 85 percent of the tax you would have paid.
"That extra 15 percent is one of the benefits. But anything you invest in, if you hold it for 10 years, any gain you have over that 85 percent, is 100 percent tax free."
While that has obvious benefits for entrepreneurs, it also serves the community as well.
"It's most beneficial in places that would develop anyway," Dougherty said. "It acts as an accelerate. And, it acts as a stabilizer because to get the benefit, you have to stay for 10 years. When you build something you're going to own for 10 years, you build it differently. In construction, you're not using half-inch, you're using five-eighths. You're building for the long haul.
"And that's how we're looking at all this. We think Johnston County, Smithfield and Selma are great long term investments. … Just diamonds waiting to be polished."
To learn more about Eastfield Crossing, visit www.adventuredev.com.