Anyone venturing down Main Street in Clayton, NC last Wednesday night, June 24th, would have heard the familiar notes of an iconic rock song. A song that stretches across generations and genres with a message, Don't Stop Believing. The music was coming from the front lawn of a unique and chic newcomer to downtown Clayton called Wine on Main. But anyone not in attendance at the event would have never known that the music cutting through the sultry southern night and spilling out into the street was not a recording, nor was it the easily recognizable tones of singer and one time Journey front-man Steve Perry. It was the mellow tones of the songs creator, a talented musician and lyricist, and a founding member of Journey, Jonathan Cain. A god of classic rock sitting in a small spot light in the front lawn of a wine shop, playing to an intimate crowd of lucky and enthralled attendees.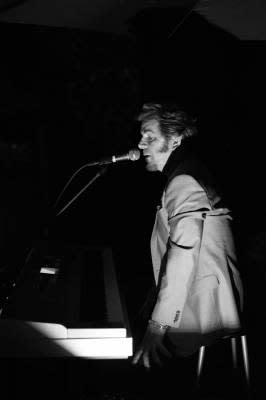 As one of those lucky attendees I had to take a moment to pinch myself as I sat less than 6 feet away from a member of one of my favorite bands of all time. My body feeling the minute vibrations as the piano notes spilled forth from the singular amplifier sitting on the porch beside where I had perched to watch Mr. Cain's set. But he wasn't just there to play, he was there to sign bottles of wine from his own label - a collaboration with De La Montanya Winery. As I listened to the melody of Open Arms wash over me I wondered how this event has all come together.

Since that magical night last week I have discovered that the answer to my question is Clark Hipolito. Clark is a local Clayton artist and part owner of Wine on Main, along with Mandy Tamplin and Temple Phipps. His story is an interesting one that inexplicably brings together art, guitars, wine, and Journey.
 
Evolution of the Artist
Clark Hipolito grew up in New Jersey, but his career as an artist really started when  he went to work at MTV in New York. Clark said, "working at MTV was pretty much the beginning of it all. Every single day I would meet a new rockstar and being around that kind of environment, it only was natural that I'd never be able to work a normal job ever again." He started out working on the sets at MTV- first doing graphics, then painting murals, and later having fine art shows featuring his paintings. Clark's work has been featured on the set of shows like Sex in the City and Dawson's Creek.

Living up in NYC was great, but very intense and fast paced, and in 1994 Clark was ready for a change. He considered moving to Atlanta or Charleston, but after doing some research and looking at the growth trends of the time he ended up in downtown Raleigh. Upon moving to Raleigh he started spending lots of time in Wrightsville Beach to blow off steam. At the time Wilmington was still a big hub for the film industry,and he made lots of great connections there as well.

"The evolution of my career has been very unique," Clark says. As unique as the evolving use of materials he uses as his canvas. Clark renders amazing works of art on surfboards, guitars, and even skateboards. When asked about the evolutionary process of moving from an aesthetic canvas to a practical one, he said it happened because of a personal interest he took in surfing, "at some point after I moved to North Carolina I went on a business trip to Charleston - and I came across Folly Beach and saw the waves there. I went to the local surf shop and bought a cheap used surfboard, that was covered in dings and duck tape, and I went surfing."  

When he returned to Raleigh he took it upon himself to restore the board and in the process he ended up putting a wood grained faux finish on it as well as some decorative scroll work. From that moment on every time he'd take it out to the beach people would ask him about it, "a lot of them wanted me to paint their own board and then things just snowballed from there."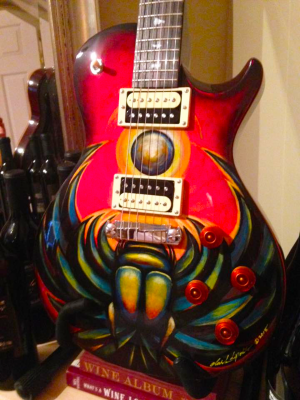 As Clark remembers it, "I started doing art shows using surfboards and skateboards as my canvas. I garnered lots of national recognition and great press from around the world for my work. I was getting lots of high profile clients- like Pink, Billy Gibbons from ZZ Top, and pro athletes like Mario Williams. At one point my friends from Line Up Magazine commissioned me to paint a guitar that they wanted signed by all the rockstars performing at the Bonaroo Music Festival. I painted it, then went to the festival and met with so many awesome performers like Robert Plant, Ben Folds, Phil Lesh, and Jack Johnson."
He adds, "We ended up taking the guitar to San Diego for a fundraiser sponsored by Line UP Magazine and Fuel TV at the Hard Rock Hotel and got even more recognition. I started getting commissions left and right for the guitars and surfboards, and I haven't slowed down since."

Indeed that sounds like quite the whirlwind. Clark was introduced to Clayton when he started dating his friend and business partner, Temple Phipps, who owns a dog grooming business, Doggy Do'z, located in downtown. This was the catalyst for his interest in the area. He speaks fondly of this little piece of Johnston County, "after spending time here I've really fallen in love with the people and the amazing sense of community in Clayton. Main Street reminds me of how downtown Raleigh made me feel 20 years ago. We ended up opening Wine on Main a few months ago, and haven't looked back.  Clayton just keeps getting better and better every day."
 
Wine, Art, and Music Meet in Clayton

And so we have come to the part in the story that wine, and specifically Wine on Main, enters in. This classy little wine shop did in fact burst onto the downtown business scene a few months ago. They offer tastings, classes, musical events, trunk shows, and all other manner of unique happenings. I asked Clark how Jonathan Cain ended up being one of those musical events.

It turns out, that's a rather short story. Clark has been the featured artist for The Triangle Wine Experience for the last 15 years. Along the way he's met lots of great wine makers and other people associated with the wine industry. A few months ago Clark got a call from a good friend, "Ziggy Eschilman, who's a  radio personality in Napa, called me and told me someone wanted to meet me because they really liked my work, and that this person was coming to North Carolina to meet with me."

It turned out to be Jonathan Cain from Journey. Jonathan has his own wine label - Finale Wines - and he had heard of Clark's talent. Jonathan ended up giving Clark a couple of guitars to paint and in return, Clark asked him to come back for a visit and do an event at Wine On Main. The idea was to unveil one of the painted guitars and do a bottle signing, and possibly a performance. "He actually said yes and I was elated," said Clark. Who wouldn't be?!

As a Journey fan, I of course wanted to know what working with Jonathan Cain was like. Clark said, "meeting him was incredible, we hit it off right away! He's a really cool guy and filled with cool stories about his life, music, and song writing.  After our original meeting here in NC, I flew out to Las Vegas to talk to him more about the project, and after spending more quality time with he and his wife, Paula White Cain, we decided that one of the guitars would end up in a glass display case at the Hard Rock Hotel in Las Vegas." Wow! From a wine shop in Clayton, NC all the way to Las Vegas, Nevada. What a heck of a journey. Sorry, I couldn't help myself.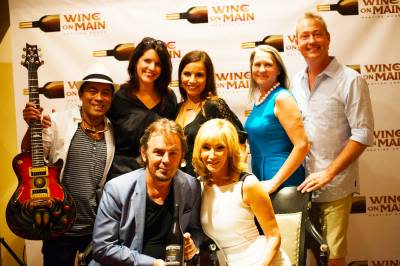 Clark wasn't wrong about Cain having some amazing stories. During his 30 minute or so set at Wine on Main he reminisced about his inspiration when writing iconic songs like Don't Stop Believing, Open Arms, and Faithfully.

I asked Clark about his own inspiration when it comes to his art. As someone who has had a career spanning various forms of artistic expression, what is his favorite? He gives an unbiased answer, "I honestly love it all! Designing nightclubs and restaurants can be very gratifying because it can encompasses all aspects of art and design. I get to create my dream environments and as part of that interior landscape I'll usually incorporate a mural I've painted or use my surfboard and guitar art as part of the decor. But if I had to really narrow it down- I think I like painting surfboards and guitars most… at least for now." You can see some examples of Clark's art in Wine on Main.
 
To bring it full circle, I asked Clark what his favorite Journey song was. The answer - Stone in Love. An excellent choice, though he mentioned it was a tough call. I prefer Separate Ways myself. Speaking of going separate ways, I was buzzing with energy when I left Wine on Main last week after personally thanking Mr. Cain for visiting and sharing with him a story about my love for Journey music. Walking to my car I was again struck by the hidden gems that can exist in the fabric of small town life. The music of Journey on a quiet evening. The passion and drive behind Clark Hipolito's art. The realization that small, growing towns like Clayton, and others in Johnston County, sometimes surprise us with what they have to offer. And, like Clark said, things are getting better and better every day. Hey, don't stop believing.
 
Photo Captions in Order of Appearance:
1. Jonathan Cain plays piano while discussing his lyrical inspirations. Photo courtesy of Krisp Photography.
2. The guitar Clark painted for Jonathan, photo courtesy of Clark.
3. Clark Hipolito pictured holding the painted guitar accompanied by Temple Phipps, Mandy Tamplin,
   Clayton Mayor Jody McLeod and wife, with Jonathan Cain and his wife Paula.  Photo courtesy of Krisp Photography.