You may have seen him on the ABC 11 nightly news last week, but JoCo local Nathan Wayne was also kind enough to sit down with us for an interview as well (over the phone for social distancing purposes). Nathan came to the attention of ABC through a random act of kindness he performed last week when he used his musical talents on Facebook to raise over $200 and then tipped that money in full to a server at a local, family-owned restaurant in Downtown Smithfield.
Though it turns out it wasn't exactly a random act, and the story doesn't end with Jessica Young at SoDoSoPa. But, of course, Nathan Wayne insists the story doesn't begin or end with him either… though we'll start there. Born in Fayetteville, raised in Georgia, and a JoCo native for many years now, Nathan has always had a love for music. In 2013, after a stint in the military, he moved to Nashville to get serious with his musical career. He ended up as the touring drummer for another NC local talent, Kasey Tyndall. He eventually left Nashville, and after living in Clayton for a while Nathan bought a house in Smithfield. He started doing acoustic shows on his own but was convinced to start a band. He did and that band played their first show together New Year's Eve of this year… and then the Coronavirus happened. And the gigs started getting canceled.
"I was watching local musicians who are also my friends lose more and more gigs as the situation evolved. I mean, I'm lucky, I have a day job, I can work remotely, I don't need music to live," Nathan said. "But, there are people in the service industry right now that rely solely on tip money to pay the bills and put food on the table."
Thinking about it spawned a thought process that culminated when Nathan saw his musician friends playing online gigs via Facebook Live and asked for donations to make up for missed paying gigs. He had been thinking, "what can I do to help?" and he considered the words of Arthur Ashe, "Start where you are. Use what you have. Do what you can."
So Nathan went live on Facebook (you can see that first video here) and he offered to play some tunes if people would donate money to his Venmo account. He promised that any money he made would go to tip a local server of a locally owned business in the community.
"So, I played at home on my lunch break and I kept thinking that I wanted to find a server who was a single parent, because I feel they need it the most," Nathan said someone brought up SoDoSoPa and so he called to ask about getting take-out and if there was a server working who was a single parent, "and it turns out Jessica Young was the only server working at that moment and she was a single parent."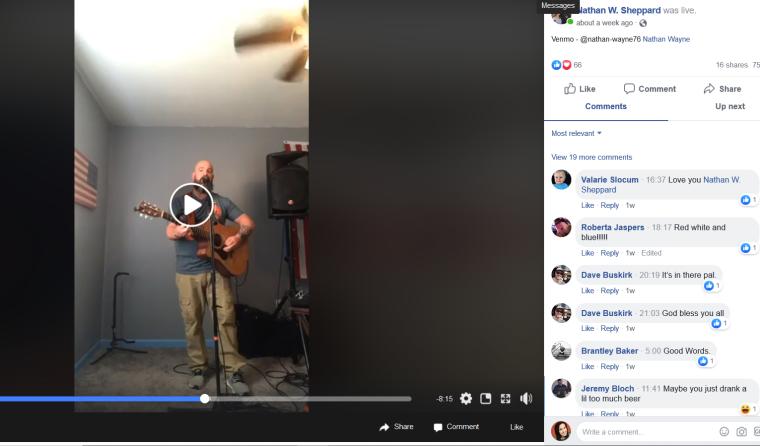 Nathan placed an order and when he went to pick it up he ended up speaking to SoDoSoPa owner Tracy O'Dowd who he admitted to what he was about to do. She cried and thanked him. When Jessica brought out his order he wrote a note on the bill and wrote the $200+ tip in, folded it up, and handed the closed checkbook back to Jessica and walked out.
"I didn't want to stick around. It's not about me. I wanted her to have that moment to herself. It's all due to everyone who donated. People have been very generous."
Eschewing any credit for what he's doing is something Nathan did throughout the interview. The hashtags he uses in all his social posts regarding his efforts say it all. #rippleeffect #rockinthepond Nathan said his friends always tell him he's got an analogy for everything; and the hashtags are a direct link to his analogy for these virtual concerts and the tips they generate, "don't thank me. Thank the people who donated. I'm just the rock in the pond. Everyone else is the ripple. A couple told me they saw my video and it inspired them to collect money from their friends and leave a big tip on their take-out order."
"This situation is temporary," Nathan says of the closings and the social distancing, "and it's up to us to take care of one another. When we all work together, great things happen."
Nathan is continuing his weekly Friday lunch concerts on Facebook Live. This Friday night he's got a bigger than normal event planned as well. His band has a gig already scheduled for The Flipside in Clayton and the couple who owns the bar and restaurant agreed to let them use the stage and play to an empty room… and however many people show up on Facebook Live. Donations are of course appreciated. The owners of Flipside will have their food truck outside so that people can come order food, take it home, maybe grab a drink, and tune in via their phones from home.
Update: the gig at the Flipside brought in over $600, so Nathan decided to split it in half and give a huge tip to 2 local servers. 
All the proceeds will continue to go to tip local servers says Nathan, "This is my community. I live here and I want to help out. I hope this inspires other people to do the same. It all comes down to hope. If we can put hope in someone's heart, that's worth more than any amount we can tip them."
Update: You can find videos, like this one here, of Nathan giving the tips to deserving servers in JoCo under Nathan's videos on his Facebook page. In addition, since we originally posted this blog Nathan has continued to perform for tips. To date, he has performed 12 concerts and raised $2,585 and given it away in tips. Nathan even got the attention of The Kelly Clarkson Show and was interviewed by the host herself! Amazing!