Sometimes in this blog I get to provide information, and sometimes I get to introduce interesting people. But better yet, every once in a while, I get to say something important.  This is one of those times. It is critical in the days and weeks to come that you shop local. And not just in your own community but in the communities you happen to visit, from Benson to Goldsboro to Fayetteville to Charleston to Savannah.

Hurricane Matthew damaged a lot of homes and businesses, some of which were shops, restaurants, hotels, museums, and historical sites. Visitation is their lifeblood. Being open to receive customers is critical. Not only are many of them facing repair costs with very little of the federal assistance afforded to residential property owners, but these local business owners take a loss every day they cannot open their doors. Please continue to support them. Make it a priority. Ask what you can do to help. When you see them reopen their doors, go make a purchase. From a tourism prospective "going local" has always been important to me. On a good day, shopping local provides you an opportunity to make a connection with someone who has ties to the place you're visiting. It provides you with cultural context, a friendly face, and the sense of exploration you get from stepping outside your comfort zone to try the unknown and unique. But on a not-so-good day, shopping local provides you the opportunity to help someone with an entrepreneurial spirit continue to realize their dreams; your business is their key to recovery.

It's going on two weeks now and the hurricane itself is a distant memory of the vast Atlantic Ocean. But from the Haitian villages all the way up to the small towns of eastern NC, the flood waters are only now receding and the destruction being assessed. There are still 18 shelters open in North Carolina housing displaced people. Yes, raging waters subside and we will rebuild our lives as generations of strong, stubborn Carolinians before us have done. But, help is needed. Much like currents can be both cruel and kind, humanity can also rise to the occasion. I'm asking you to choose kindness right now, as people return to homes and cars that are destroyed. As families deal with the loved ones they lost to the flood waters, let us band together to assist and to comfort.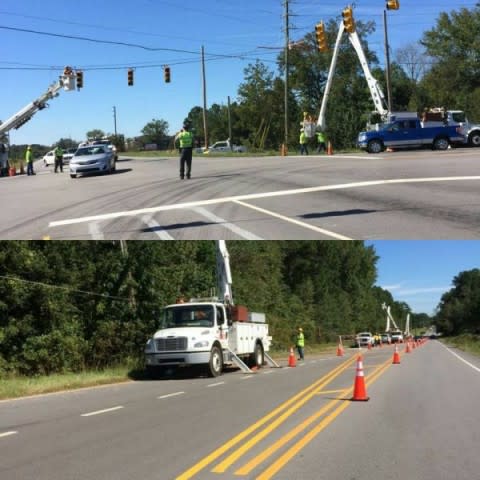 Don't forget to thank a first responder or a utility worker. I would like to thank all of North Carolina and Johnston County's first responders. You are the people who rush out to help while I stay hunkered down in my home. You are the boat in raging waters. You are the people on the frontlines putting yourself in harm's way to help those in need. Even when flood waters recede and raging winds calm, you take a step forward every day when the rest of us take a step back. And to linemen, watermen, and public works people, who work ceaselessly to return our lives to normalcy, thank you.

This Saturday the 22nd of October the Clayton Center is hosting the last concert event of the Clayton Piano Festival. It will be an amazing night – 5 artists with 5 pianos all playing together on one stage. To say thank you, the center and the festival have come together to offer up-to 4 free tickets for first responders to the event so that they and their families can enjoy a night of entertainment at no cost. It is the least we can do for all you have done for us. Each responder can receive the tickets by simply calling the box office at 919-553-1737 or stopping by The Clayton Center at 111 E. 2nd Street in Clayton.

A writer is a reader first. It is because of this elementary and important rule that a writer's words are the product of everything they have ever read. So, I would like to end this blog post by borrowing from a writer I love to read (and by unabashedly mentioning how wonderful Our State magazine is and that you should subscribe to it as a local or lover of North Carolina).

In her most recent welcome letter in Our State magazine, Editor in Chief Elizabeth Hudson wrote about rivers, both the joyful distraction and sometimes terrible destruction they offer up. I was privileged at an event a few weeks ago to hear her read these words along with the rest of the letter out loud. She could not have known, nor could the rest of us in that room have known, how true these words would ring just a few weeks later. Nor could Our State, who plans its editorial calendar months and years in advance, have known that their Rivers issue would hit stands a week after the devastation of Hurricane Matthew.

"During Hurricane Floyd, when the Tar River swelled 20 feet above flood stage, we lowered our heads and prayed so hard for our friends in eastern North Carolina… places where the river is a part of everything. If you look, you can still see the waterlines on clapboard, an alluvial yardstick of our history. Raging waters subside, eventually. And I hope, then, we speak of better days – of the swimming holes and of tires swinging from overhanging branches; of beloved wet dogs shaking on the banks; of Sunday baptisms and church picnics and family reunions; of pointing the nose of a canoe downriver and paddling; of spending quiet, perfect, peaceful afternoons in search of smooth, flat stones to sling, popping the surface of the water and making ripples that seem to go on forever."

The waterlines will indeed mark for years and decades to come how high the waters of Matthew got. We will be able to viscerally measure how hard nature pushed at us and in our recovery will be able to tell the story of how we pushed back.  It is the push back that is tougher to see and measure; the watermark of the human spirit that shows how high we are all willing to rise to help those around us rebuild their lives.