The Museum is kicking off Ava's Centennial year with the Ava Gardner Festival, October 7-9. This southern starlet will be celebrating her 100th birthday on Christmas Eve of 2022 and the museum plans to make the entire year all about marking the occasion. This includes the debut of numerous projects currently in the works, the first two of which are already open to visitation by the public.
The Ava Gardner Mural, located on the side of the museum, and visible to west bound traffic on Market St., is the culmination of nearly a year of work by the Ava Gardner Museum. The mural portrays Ava's life from her Discovery Photo, three selections from her career, and her later life in London with her beloved Corgi, Morgan.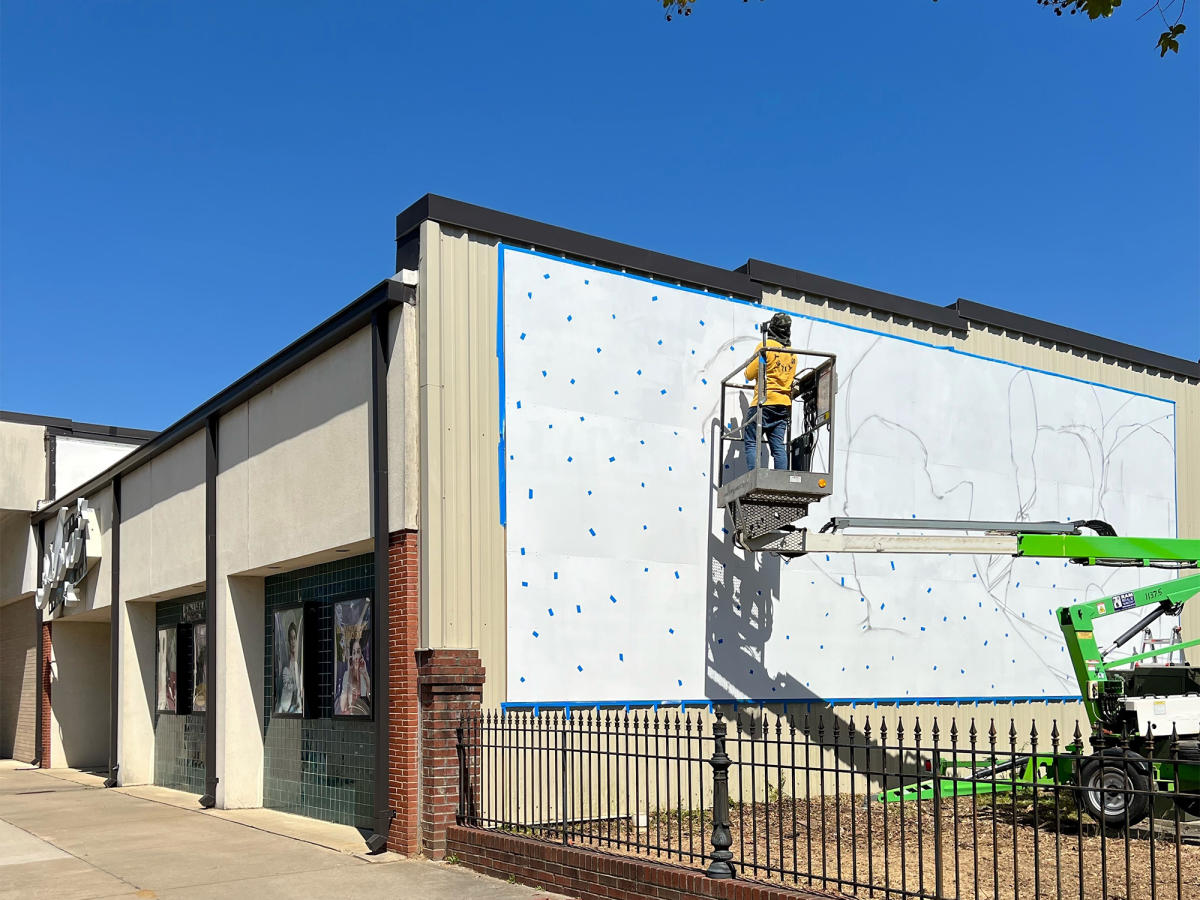 About the Mural Artist
North Carolina native and Greensboro artist, Jeks One was selected to bring the mural to life. He was chosen by the board for his stunningly realistic portrayal of many famous film stars, politicians, and musicians around the world. "In our opinion, Jeks was the perfect and only choice for our project and we are thrilled with the mural," stated Lynell Seabold, Executive Director of the Ava Gardner Museum.
You can see his other works at Jeksone.com or on Instagram @Jeks_NC. Jeks is a shortened version of Jekyll, which was his graffiti tag in his younger days; there is no deeper meaning behind it. I sat down with him, during his week in JoCo to complete the mural, to talk about his work.
"I've used spray paint as a medium since I was 11 or 12, Graffiti is an artform, a culture. What I do is legal graffiti, but that art style is where I started and I see myself as a graffiti artist first and a muralist second." 
He had a music career for almost 15 years and his art took a backseat to that. Around 2015-16 a friend asked if he could be a part of a local mural commission and as part of that he did some realistic-type statue art in a large scale medium with spray paint. Jeks realized he could scale-up and still keep quality and detail. 
Looking at Jeks work one notices a frequent theme which is hyper-realistic, grayscale portraits. He says he does not work exclusively in grayscale but does so often because using grayscale requires a smaller color palette to achieve depth and realism, about 10-15 colors, whereas full color would take closer to 40.
"I started with this particular style and it's really become my style and so it's what I get asked to do in my commission work often, but you'll see I also use color."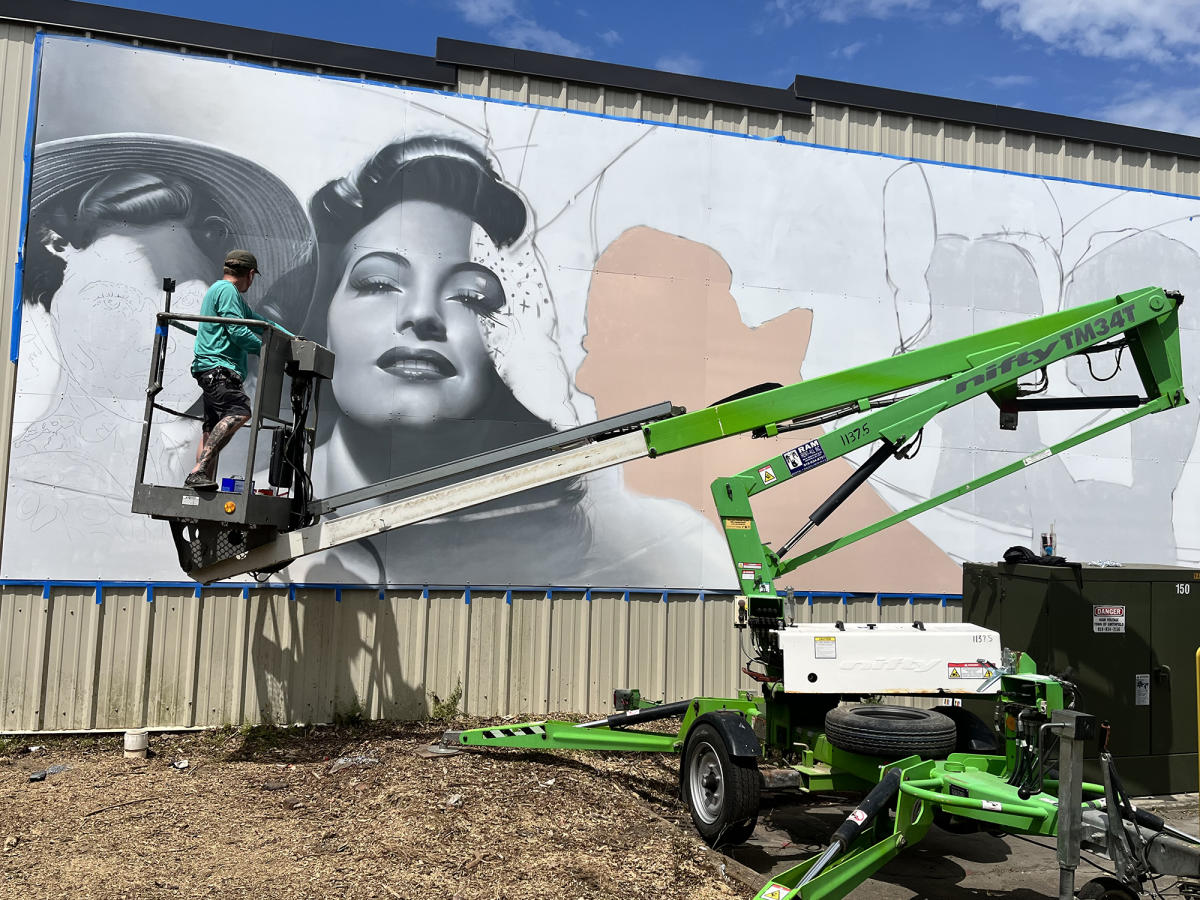 He also uses a grid system called a Doodle Grid which allows him to scale up a portrait to the size of the wall. It's the way he learned to do murals after starting using projection. For large murals it can take up to 5 days from start to finish. However, with his Ava piece the mural is essentially 5 portraits in a row and so it took 10 days (with a day break for weather). 
"I'm most proud of my recent canvas work lately, but as far as murals go I did one in Atlanta that was a partnership between myself and a photographer, Jonathan Mannion. It's of the group Outkast and it has become a popular photo op destination in the city." 
A lot of his work now is commission based; he's been all over the US, as well as done work in Nova Scotia, Canada and in Bogotá, Colombia. Jeks gets a handful of inquiries per week and he says about 10-20% of those inquiries turn into work. On average he completes 2-3 commissions per month. 
"I'm learning a lot about Ava. I knew who she was, but I didn't know she was from NC. I often learn a lot about the subjects of my portraits, celebrities and non-celebrities, because people tell me stories sometimes as I work."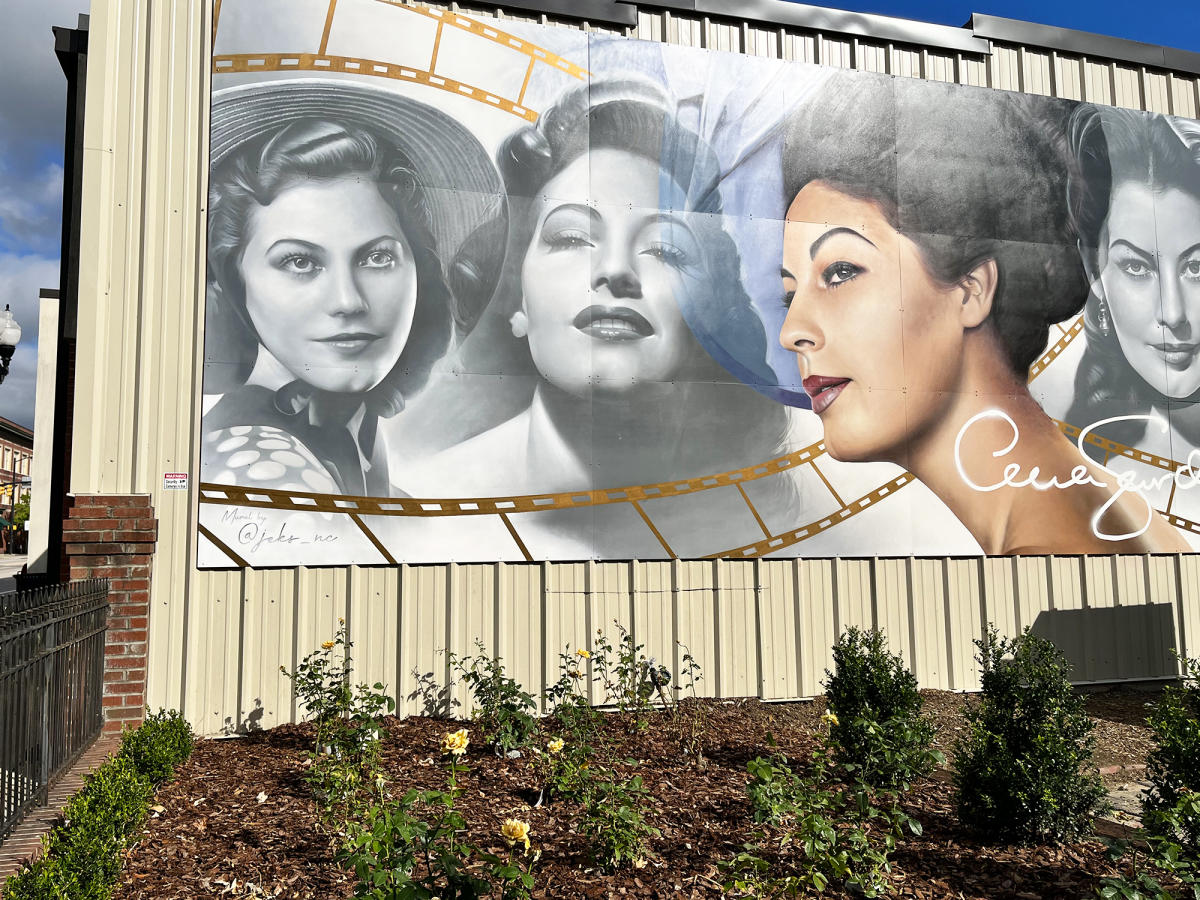 The Rose Garden 
Visitors can view the massive and incredible life-like mural now as the backdrop for the second project, a rose garden. The museum is billing this as an "outdoor exhibit", and visitors will be prompted with a QR code to visit the Museum's website page about the project, with more information on the artist, the garden, and video documentation.
The idea for the rose garden was proposed to the Museum board of directors by Carmen Vargas, Ava's housekeeper and companion. Carmen first requested to import a rose variety named Brighton from Ecuador, however, the North Carolina climate was not suitable. "Yellow roses were Ava's favorite and very special to her," said Seabold. "After their divorce in 1957, Frank Sinatra and Ava remained very good friends. Every year on her birthday Frank would send her a huge, beautiful bouquet of yellow roses and Ava would keep them on her dressing table till next year's arrangement arrived." 
The garden was recently installed by Witherspoon's of Durham, and includes 18 Hotel California Yellow Tea Roses; with boxwoods and hedges surrounding the roses in a bed that lies beside the museum and directly under the mural. Funding for this project was provided by Vargas, grants from the Joy W. Pope Memorial Foundation, and the Johnston County Arts Council; site preparation was sponsored by Piedmont Pump & Tank, LLC and BSG Stump Grinding. As part of October's festival schedule, the dedication of the Ava Gardner Mural and Rose Garden will be held Saturday morning, October 8 at 10am, to share the story behind the project and thank all those that contributed to its success.

The Ava Gardner Museum hosts the annual Ava Gardner Festival in honor of the legendary actress, fashion icon, and humanitarian Ava Gardner, a North Carolina native who grew up just 7-miles east of Smithfield. The Ava Gardner Museum is located in Downtown Smithfield, at 325 E. Market Street, convenient to hotels offering special rates for the weekend of Oct. 7-9, and nearby local shops and restaurants are also planning to celebrate the weekend with special offers. For more information, visit www.avagardnerfestival.com, call 919-934-5830 or email avainfo@avagardner.org