Living in Johnston County means we have ample opportunity to explore the great outdoors. Whether playing at a local park, kayaking on the river, or reliving history at Bentonville Battlegrounds, we've certainly got options. Our favorite outdoor adventure, though, is the Clayton River Walk on the Neuse. The trail is part of the Mountain-to-Sea trail of North Carolina, and because it's paved, everyone can enjoy it. 
Sam's Branch Greenway at the Clayton River Walk
Connected to the River Walk is Sam's Branch Greenway, which is equally maintained. Sam's Branch Greenway is 1.25 miles long (2.5 miles round trip), providing a 10-foot-wide paved trail, a butterfly art project and an accessible picnic area. We like Sam's Branch Greenway because of its gently rolling pathway -- bikes can soar down the "hill" but it's not too long to pedal up in the opposite direction. We also like the ever-changing landscape from season to season. Of course, it's at its best in October when trees display gold and red foliage, the field grasses wave a toasty brown and the grass is still green.
Nature and art come together at the Clayton River Walk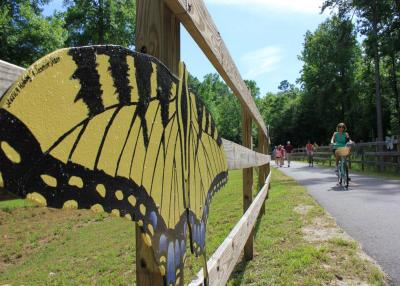 Beyond the natural beauty of this country trail along the Neuse, the public art display along the bridge by the butterfly park offers changing exhibits throughout the year. Visitors out along the trail will find artwork by local students from the Clayton area...like Whimsical Birds pictured here. These installations change each year and are sponsored in part by a grant from the Johnston County Arts Council to promote art projects on the trail. 
Clayton River Walk: Know before you go
 Three parking areas offer easy access to the Clayton River Walk:
2928 Horseshoe Farm Road (2928 Horseshoe Farm Road)
Buffaloe Road Athletic Park (5812 Buffaloe Road)
Anderson Point Park (20 Anderson Point Drive)
The address to park at Sam's Branch Greenway trailhead (about 1 mile from the butterfly and art exhibit) is 1358 N. O'Neil Street, Clayton, NC. 
Drinking fountains and restrooms are available at the Buffaloe Road Athletic Park and Anderson Point Park. Doggie bags and garbage cans are located along the trail for the benefit of all guests.
 Please note:
Pets must be leashed
No motorized vehicles are allowed
Bicyclists are welcome!
Bring water bottles and sunscreen
Wear comfortable walking shoes!